NBC Insider Exclusive
Create a free profile to get unlimited access to exclusive show news, updates, and more!
Sign Up For Free to View
James Austin Johnson Talks Writing SNL's "Lake Beach" Song with Nate Bargatze
James Austin Johnson stopped by Late Night with Seth Meyers to talk about his new Grinch podcast, and shared that his and Bargatze's dads were texting each other ahead of October 28 SNL episode!
James Austin Johnson, Saturday Night Live cast member and master impressionist, visited Late Night with Seth Meyers on November 2 to talk about his new Wondery podcast, 'Tis the The Grinch Holiday Talk Show. Johnson also provided a peek into making a memorable sketch from Nate Bargatze's SNL episode—and shared that he and Bargatze's dads are friends who were texting each other ahead of the episode. 
The concept of Johnson's Grinch-y holiday podcast is exactly what it sounds like: Johnson conducts interviews with real celebrities in character as the famous green Christmas villain. 
Host Seth Meyers shared that he'll soon be interviewed for an episode himself. "This is a very funny thing to find your way to as an idea," Meyers said. 
"I don't know quite how it happened but here I am," Johnson replied. Though given the talent he's shown for imitating people on SNL—including his uncanny impression of former president Donald Trump—it's actually no surprise that Johnson took on the iconic role. 
RELATED: Everything to Know About SNL Season 49
The comedian added that he felt a bit of pressure due to the "legacy" of the Grinch. "Do I do a Boris Karloff Grinch? Or a Benedict Cumberbatch?" Johnson told Meyers, before sharing a little of his own Grinch voice. 
James Austin Johnson talks making "Lake Beach" with SNL Host Nate Bargatze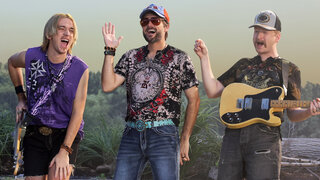 Stand-up comic Nate Bargatze's October 28 episode of SNL was the most-watched of Season 49 so far, and Meyers asked Johnson about the hilarious musical sketch from the episode: "Lake Beach," which finds Johnson, Bargatze, and Andrew Dismukes as country stars with an ode to swamp-y partying. 
"You had a song that was as good a song as it was funny with Nate Bargatze this week, in an excellent episode of SNL," Meyers told Johnson. "And you did a song called 'Lake Beach.'"
Johnson and Bargatze are both from Nashville, Tennessee Meyers explained.
"Yes, 'Beantown,' they call it," Austin joked. "Where the fog rolls in on little cat feet."
"Nate's dad and my dad are like college buddies. So they were, like, texting each other the entire week," Johnson revealed. Slipping into a Southern-accented voice, he continued, "They were like, 'Can you believe our kids? Man, this is -- this is so great.' That's how I imagine guys in their 60s talk to each other: 'Man, what a blessing.' 'Oh, I agree sir. What a blessing.'"
RELATED: Watch Chloe Fineman Conquer 12 Celeb Impressions in 60 Seconds
"Now Lake Beach is the kind of song that you observed from listening to sort of modern pop country," Meyers said.
"When you're in Nashville as much as we are, you hear a lot of country music, whether you want to or not, pal," Johnson said. "And yeah, I think the thing that I started to pick up on about pop country is that they're always partying. If they're not in church? They're partying. And the parties that they're describing in these pop-country songs sound like the worst hangs of all time."
This was Johnson's initial inspiration for writing the song. "Five people I know, 40 I don't know, hangin' by a lake beach," he sang to Meyers. "Fifty different strangers sharin' one port-a-John. Everybody's phones on 20 percent/ No one brought a charger to the lake beach."
Watch the spot-on sketch—and Johnson's full interview—above.