NBC Insider Exclusive
Create a free profile to get unlimited access to exclusive show news, updates, and more!
Sign Up For Free to View
Bad Bunny to Host & Perform on SNL's October 21 Episode
The double-duty Host and musical guest has us seeing double in a new promo inspired by the Puerto Rican music star's love of wrestling. 
Bad Bunny is ready to get in the ring as Host of Saturday Night Live's October 21 episode! A new promo for the show, co-starring Season 49 cast member James Austin Johnson, is seemingly inspired by the Puerto Rican music star's longtime love of wrestling.
Dressed as a classic wrestling announcer, Johnson introduces the hero Benito—aka the musician himself, with curly hair visible under his baseball cap—and a villainous heel named Bad Bunny, who sports a shaved head and an all-black studded outfit. Switching between English and his native Spanish, the two hurl insults at each other ("You put the L in SNL!") before facing off against each other with help from split-screen special effects.
A fan since childhood, Bad Bunny has appeared and wrestled on several WWE programs, debuting as a wrestler at WrestleMania 37. In a 2021 Tonight Show Starring Jimmy Fallon interview, Bad Bunny shared that he rewatched his ring debut every single night: "Sometimes I cried!"
While there won't be two Benitos on the show this weekend, Bad Bunny is pulling double duty as Host and musical guest.
Check out all the details on SNL's October 21 episode below.
RELATED: Watch All of Bad Bunny's SNL Sketches and His Monologue Now
Who is hosting the October 21, 2023 episode of Saturday Night Live?
Who is Bad Bunny?
Born Benito Antonio Martínez Ocasio, the Puerto Rican rapper and singer is one of the most celebrated artists on the planet. Not only did he headline Coachella this year, he was listed as the most streamed artist on Spotify three years in a row. In 2020, Rolling Stone described him as "The King of Latin Trap," praising his ability to mix genres with his music and for helping to bring Spanish-language songs to mainstream international popularity. 
SNL won't be Bad Bunny's first acting stint, as he also had a role as an assassin in 2022's Bullet Train. In an interview with Time, he talked about how he feels presenting in front of a camera. "I always liked acting, but not more than music. Music is always number one. So when the opportunity came for acting it's coming thanks to my fame and success in music. I've tried it and like it. The Bullet Train experience was super awesome."
RELATED: Every Saturday Night Live Host for 2023-2024
So tune in to NBC on October 21 to see Bad Bunny bring his charm to some hilarious sketches. 
Who is the musical guest for Saturday Night Live on October 21, 2023?
Also Bad Bunny! Yes, he's hosting and performing all in one night.
The triple Grammy Award winner is also taking his musical talents to the 30 Rock stage, and with a slew of hits to choose from, we have no doubt that he will make for some electrifying performances.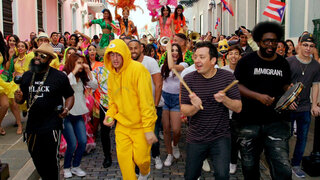 The activist also opened up to Time about what inspires him as an artist. "The manner in which I do music is a way that's so real. I give so much love to the music. I always say that my mom gave so much love to me since I was kid, that's why I have so much to give to the world and the rest. I think that my songs are the same. I give so much love to my songs that it doesn't run out. That energy every time you listen to my song it'll give you so much joy. I don't do songs just to do them. When I have a song to release I will release it."
Originally published Oct 4, 2023.