NBC Insider Exclusive
Create a free profile to get unlimited access to exclusive show news, updates, and more!
Sign Up For Free to View
The Best of Bad Bunny and Jimmy Fallon on The Tonight Show
Who can forget the day Benito sang "MIA" in the streets of Old San Juan? Revisit the best moments from the Grammy-winning singer's visits to The Tonight Show Starring Jimmy Fallon.
Bad Bunny is one of the world's biggest pop stars, selling out stadiums and shattering streaming records. In 2023 alone, he won a Best Música Urbana Album Grammy for his Un Verano Sin Ti LP and became the first Spanish-language musician ever to headline Coachella. But did you know that Bad Bunny's very first late-night TV appearance was on The Tonight Show Starring Jimmy Fallon?
The Puerto Rican singer, rapper, and sometime actor (he played an assassin in the 2022 movie Bullet Train), born Benito Antonio Martínez Ocasio, first appeared on The Tonight Show back in 2018. Since then, he's been back to perform and chat with Fallon five times — including a gorgeous 2019 performance of "MIA" in the streets of Old San Juan.
Here's a look back at some of Bad Bunny's best moments with Jimmy Fallon: 
Bad Bunny and Jimmy Fallon perform "MIA" in Puerto Rico (2019)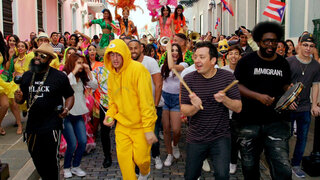 When Jimmy and The Roots' Questlove and Black Thought casually happen upon Bad Bunny during a visit to Old San Juan, they join him to perform his hit "MIA" as they dance through the streets. What begins as a three-person jaunt turns into a full-on parade, complete with a horn section and stilt walkers in a scene that's as colorful as the umbrellas that hang over Calle Fortaleza. 
RELATED: Niall Horan Opens Up About Jimmy Fallon's Wild Surprise Audition on The Voice
Bad Bunny doesn't know who won the Super Bowl after his halftime performance (2020)
In this clip from his appearance on the February 27, 2020 episode, the singer answers a question you might've wondered about: Where does the stage name "Bad Bunny" come from? The adorable answer lies in a photo Fallon shares of a young Bad Bunny one Easter when he was a child, looking sullen in an actual bunny costume (aww!).
He also admits that, honored as he was to perform with Shakira at the 2020 Pepsi Super Bowl Halftime Show (co-headlined by Jennifer Lopez), he knows nothing about football: "I don't even know who won the game!" he said. 
Bad Bunny on making his acting debut on Narcos: Mexico (2021)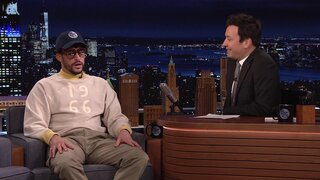 When Bad Bunny returned to The Tonight Show the following year, he'd made his first foray into television acting with a four-part turn on Narcos: Mexico as Arturo "Kitty" Páez. 
"I'm learning and practicing," he said, describing the similarities between performing music and performing onscreen. 
RELATED: Dolly Parton and Jimmy Fallon's Christmas Song Is as Amazing as You Think
Bad Bunny watched his Wrestlemania fight every night before bed (2021)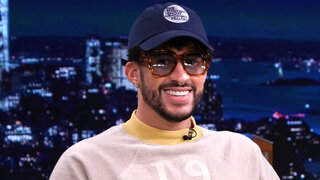 While Bad Bunny may not be much of a football fan, he is a lifelong wrestling fan — so getting in the ring for the WWE's Wrestlemania was, he told Jimmy, "a dream come true." Training for three months to make his moves and top-rope jumps look as good as the pros', he confessed that in the month afterward, he rewatched his fight every single night. "Sometimes I cried!" he said.