NBC Insider Exclusive
Create a free profile to get unlimited access to exclusive show news, updates, and more!
Sign Up For Free to View
D*** in a Box: Looking Back on the SNL Musical Sketch
One of Saturday Night Live's earliest video shorts earned Justin Timberlake and Andy Samberg an Emmy—and spurred two sequel songs. 
On December 16, 2006, Saturday Night Live aired a Digital Short titled "D*** in a Box" during their annual holiday episode. It's since become one of the show's most classic pretaped sketches—and it earned the sketch's stars and co-writers, Andy Samberg and Justin Timberlake, an Emmy for Outstanding Original Music and Lyrics the following year.
Inspired by a shared love of '90s R&B, the creators of SNL's "D*** in a Box" unwittingly made what would be the first of three musical sketches featuring their characters. They also kept network censors on their toes at the time.
Here's the story of making "D*** in the Box," according to the writers and performers who made it happen.
How did Andy Samberg and Justin Timberlake meet?
They met at SNL in December 2006.
As Timberlake recounted on a 2020 Hot Ones episode, the two met in Studio 8H when Timberlake arrived to host SNL for a second time. "We hit it off immediately," he said, adding that the sketch itself took a bit longer to conceive. 
Who wrote "D*** in a Box"? 
"D*** in a Box" was written by Lonely Island, the comedy trio of Andy Samberg, Akiva Goldsman, and Jorma Taccone (all three were hired as writers by SNL in 2005, with Samberg joining as a featured player). 
RELATED: Justin Timberlake's Best Moments on The Tonight Show Starring Jimmy Fallon
When Lonely Island first sat down with Timberlake to dream up a musical short, Samberg told Howard Stern in 2016, "we sort of bonded over that we all loved early '90s R&B music." Though the three were concerned that the concept might not work when they pitched it to the "SexyBack" singer, Samberg recalled that Timberlake's response was, "that's great. That's gonna be a hit.'"
As Timberlake remembered it in Live from New York, a book detailing Saturday Night Live's history from interviews with cast and crew that was excerpted in Billboard, the original concept was about two men who were stuck in that era of smooth music and its accompanying aesthetic.
"And so that's the idea we started off on, and then it was kind of like, "How do you get away with them being idiots?" Timberlake said. "And the best way was for them to be as genuine as possible about the gift they were giving but not totally being at your full wit."
RELATED: SNL's Most Memorable Cold Opens
Taccone finally cemented the conceit, Timberlake recalled on "Hot Ones," when he referenced the prank involving a popcorn box with a cut-out bottom. While "super creepy," he explained, the idea of this gift "was totally appropriate for two guys who are completely misled about what's appropriate."
The FCC reached out before the sketch aired
After they filmed the sketch until 3 a.m. on the morning of the show, Timberlake continued, the FCC informed them that they couldn't say the d-word on the air. They agreed to "bleep" it out, and the title word in question was ultimately bleeped 16 times when it aired (arguably making it even funnier on first watch). 
There's been two "D*** in a Box" sequels
Buoyed by the viral success of "D*** in a Box," Lonely Island and Timberlake created two follow-up musical sketches that aired on SNL, featuring the goateed duo. Both were also nominated for Emmys. 
The first sequel, "Motherlover," aired during SNL's Mother's Day episode on May 9, 2009. It finds Samberg and Timberlake's characters—freshly released from jail, boxes in tow—hatching a deeply weird plan to pair up with each other's moms. The for-adults-only sketch co-stars Susan Sarandon and Patricia Clarkson as the titular mothers.
When Timberlake returned to host for a fourth time on May 21, 2011, he and Samberg recruited musical guest Lady Gaga for the third and final video, "3-Way (The Golden Rule)."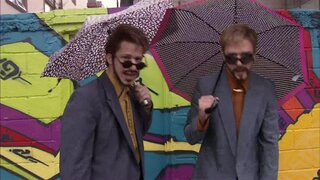 Want to revisit more classic SNL sketches? Start here: 
How Bill Hader and John Mulaney Created Stefon on SNL
Debbie Downer Was Inspired by an Awkward Vacation Interaction
Will Ferrell's Best SNL Moments
17 Kate McKinnon SNL Moments That Belong in the Comedy History Books