NBC Insider Exclusive
Create a free profile to get unlimited access to exclusive show news, updates, and more!
Sign Up For Free to View
The Biggest Moments From Chicago Fire Season 11
It's been an intense season of rescues and relationship drama for our friends at Firehouse 51.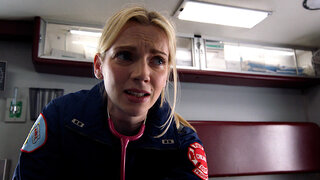 Chicago Fire Season 11 has been an emotional ride. We've lost beloved characters, seen others go through intense turmoil, and watched as new characters enter the fold. 
There have also been some wonderful moments of levity throughout the show's 22 episodes. New relationships have formed — as did new friendships — and we watched Firehouse 51 grow even more into a family unit than fans thought possible. At one point, Brett (Kara Killmer) was even tasked with figuring out how to execute magic tricks. If that doesn't give you an idea of what you may have missed this season, then we don't know what does. 
On that note: If you are catching up on Chicago Fire Season 11 and want to know the highlights, then look no further than this article. We've got all the details on the show's biggest moments, below — which, yes, includes Jesse Spencer's triumphant return as Matt Casey. Read on. 
Brett and Casey break up — and Casey returns 
Long distance proved to be too much for Brett and Casey to handle. The couple broke up at the beginning of the season, and Brett moved on with a truly sweet guy named Dylan (Christopher Allen). However, Casey returned to Chicago in Season 11, Episode 18, throwing Brett for a loop. It's clear Casey isn't happy in Oregon; he told as much to Stella (Miranda Rae Mayo) and also, at one point, lied about having a relationship just to keep up appearances with Brett. 
With Casey posed to come back for the Season 11 finale, maybe he'll think about moving to Chicago for good. Spencer told NBC Insider this isn't outside the realm of possibility. 
"The idea when I left the show was that if it was appropriate and it would work with the storyline they wanted to do, I would be open — and they would be open — to bringing Casey back," he said. "The storyline [in Episode 18] does allude to Casey sort of eyeing whether he could actually move back to 51. Can he potentially, in the future, rekindle his relationship with Brett [Kara Killmer] and start that fire again? We're 'gonna have to see. Casey's looking at it; it's a potential thing, but we just don't know right now. We'll leave that to the future. We'll throw it to the gods and see what they say." 
In the Season 11 finale of Chicago Fire, Dylan breaks up with Brett after realizing they're in two different life places. She's ready for kids, and he's not. This leaves an opportunity for Casey to jump in, which is exactly what he does. In the last minutes of the episode, he gets down on one knee and proposes to Brett. But will she say yes? We'll have to wait until Season 12 this fall to find out
Hawkins tragically passes away — and Violet navigates her grief 
Violet (Hanako Greensmith) and Hawkins (Jimmy Nicholas) were stronger than ever at the top of Season 11. However, everything came crashing down in the most tragic way possible in Season 11, Episode 3, when Hawkins was killed in an accident from a fire 51 was putting out. Violet's been coping with this all season, and while she certainly hasn't been cured of her grief — and never will be; grief is a lifelong process — she's making strides. 
When NBC Insider asked Jimmy Nicholas how he thought Violet would manage in wake of losing Hawkins, he said, "I think she's 'gonna do what anybody would ,which is the best they can. That's grief. I'm sure there'll be episodes where she's OK, or at least the world thinks she's OK, and there'll be episodes where the world can see she's not OK. It's not a linear line through grief, and I think Violet will be the same...We all deal with grief every single day, and I think Violet will do her best to get through it. I know there'll be certain moments where she is strong and pushes through and does amazing things, and maybe even uses his memory to do great things. And there will be other moments where she's vulnerable and not OK, and I hope that her journey on the show shows both sides of that coin." 
Severide takes a new step in his career 
Towards the end of the Season 11, Severide decides to further his career by enrolling in an arson investigation program based in Alabama. Because of this, he hasn't been around Firehouse 51 the last couple of weeks. Stella has been managing just fine, but she was given a curveball in Season 11, Episode 21 when Cruz (Joe Minoso) told her Severide's program ended weeks ago and he's now working a real ATF mission — at an undisclosed location. So, where is he? And why didn't he say anything to Stella? 
The Season 11 finale didn't offer much in terms of answers. When Stella asks Severide on the phone where he is, he gives a vague answer and tells her not to worry. Panicked that Severide could be slipping away, Stella decides to leave Chicago to find him and bring him back. In Season 12, we'll learn if she's successful on her quest. 
Cindy Herrmann battles lung cancer 
One of the most emotional storylines this season was Cindy's battle with lung cancer. The illness not only took a toll on her but the entire Herrmann family, including Christopher, who did everything he could to keep the peace. In the end, Cindy was able to become completely cancer-free, much to the relief of Chi-Hards everywhere. 
Brett wants to adopt a baby 
After a teen mom, Amber, delivers her baby (with the help of Brett and Violet) and decides she's not ready to be a mom, she drops her young daughter off at Firehouse 51. (Brett took a nurturing interest in the little one, and Amber clearly noticed.) The whole experience made Brett realize she'd like to become a mom — and specifically the adoptive parent of Amber's baby. In order for this to happen — without Brett having to go through the laborious red tape of adoption — Amber will have to reclaim custody of her daughter and designate Brett as the legal guardian. But will that happen? 
The answer is yes! After some of Brett's Firehouse 51 pals stop by Amber's house to sing her praises, the teenager decides to do what's required to ensure Brett becomes her baby girl's adoptive parent. That's right: Brett is on her way to motherhood.