NBC Insider Exclusive
Create a free profile to get unlimited access to exclusive show news, updates, and more!
Sign Up For Free to View
Kara Killmer Reveals the Moment Brett Knew She Had to Break Up With Casey
She called this moment "the linchpin" that led to her decision.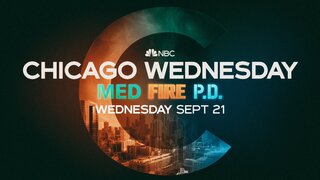 In Chicago Fire Season 11, Episode 2 (which aired on September 28), we see Brett (Kara Killmer) attempt to work through her breakup with Casey (Jesse Spencer) in the best way she knows how: through her work. She fully dives back into her paramedicine passion project—at a pace that concerns Mouch (Christian Stolte). And while an incident with a patient, Warren, at the end of the episode did concern fans, Killmer tells NBC Insider that work will continue to be a center of Brett's life in the aftermath of the Casey split. 
"It'll be interesting to see her really dedicate herself to her career," she says. "And I think we've always seen Sylvie in a relationship. We've always seen her in a romance. She's a hopeless romantic, but I think it's important to see her come into her own and focus on her own things. Friendships and her career, not just her love life. I'm really excited about being able to explore all of that."
On the topic of Brett's love life, though, Killmer did divulge a little about what went wrong with her and Casey. As fans know, the long distance—with Brett in Chicago and Casey in Oregon—caused strain. Specifically, Killmer tells NBC Insider the arrangement left Brett feeling she couldn't be "100 percent" anywhere. 
"She wasn't able to be fully invested in her relationship or her work," she says. "And she has this passion project of paramedicine that is really making a difference. That is how she's trying to impact the city." 
Someone that had an impact on her, though, was Sheffield (Teddy Sears), her ex-fiancé who came back in Season 11, Episode 1 to tell Brett that he's actually now engaged to someone else. That interaction, Killmer says, was a catalyst for Brett to break up with Casey. 
"Sheffield comes back basically to tell Sylvie, 'I'm engaged,'" she says. "I think that was one of the dominoes for Sylvie that was like, 'Wow, Violet and Hawkins are finally together. Kidd and Severide are finally married. Even my ex-fiancé is moving on with his life.' I think it was just being surrounded by everyone moving forward in their relationships, and yet Sylvie was still kind of frozen in hers. I think it was the linchpin; it was the push that she needed to go ahead and decide to end the relationship. At least for now." 
That said, Killmer tells NBC Insider she was "just as devastated as all of the fans were" when the split happened. And while viewers may still be hurting for a while, it's good to see Brett taking steps to move forward with her life. 
To see what happens next, watch Chicago Fire on NBC Wednesdays at 9/8c and next day on Peacock.