NBC Insider Exclusive
Create a free profile to get unlimited access to exclusive show news, updates, and more!
Sign Up For Free to View
Kyle Sheffield Made a Surprise Chicago Fire Return—What That Means for Brett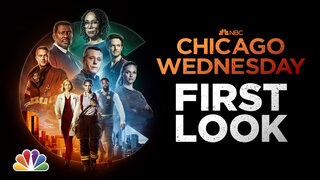 Fans were devastated to learn that Brett (Kara Killmer) and Casey (Jesse Spencer) split during the Chicago Fire Season 11 premiere. A few days before she made the call to break things off, though, Brett got a blast from the past: Kyle Sheffield (Teddy Sears). Yes, Brett's ex-fiancé made a surprise return to Firehouse 51, and now fans are buzzing with questions. Does this mean he'll be back in her life? And if so, in what capacity? Below, we break down who Kyle is (for fans who forgot) and what happened in the Season 11 premiere. 
Who is Kyle Sheffield on Chicago Fire?
Kyle Sheffield is the former fire chaplain for the Chicago Fire Department. He appeared in 10 episodes of Chicago Fire between 2018 and 2019, in Season 7. He and Brett developed a relationship throughout those episodes that got complicated when Sheffield was assigned a new peer support director position in Indiana. Before he left, Sheffield proposed to Brett; she said yes and re-located with him. However, by the end of the season, Brett felt compelled to return to Chicago and broke things off with Sheffield. 
Will Sheffield and Brett get back together on Chicago Fire?
We'll have to wait and see. As of now, the answer is no. Sheffield is engaged to another woman, Cassie, and tells Brett in Season 11, Episode 1 that the "stars aligned" in his new relationship. Ironically, Brett uses that same language to break up with Casey, telling him on the phone, "Our stars just didn't align.That's all. The timing just wasn't right. But Matt, maybe someday." From this, it seems like Sheffield (or, at the very least, his words) were on Brett's mind during this conversation. 
So, does this suggest a re-kindling down the line? Chicago Fire co-showrunner Andrea Newman tells NBC Insider, "Brett has become a really tough and independent woman, and she's really focused on her career. So that'll be a lot of where the focus is at in the beginning [of Season 11], when she's still mourning the relationship with Casey. But at a certain point, yeah, it's 'gonna be time for her to get back out there. And we've got some fun surprises on that end—who she ends up connecting with." 
Will one of those connections be with Sheffield? Will we see more of him?  Newman says, "You never know." Meanwhile, co-showrunner Derek Haas says, "On this show, we love to bring people back. Hang tight."  
Hang tight we will! Watch Chicago Fire on NBC Wednesdays at 9/8c and next day on Peacock.