NBC Insider Exclusive
Create a free profile to get unlimited access to exclusive show news, updates, and more!
Sign Up For Free to View
Is Carver Leaving Chicago Fire? Here's What Happened After His Arrest
Season 11, Episode 21 gave us answers.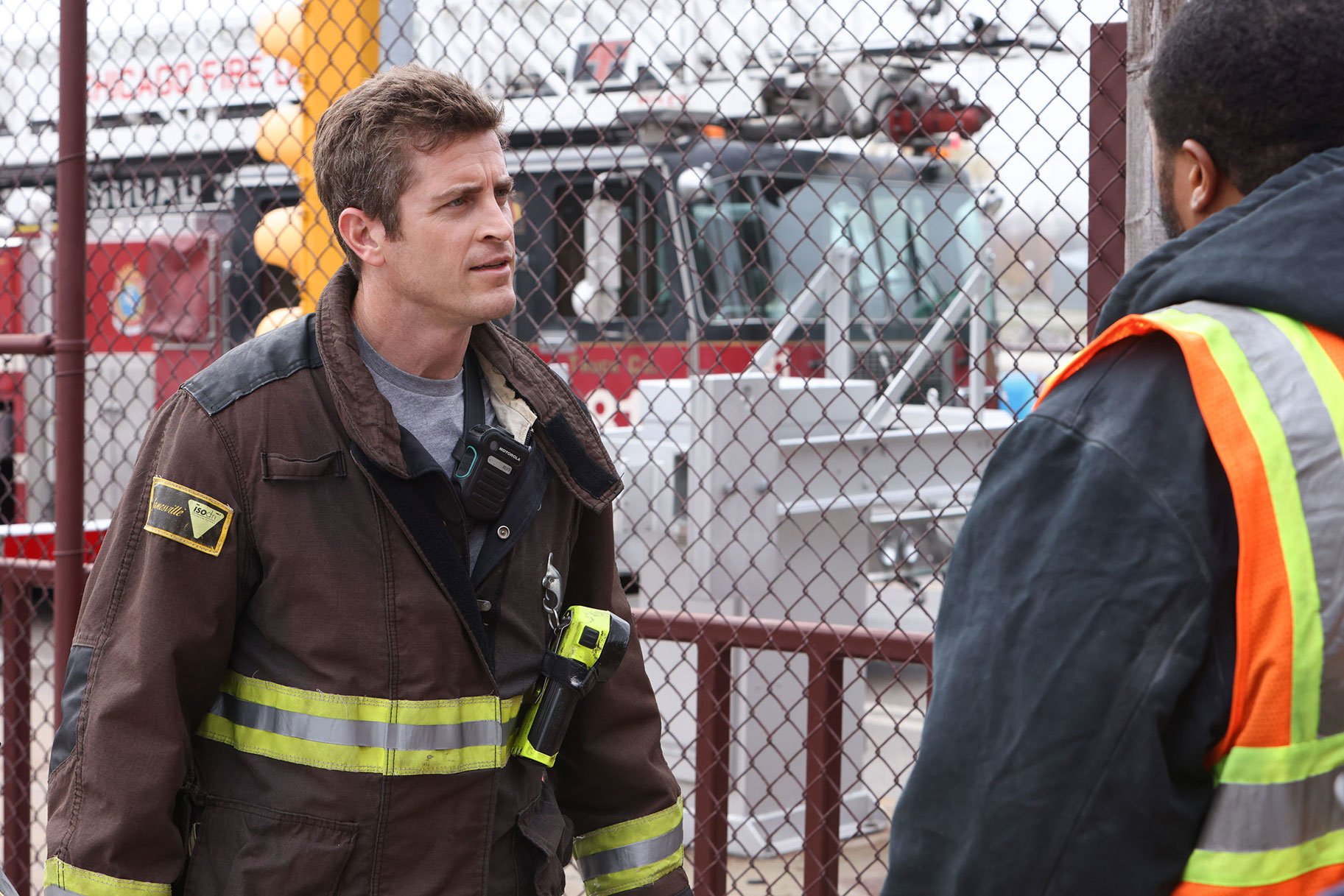 Chicago Fire Season 11, Episode 20 was eventful, especially for Stella (Miranda Rae Mayo) and Carver (Jake Lockett), who found themselves embroiled with a victim who posed a threat to their safety. Here's what happened: 
Chicago Fire Season 11, Episode 20 recap
In the episode, we see Stella attempt to save a victim, Shep (Eric Peterson), who's been crushed under a dumpster. Shep is homeless and tells Stella it doesn't matter if he dies because no one cares about him. To this, Stella tells Shep that she cares about him and that today he is the most important person to the Chicago Fire Department. 
The sentiment resonates with Shep, who's soon freed from the fallen dumpster. He later visits Stella at 51 to thank her for her kind words.  Standing next to Stella is Carver, who Shep seems to take an immediate disliking towards. When Stella is out of earshot, Shep tells Carver viciously, "She doesn't love you!" His tone concerns Carver, who isn't even in a romantic relationship with Stella. Shep just misread the situation. 
Shep accidentally leaves behind a pair of gloves and hat at the firehouse, and a concerned Stella wants to bring it to his shelter. But Carver, knowing what Shep told him, offers to do it himself. When Carver arrives at the shelter, we learn Shep isn't staying there. It turns out a necessary factor in his mental health is medication; when off it — which the person at the shelter implies Shep is — he becomes very violent and aggressive, especially towards women. 
Why was Carver arrested on Chicago Fire?
Cut to Stella alone in her apartment building. She receives a buzz at her bottom front door; it's Shep, and he'd like to come upstairs. She declines and calls Carver in a panic, who then races over to Stella's to make sure she's OK. 
Carver finds Shep at the apartment building, and the two men start to go at it. Shep did attack Carver first, but when the cops (who Stella called) arrive on the scene, it looks like Carver is beating Shep up. With this reading, they arrest Carver — and just like that, the episode ends. 
Is Carver leaving Chicago Fire?
Thankfully, we reach a resolution in Season 11, Episode 21. Stella, still concerned about Shep (even though he's pressed assault charges against Carver), attempts to find a decent home for him to live in while he figures out his next move. She goes so far as to visit Shep and tell him that she'll make sure he's taken care of. 
Stella stays true to her word, securing Shep a spot in a very nice residence for homeless people dealing with mental health issues. Once Shep realizes Stella really did mean what she said, he decides to drop the charges against Carver. Now, Carver's in the clear, his job is saved, and it doesn't seem like he's going anywhere any time soon.