NBC Insider Exclusive
Create a free profile to get unlimited access to exclusive show news, updates, and more!
Sign Up For Free to View
Your First Look at Jesse Spencer in the Chicago Fire Season 11 Finale Is Here
What is Matt Casey doing back in Chicago?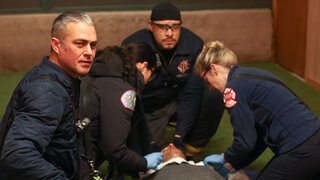 After a triumphant return as Casey in Chicago Fire Season 11, Episode 18, Jesse Spencer is coming back for a little bit more. The beloved actor will appear in the Season 11 finale, which airs Wednesday, May 24 at 9/8c on NBC and next day on Peacock. And your first look at him back in action is here. 
New photos have dropped from the Season 11 finale, including one of Spencer as Casey. He's wearing a Portland Bureau of Fire uniform but standing, presumably, in Firehouse 51. Who is he talking to that's making him crack that smile? Brett (Kara Killmer), perhaps? 
Remember: Brett is currently dating Dylan (Christopher Allen), but it's clear Casey is still harboring some feelings. When he found out Brett had a boyfriend, he lied and said he was dating someone back in Oregon, too, just to save face. You don't do something like that unless you're hoping to make a certain impression. 
Spencer even told NBC Insider that Casey is weighing a possible return to Chicago — and a possible reconciliation with Brett, if the relationship stars align. 
"The idea when I left the show was that if it was appropriate and it would work with the storyline they wanted to do, I would be open — and they would be open — to bringing Casey back," he said. "The storyline [in Episode 18] does allude to Casey sort of eyeing whether he could actually move back to 51. Can he potentially, in the future, rekindle his relationship with Brett [Kara Killmer] and start that fire again? We're 'gonna have to see. Casey's looking at it; it's a potential thing, but we just don't know right now. We'll leave that to the future. We'll throw it to the gods and see what they say." Here's hoping we get some answers in the Season 11 finale. 
As for what else the finale episode has in store, here's its official description: "Brett waits for life-changing news; Herrmann encounters a psychic with a grave warning on a call; Kidd finds a new lead on the Homeland Security case." 
We know the "life-changing news" Brett's waiting on is whether or not she'll be able to adopt teen mom Amber's baby. As for the psychic encounter and the Homeland Security case, we'll have to wait and see how those storylines play out. Photos from the finale suggest we're in for an intense ride. See a few of them, below. 
It's all hands on deck to help a victim who's been crushed in their car by what looks like a boat. 
What has Stella (Miranda Rae Mayo) and Carver (Jake Lockett) looking so worried? 
And where is Carver running off to? 
All will be revealed in the finale come May 24. We can't wait!