NBC Insider Exclusive
Create a free profile to get unlimited access to exclusive show news, updates, and more!
Sign Up For Free to View
Is Jesse Spencer Coming Back to Chicago Fire for Good?
The actor's return in Season 11, Episodes 18 and 22 has fans positively begging for more.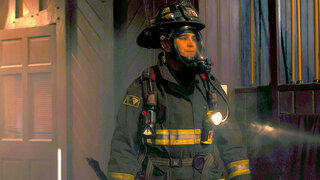 Chicago Fire Season 11, Episodes 18 and 22 saw the triumphant return of Matt Casey (Jesse Spencer), a beloved character who's been a part of the show since the jump. Casey exited the series after Season 10 —making a brief but memorable appearance in the finale — and fans have missed him dearly. 
Which is why they were very excited to learn Spencer would be returning as Casey for Season 11, Episodes 18 and 22.
But with these cameos comes a burning question: Will there be more Casey on Chicago Fire? Or are these appearances just contained one-offs? Well, here's what Jesse Spencer himself has to say: 
Is Jesse Spencer coming back to Chicago Fire for good?
Is there more Matt Casey in our future? Jesse Spencer tells NBC Insider he's definitely open to returning, but nothing is confirmed yet. 
"The idea when I left the show was that if it was appropriate and it would work with the storyline they wanted to do, I would be open—and they would be open—to bringing Casey back," he says. "The storyline [in Episode 18] does allude to Casey sort of eyeing whether he could actually move back to 51. Can he potentially, in the future, rekindle his relationship with Brett [Kara Killmer] and start that fire again? We're 'gonna have to see. Casey's looking at it; it's a potential thing, but we just don't know right now. We'll leave that to the future. We'll throw it to the gods and see what they say." 
There you have it, folks. It's not a yes or no right now — it's simply a, "Let's see what happens!" 
In any case, Spencer was thrilled to step into Casey's shoes again for these episodes. "It was actually really smooth," he tells NBC Insider about the experience. "It was really great. It had been a while; it'd been, like, over a year or something since I'd been back. But it's like riding a bike, you know? There are familiar faces. I know pretty much all the crew and pretty much all the cast. I had a ball."