NBC Insider Exclusive
Create a free profile to get unlimited access to exclusive show news, updates, and more!
Sign Up For Free to View
Are Burzek Back Together After That Steamy Scene? Patrick Flueger Reveals What He Knows
Burgess and Ruzek's never-ending love story all began in Season 1—and it just took a big step in Season 10's "Out of the Depths."
Are Kim Burgess (Marina Squerciati) and Adam Ruzek (Patrick John Flueger) endgame? It's the question Chicago P.D. fans have asked themselves since the couple's complicated relationship began in Season 1. And we may finally have an answer following a steamy closing scene in Season 10, Episode 17's "Out of the Depths".
Following an emotional therapy session in which Ruzek made a touching confession ("Maybe there were some times where I felt more, wanted more, and she didn't feel the same way or want the same things. But you adjust, I adjust, we adjusted and work through it."), Burgess finally revealed that she had always felt the same way but was too "scared and numb" to do anything about it. What followed after was a passionate kiss that led to a hook-up that's been in a longtime coming for Burzek fans.
But with the couple's tumultuous relationship history in mind and seeing as they've been platonic co-parents for the past three seasons, will they stick this time around? Are Burgess and Ruzek actually together? Flueger opened up to NBC Insider.
"You'll have very solid answers to where they stand with another in the next episode," he tells us, hinting at Episode 18's "You Only Die Twice". He continued, "If Instagram comments are any indication, most of the fans are like, 'Just leave them alone.' So I think we've got enough opportunities for drama on our show that maybe you'll actually be able to see two people just kind of happy together."
"We've definitely both told the writers—and, you know, we can tell them anything we want, but it doesn't mean they're going to listen—if they break us up again like, please, let's not try this again. But, yeah, I think it's in a good place."
While we wait for that official answer, now is the perfect time to look back at everything Burgess and Ruzek's romance has been through to get to this point—and we'll start from the beginning.
Season 1
It all began when Burgess and Ruzek were just close friends after first meeting in Episode 6. But after fans saw clear chemistry between the two, they finally kissed following some drinks at Molly's in Episode 10's "At Least It's Justice."  The only problem? Ruzek was engaged to another woman at the time.
But by Episode 15's "A Beautiful Friendship," Ruzek no longer had a fiancée, and the couple finally entered into a full-blown relationship, officially introducing fans to Burzek.
Season 2
After opening up to the rest of the Intelligence Unit about their relationship, the two cops were very much in love throughout the second season. Ruzek surprised Burgess and popped the question in the station's locker room during the finale. Of course, she said yes. 
Season 3
Now fiancés, you'd think that the couple would be on a high following their engagement—but that's not quite how it panned out. Burgess noticed Ruzek's commitment issues, taking note of his two previous engagements and how he kept delaying their wedding date. Sensing he wasn't quite ready to settle down, Burgess called off their nuptials and they broke up in Episode 12's "Looking Out for Stateville." 
Season 4-6
Throughout Seasons 4, 5, and 6, Burgess and Ruzek remained close friends and co-workers, all while dating other people (Ruzek notably gets together with Upton in Season 6). They even occasionally hooked up with each other—offering glimmers of hope for Burzek fans—but their relationship status was still dubious.
Season 7
Following an off-screen hookup, Burgess found out she was pregnant with Ruzek's child in Episode 8, "No Regrets." Of course, this made things even more complicated for the estranged couple. With the goal of "trying to be a good guy," Ruzek proposed again in Episode 11's "43rd and Normal." But Burgess turned him down and said, "We are different, and we're not meant to be together...Not now, not as husband and wife anyway."
In a heartbreaking turn of events, in efforts to save a young girl from being sex trafficked, Burgess suffered a miscarriage after enduring a violent confrontation with a suspect. 
Season 8
In the wake of overcoming an emotional breakdown because of losing their baby, Ruzek did his best to support and communicate with Burgess. But just as the two were beginning to overcome their very complicated history, Burgess became attached to a young girl named Makayla whom she and Ruzek found wandering around alone after her parents were killed.
Eventually, despite Ruzek's initial reservations, Burgess adopted Makayla. She made Ruzek the girl's official custodian even though the two weren't in a relationship.
"We are a lot of things, including pretty screwed up," she tells him in Episode 13's "Trouble Dolls." "Who knows if we'll ever really get our act together, but [Makayla's] last name is Burgess now, Adam. And one thing that we can be, you and I, is we can be this whole big round thing that can surround and protect her. Even if Makayla doesn't know it exists, and I need that. It's the only way that I can do this. Be a good mom and be the kind of cop that I need to be."
Season 9
Season 9 largely focused on Burzek's co-parenting relationship. Their newfound responsibility was especially put to the test when their daughter was kidnapped, leading to a blowout fight between Burgess and Ruzek in Episode 15's "Gone." 
Thankfully, the young girl was found, and her parents put aside their differences to ensure she could work through her trauma. By the end of the season, Burzek still wasn't together, but Ruzek did buy his father's house for Burgess and Makayla to live in—without him.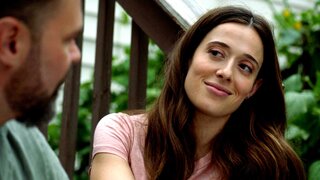 "It's a place for him, that house, whether he recognizes it or not," Flueger told NBC Insider. "He talks about it's this house flooded with light and a big backyard, and I don't know that those things are actually true. In reality, that's how he remembers it. That's his nostalgic view of the place, and I think he's got such good memories there that he wants to make sure that he shares it with this kid that he's just mad about. That he just loves to death... I think he just likes the idea of, without trying to sound misogynistic, that classic caretaker. If I can't be there every day, if you're not 'gonna have my last name, if I can't make decisions here or there that maybe I could at least share this part of myself with you."
Season 10
After opening up in a joint therapy session, something clicked for the pair and they finally confess their seasons worth of repressed feelings to each other. What followed next is a hook-up that has been long-awaited by Burzek fans everywhere.
"I think it has to do with balance," Flueger told NBC Insider of why Burzek are so good together. "I think it's just they balance each other out.  They just collectively calm each other down and, you know, validate each other's strengths and make up for each other's weaknesses."
Chicago P.D. will return to NBC on Wednesday nights in fall 2022. Watch Season 9 now on Peacock.