NBC Insider Exclusive
Create a free profile to get unlimited access to exclusive show news, updates, and more!
Sign Up For Free to View
Marina Squerciati Hints At Something Major for Burzek Fans In This Week's Episode
"I've said too much already," the actress, who plays Burgess on Chicago P.D., shared in a mysterious Instagram post.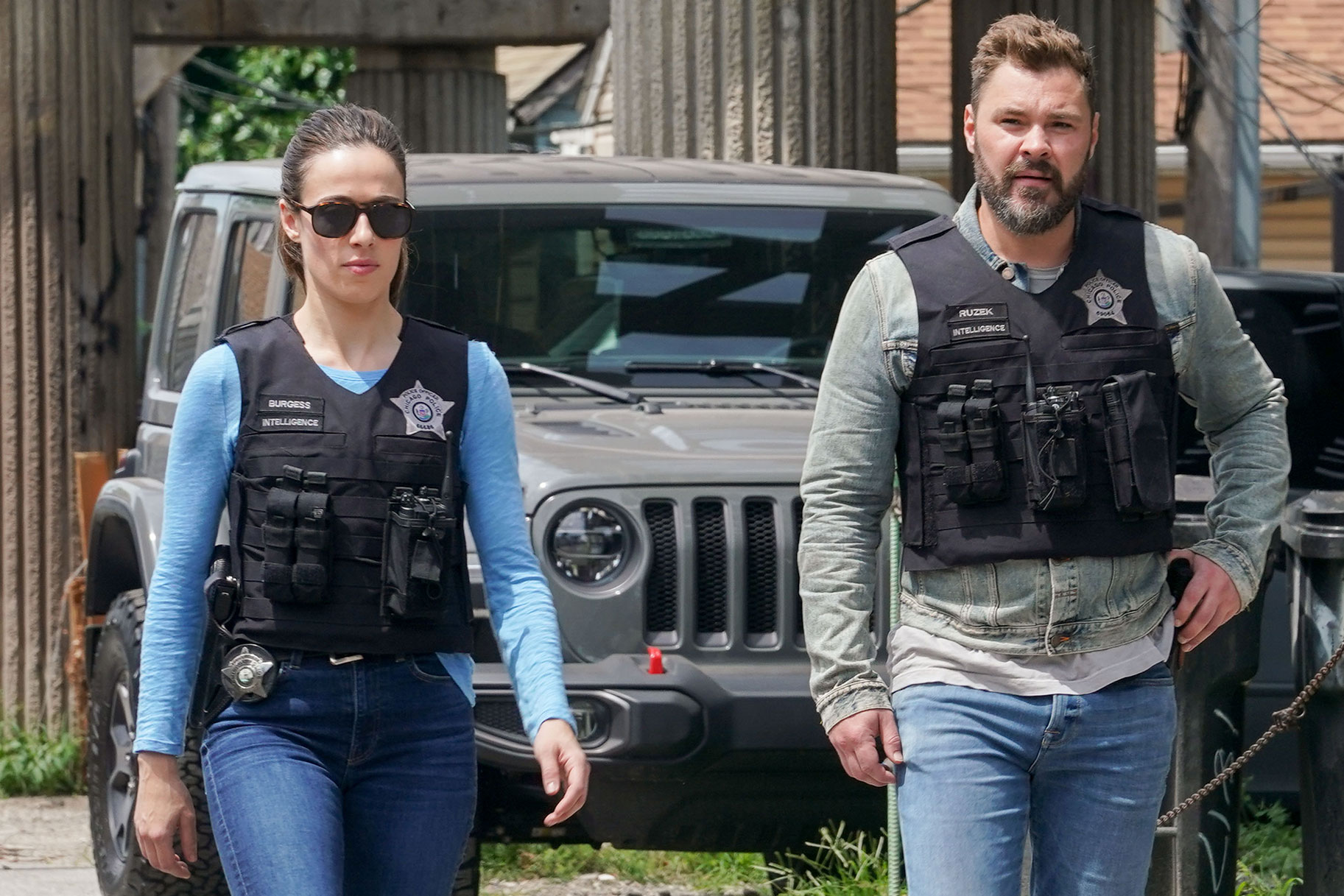 This week's episode of Chicago P.D. is going to be a doozie, as confirmed by Marina Squerciati (Kim Burgess).
On March 27, Squerciati took to her official Instagram page to share a candid selfie of her, Patrick John Flueger (Adam Ruzek), and her on-screen adopted daughter Ramona Edith Williams (Makayla) all smiling at the camera in a heartwarming family moment.
"Attention Burzek fans: DO NOT MISS THIS WEEK'S EPISODE.I REPEAT, DO NOT MISS THIS WEEK'S EPISODE. I've said too much already. 🤫 #thiswednesday #imsoexcited #yougottawatchlive #chicagopd #burzekarmy #burzekfans #nodvringthisiwantyoureyeslive @nbconechicago @pjflueger," Squerciati captioned the post. But what exactly is she referring to? Will there finally be a development in Burzek's will-they-won't-they romance?
In a February interview with NBC Insider, Squerciati opened up about what she believes is next when it comes to the complicated relationship between her character and Ruzek.
"I think she finally realizes that she's been pushing Adam away since the incident when she was shot," she told us. "She thought she'd dealt with it, the trauma, but she's been closing herself off to Adam, inadvertently, so as not to feel anything. Pain, love, desire. She loves him and wants to open up to him, so hopefully this will lead her towards that," she explained.
"She's finally trying to fix herself so she can love herself and then love him," she added after saying that she believes there is a possible future for the two.
Meanwhile, Patrick John Flueger talked about how buying a house in Season 9 was Ruzek's attempt to repair the relationship with Burgess.
"It's a place for him, that house, whether he recognizes it or not," Flueger told NBC Insider. "He talks about it's this house flooded with light and a big backyard, and I don't know that those things are actually true. In reality, that's how he remembers it. That's his nostalgic view of the place, and I think he's got such good memories there that he wants to make sure that he shares it with this kid that he's just mad about. That he just loves to death... I think he just likes the idea of, without trying to sound misogynistic, that classic caretaker. If I can't be there every day, if you're not 'gonna have my last name, if I can't make decisions here or there that maybe I could at least share this part of myself with you."
Watch Chicago P.D. on NBC Wednesdays at 10/9c and next day on Peacock.