NBC Insider Exclusive
Create a free profile to get unlimited access to exclusive show news, updates, and more!
Sign Up For Free to View
Marina Squerciati Explains Burgess' Major Revelation About Ruzek
The actress and the series showrunner reveal changes are coming for Burzek's relationship.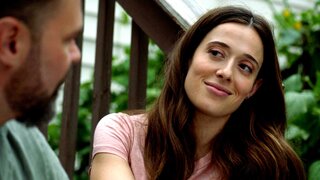 Chicago P.D.'s harrowing 200th episode event (Season 10, Episode 14's "Trapped") saw Burgess—played by Marina Squerciati—forced to confront her PTSD. Much of the heart-pumping episode takes place on the Chicago "L," as Burgess and Ruzek (Patrick John Flueger) find themselves in the middle of a fatal shooting on board the train.
Beginning with "Trapped's" first scene and recurring in the hour, Burgess struggles with a series of debilitating panic attacks that trace back to her Season 8 kidnapping. The final one occurs while she's trapped in a well with the young boy she was tasked with finding during the case. Through it all, Ruzek is a supportive force as he encourages her to take care of herself. By the end of the episode, Burgess makes a confession to her therapist: "I can't feel like this," she says. "I can't be who I wanna be with this. Not for my daughter and not for Adam."
The moment seems small, but it's a significant development in Burgess and Ruzek's extreme slow-burn romance. The pair broke up in Season 3 and have bounced between the friend zone and a co-parenting relationship since Season 7. But with them now living together with Makayla, Burgess' confession that she wants to better for Adam too means everything.
What's next for Burgess and Ruzek on Chicago P.D.?
"I think she finally realizes that she's been pushing Adam away since the incident when she was shot," Squerciati tells NBC Insider. "She thought she'd dealt with it, the trauma, but she's been closing herself off to Adam, inadvertently, so as not to feel anything. Pain, love, desire. She loves him and wants to open up to him, so hopefully this will lead her towards that."
So, does that mean what we think it means? Do Burzek have the potential to rekindle in the future? "Yes," says Squerciati. "Because she's finally trying to fix herself so she can love herself and then love him."
Showrunner Gwen Sigan also teased that their relationship could shift as soon as this season.
"Burgess and Ruzek's relationship will definitely grow and change," Sigan tell us. "They're going through so much together, especially towards the end of this season, and all of it bonds them closer."
Sounds great for us Burzek stans! And as for Ruzek, Flueger told us in November that the cop is just practicing patience.
"[Burgess] just moved in. She just kind of gave him some rope in an area that I think he's been hoping and praying for," he said. "And I think you're gonna be hard-pressed, unless it's a life or death situation, to see him push her too hard."
Watch Chicago P.D. on NBC Wednesdays at 10/9c and next day on Peacock.