NBC Insider Exclusive
Create a free profile to get unlimited access to exclusive show news, updates, and more!
Sign Up For Free to View
Patrick John Flueger Updates Fans on Burzek—And That Chilling Sean O'Neal Case
"I think you're gonna be hard-pressed, unless it's a life or death situation, to see him push her too hard," Flueger tells NBC Insider.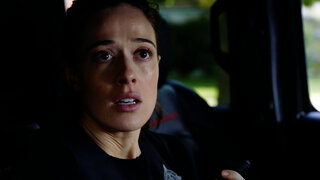 Chicago P.D. fans have waited a few weeks for some much-needed Burzek screen time. But in Season 10, Episode 8's "Under the Skin," we got a brief peek into the status of their relationship.
After years of being on-and-off, Burgess (Marina Squerciati) and Mikayla are settling nicely after moving in with Ruzek (Patrick John Flueger) at his dad's old house. But the co-parents' relationship, though friendly, is still clearly platonic. And any possibility of romance takes a backseat to the newest serial killer case led by Burgess. As the episode title points to, it's under her skin, triggering trauma from her kidnapping in Season 8.
In between flashbacks to the ordeal, Ruzek can clearly tell something is off. However, he doesn't push her, something Flueger tells NBC Insider is crucial for their relationship.
"She just moved in. She just kind of gave him some rope in an area that I think he's been hoping and praying for," he tells us. "And I think you're gonna be hard-pressed, unless it's a life or death situation, to see him push her too hard."
Flueger continued, "He has a mad amount of respect for how hard she works at everything. I don't think you would ever in this moment see him get out in front of her or try and guide her, as much as just be there for the trust fall. Be there to say, 'Look, if you need anything, I'm here for you.' But also just to remind her as somebody that loves her dearly, whatever she may or may not be going through is OK. If she's dealing with it, that's OK." 
After Burgess and the team solved the gruesome serial killer case, she helped Upton with a lead on the ongoing Sean O'Neal trafficking investigation. It led them to O'Neal's Wisconsin cabin, where they dig up human remains. It's a chilling cliffhanger, especially considering we'll have to wait until Wednesday, December 7 for the follow-up episode.
In the meantime, Flueger was able to offer us the tiniest bit of information.
"I think it reinforced that both Hailey and the team as a whole—their instincts are often right," he says of the surprising ending. "It'll come to a climactic and dramatic conclusion in the mid-season finale. I think it definitely tees up a heartbreaker of a mid-season finale."
Watch Chicago P.D. on NBC Wednesdays at 10/9c and next day on Peacock.