NBC Insider Exclusive
Create a free profile to get unlimited access to exclusive show news, updates, and more!
Sign Up For Free to View
4 Big Questions Ahead of Chicago P.D. Season 10
Voight was faced with tragedy and Burzek have a new house.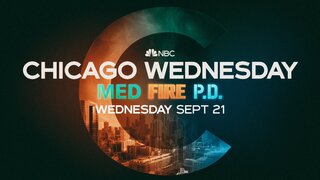 Chicago P.D's Season 9 finale ended with the tragic death of police informant, Anna, a shocking reality for Voight (Jason Beghe). Once Season 10 premieres on Wednesday, September 21 at 10/9c on NBC, we'll see the fallout and exactly how it affects everyone else in the Intelligence Unit. But for now, since we have a little time on our hands, we're taking a look back at every question we need answered going into the tenth season.
What's next for Voight after Anna's death?
The entire Season 9 finale revolved around Anna and Voight's increasingly strained relationship and the attempted takedown of Escano. In the end, in response to her firing at Voight, Upton (Tracy Spiridakos) and Halstead (Jesse Lee Soffer) shot and killed Anna. Voight is clearly destroyed by her death and was by her side in her final moments. 
Will these events be the wakeup call Voight needed in order to officially stop crossing the line in his cases? Or will this trigger a personal spiral that has even more unintended consequences?
How will Voight's actions affect the team, specifically Upton and Halstead?
Whether they wanted to or not, Upton and Halstead witnessed many of Voight's "off the books" antics as he attempted to cover up for Anna's crimes. (Aka, the fact that she murdered Escano). And despite their disapproval, they are now involved. Especially because while protecting Voight, they shot and killed Anna. In Season 10, we'll most likely see the newlyweds also affected by her death. Will they report Voight or stand by him? And what impact could this choice have on their working and personal relationship?
As for the rest of the team, they followed another lead in the Escano case and ended up completing one of the biggest drug busts in the city's history—which is bound to have some positive affects across the Intelligence Unit.
Will Burgess and Ruzek move in together?
Though Burzek didn't have much screen time in the finale, one of the biggest moments of Season 9 happened during Episode 20 "Memory." Ruzek (Patrick John Fluegler) revealed to Burgess (Marina Squerciati) that he bought his father's house for her and Makayla to live in–without him. It was a surprisingly intimate gesture despite the two's platonic co-parenting relationship. Will this lead to them finally becoming a family and spark a rekindling for Burzek?
"I don't know where the writers are 'gonna go with it, but me, the guy playing Ruzek, I kinda have to believe that that's where it's going," Flagler previously told NBC Insider of the couple getting back together. "I think they have a lot of belief in each other. He's foregoing all other opportunities for relationships or even just, like, some camaraderie from the opposite sex to focus on this girl and this kid."
What more will we learn about Officer Torres?
The last we heard about rookie cop Dante Torres was Season 9, Episode 18 "New Guard." But with the news that Benjamin Levy Aguilar (who plays Torres) has been upped to a series regular, we're eager to see what's to come for the character.
Chicago P.D. Season 10 premieres on NBC September 21 at 10/9c and next day on Peacock.