NBC Insider Exclusive
Create a free profile to get unlimited access to exclusive show news, updates, and more!
Sign Up For Free to View
The Biggest Questions Fans Have About Chicago Fire Season 11
What will happen to Casey and Brett?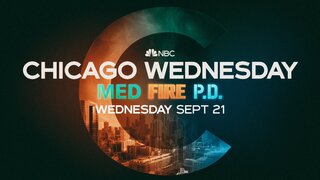 The Chicago Fire Season 10 finale ended with many cliffhangers—and fans are perched to know what's ahead. Thankfully, they won't have to wait long. Season 11 of the hit series premieres Wednesday, September 21 at 9/8c on NBC, and soon, all the burning-hot mysteries will be answered. Until then, let's refresh our memories on the biggest storylines Chicago Fire fans need resolutions for. (You know the future of Brett and Casey is on this list!) 
Stellaride is married. Now what? 
Now that Stella Kidd's (Miranda Rae Mayo) wedding to Kelly Severide (Taylor Kinney) is in the rearview mirror, fans are, naturally, curious about this couple's next steps. Maybe...kids? "I have no clue [about kids], but I'm excited," Kinney told Us Weekly  when asked about the subject. 
What's in the cards for Casey and Brett?
Sylvie Brett (Kara Killmer)  and Matthew Casey (Jesse Spencer) have been trying to make their long-distance relationship work, but at the Stellaride wedding, fans could feel the strain. Brett straight-up asked Casey how long they could keep this arrangement up, seeing as how her life is in Chicago, his is in Oregon, and they're both very happy in their respective cities. Is this couple headed for a breakup? Time will tell. 
Are Violet and Gallo about to rekindle their flame? And what about Hawkins? 
Evan Hawkins (Jimmy Nicholas)  and Violet Mikami (Hanako Greensmith) have been the main players in the love triangle with  Gallo (Alberto Rosende) as of late, much to Gallo's dismay, but that might change. Violet was not pleased with the way Hawkins handled the blackmail situation with Emma (Caitlin Carver), and she confided about this to Gallo, who not-so-subtly implied he still has feelings for Violet. And on the Stellaride wedding boat, Violet gave a longing glance to Gallo. So, is the love triangle about to shake up again and re-center Violet and Gallo? 
Who is in the car on Stellaride's wedding night? 
A mysterious car pulls up in the driveway of the house where Stellaride is enjoying their wedding night. Who is it? Perhaps someone involved with the drug dealer who is hellbent on revenge against Severide? Place your bets!