NBC Insider Exclusive
Create a free profile to get unlimited access to exclusive show news, updates, and more!
Sign Up For Free to View
A Major Chicago Fire Character Might Die After an Intense Finale Shootout
The last minutes of the Season 11 finale proved very concerning for this fan-favorite character.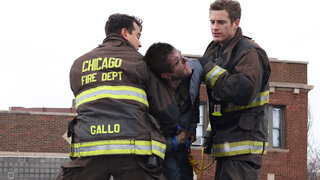 The Chicago Fire Season 11 finale (Episode 22, "Red Waterfall") ended in crisis for a beloved character: Mouch (Christian Stolte). Here's what happened: 
It's all hands on deck at Firehouse 51 when a Homeland Security case threatens the city's safety. Even Matt Casey (Jesse Spencer) returns to Chicago after a concerned Stella (Miranda Rae Mayo) calls him about some high-caliber ammunition discovered on a rescue scene. It turns out she had every right to be worried; those bullets belong to an anti-government group, and they're planning to use them to damage Chicago's electrical infrastructure. 
We see this criminal plan play out in the second half of the episode. Firehouse 51 is called to an electrical plant that's been set on fire by large-caliber ammunition, the same kind Stella found the other day. As they're assessing the situation, bullets start popping off from a sniper overhead, so everyone takes cover. Casey, Stella, Gallo (Alberto Rosende), and Carver (Jake Lockett) leave the scene to track down the shooter and stop him; once they do that and the 51-ers are safe, they can put out the fire. 
Of course, things don't go smoothly. Casey, Stella, Gallo, and Carver manage to find the sniper, but he has armed backup, and a full-on shootout unfolds. While they're able to detain one of the perps before the police arrive, the other flees in his truck. (He's eventually detained, though, so the threat is neutralized.) 
That said, because the sniper is no longer actively shooting, 51 is clear to put out the electrical fire. But as they're doing that, we see Mouch collapse to the ground. He was hit during the shootout, and he has to get to the hospital immediately. 
At first, it seems like he's OK. Boden (Eamonn Walker) tells the crew that doctors were able to remove the bullet that hit Mouch and stop his bleeding. He's expected to make a full recovery. 
But remember: This is Chicago Fire, and things typically aren't wrapped up that neatly.
Is Mouch going to die on Chicago Fire? 
The honest answer is fans don't know right now. Episode 22 leaves viewers on a cliffhanger in which Mouch's health takes a turn for the worse. Herrmann (David Eigenberg) pays Mouch a visit at the hospital, and at first he's in good spirits. The two friends are smiling, laughing, and having a good time. But just as fans breathe a sign of relief, Herrmann notices Mouch's complexion start to pale. He becomes short of breath, passes out, and a monitor he's hooked to starts beeping incessantly. Unfortunately, he's not out of the woods quite yet; the bleeding form his injury has started back up, and it's gotten worse. A panicked Herrmann calls out to doctors for help, but the scene ends before we find out what happens. That means we won't know if Mouch pulls through until the start of Chicago Fire Season 12.