NBC Insider Exclusive
Create a free profile to get unlimited access to exclusive show news, updates, and more!
Sign Up For Free to View
Why This Scene Has Chicago Fire Fans Thinking Stella Is Pregnant
Chi-Hards, what are your thoughts on this fan theory?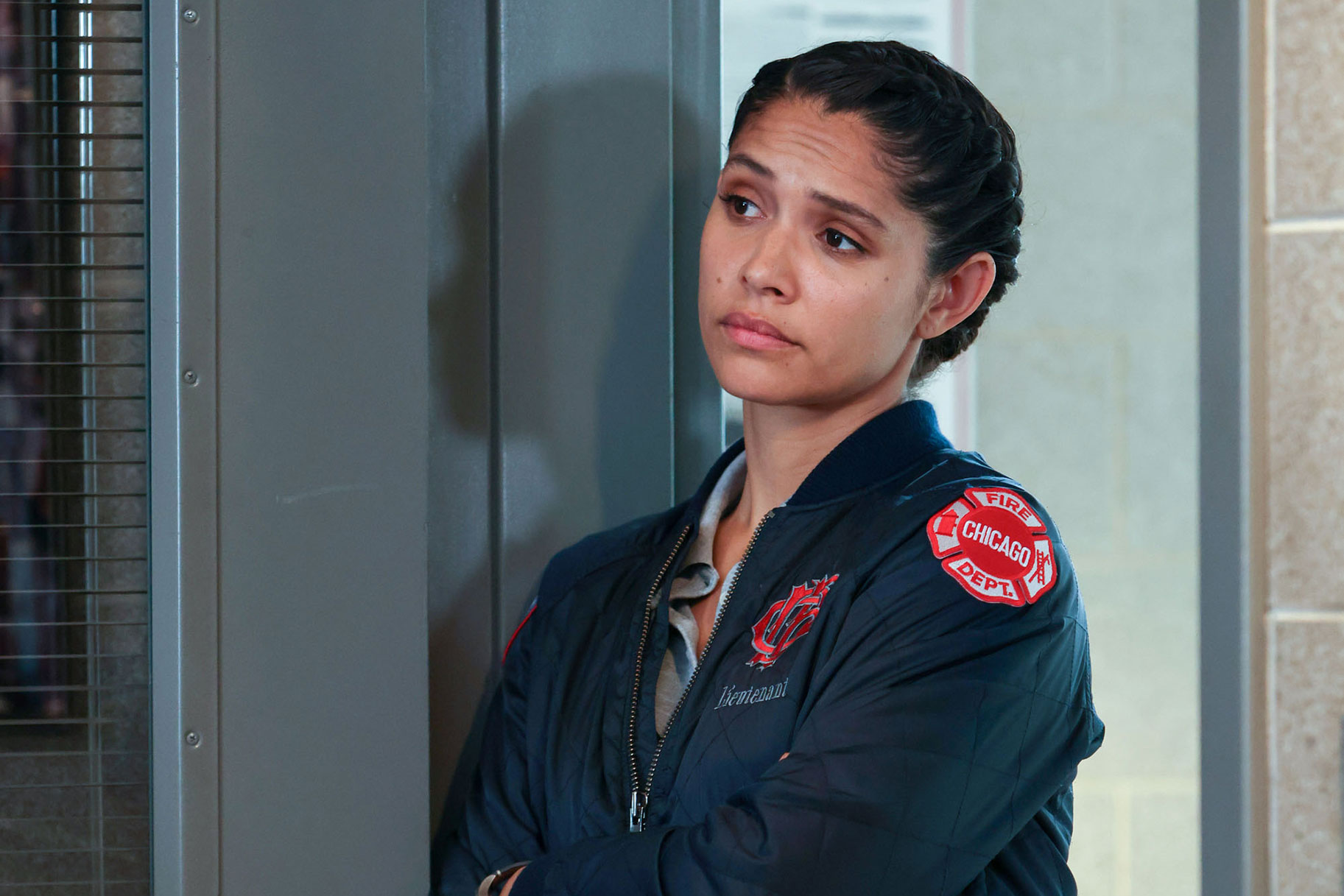 Stella (Miranda Rae Mayo) and Severide (Taylor Kinney) are one of Chicago Fire's most popular couples. And Season 11 of the show has not been an easy one for them. From drug dealers putting their lives in danger to work calls with terrifying endings—all the while navigating 51 as a married couple—there hasn't been a shortage of drama for them this season. 
And if some fans' theories are correct, they may have even more headed their way this season. And by that, they mean a baby. 
Let's start off by saying there is zero confirmation or even substantial evidence that Stella is pregnant on Chicago Fire. But part of being a viewer of a show like Chicago Fire is indulging in the fan theories, and this one is certainly juicy. So let's dive in, shall we? 
Is Stella pregnant on Chicago Fire?
We don't know. No one knows. And while neither she nor Severide have had any conversations lately about wanting kids—or even children in general—something did happen in Chicago Season 11, Episode 17 that has some fans thinking they could possibly be expecting. 
It was a brief conversation between Stella and Joe Cruz (Joe Miñoso). Cruz remarks to Stella, "I don't know how you juggle everything as a lieutenant," and Stella replies, "I don't have to deal with the kids part...yet." 
Stella pauses a bit before saying "yet," and it's that pause that has fans thinking she could be pregnant. 
Is it a stretch? Yes. Is it true? Fans haven't the faintest idea—but that's not stopping them from having a field day over the idea on Twitter. 
"AM I GOING INSANE OR MIGHT WE ACTUALLY HAVE PREGNANT STELLA IN THE S11 FINALE????" one fan tweeted. 
Stella recently went to Alabama to visit Severide at his arson investigation school. Some fans think that was a pregnancy Easter egg, as well. 
"I wondered why they sent her to visit Alabama. But that line convinced me they had a conversation about it," one fan theorized. 
Meanwhile, another viewer speculated, "Literally like we are all feeling the same way about this thinking she's going to be pregnant at the season finale and I can see the Cliffhanger being like her holding a pregnancy test." 
There are some skeptics of this theory, though. As one fan put it, "Realistically, I don't think it will work as then Stella would be off truck for another seven months or so plus after delivery." 
So, what do you think? Does this theory hold any water? Be sure to keep up on the latest Chicago Fire episodes by watching on NBC Wednesdays at 9/8c and next day on Peacock.