NBC Insider Exclusive
Create a free profile to get unlimited access to exclusive show news, updates, and more!
Sign Up For Free to View
How to Watch and Stream Every Season of New Amsterdam Right Now
What you need to know about watching Seasons 1 through 5 of the medical drama.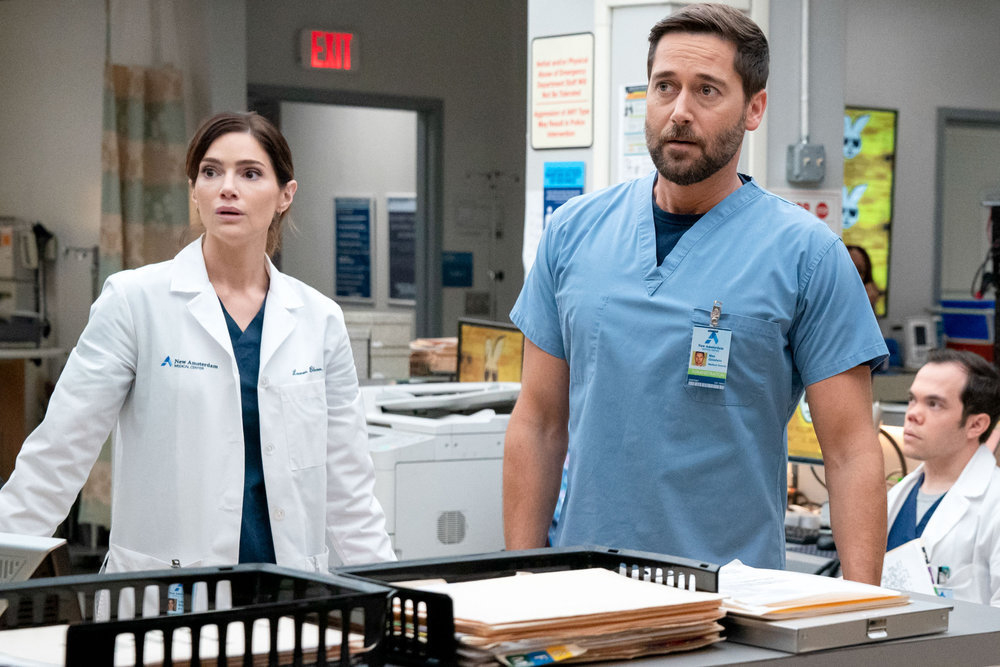 New Amsterdam may have just ended with its fifth and finale season, but that doesn't mean you still can't watch the gripping medical drama.
Starring Ryan Eggold as medical director Max Goodwin, the series took fans into the world of New York City's New Amsterdam Medical Center, America's oldest public hospital. It debuted on NBC in 2018 and was inspired by the very real Dr. Eric Manheimer's memoir Twelve Patients: Life and Death at Bellevue Hospital and his 15 years as medical director at the New York City hospital. Longtime cast member Freema Agyeman left the show following Season 4, while Janet Montgomery, Jocko Sims, Tyler Labine, and Sandra Mae Frank remained through Season 5. 
Looking to catch up on previous seasons or re-watch your favorite episodes? We have everything you need to know, below.
How can I watch and stream every New Amsterdam season?
How did New Amsterdam end?
If you're a new fan that's a little impatient to know how the series ended—spoilers ahead—we'll fill you in on its exciting and touching finale twist.
While Reynolds, Bloom, Iggy, and Wilder got their happy ending during the last episode, there was one unsuspecting character that wrapped up all their storylines perfectly: Luna. Yes, Max and Georgia's daughter. The finale gave fans a flash forward where Luna, inspired by her dad, ended up as New Amsterdam's medical director decades into the future.
"I saw how hard he worked to save one life," she said. "And how hard everybody worked, together. And that's when I realized that New Amsterdam didn't take my father away from me. This hospital gave me my father. Showed me who he was, who I could be. And that's the day I realized I wanted to be just like him. It's the day I realized I wanted to be a doctor. So I wanted to start by asking all of you the same thing my father asked his staff every hour of every single day: How can I help?" 
Show creator Dave Schulner told NBC Insider that this idea was first given to him by his 11-year-old daughter.
"We began the show with Max in that auditorium on his first day saying, 'I grew up in this hospital because my sister died here, and it made me want to be the medical director here when I grew up' So to have Luna come on her first day and be able to say, 'My mother died here, I grew up here and seeing my father is what made me want to be a doctor.' It just felt like such strong storytelling to end where you began," he said. 
What happened to Max at the end of New Amsterdam?
As for Max back in the present, he passed the New Amsterdam reigns to Wilder before heading off to an impressive new job with the World Health Organization in Geneva, Switzerland. As for his love life, Sharpwin fans will know that, ultimately, Max and Sharpe were not meant to be. Instead, he embarked on a romance with Wilder by the end of Season 5. But despite declaring that they were "perfect for each other" and "have something real," even their love story had an ambiguous end and left fans with questions.
"We'd much rather have you do that than say, 'This is what happened,'" executive producer Peter Horton told us. "We know what we were planning on doing, but it was much better to not tell people. So, we're gonna kind of still not tell people for now."
Schulner added, "We give everyone else [in the cast] such a clear ending. It's always better to leave a door open."