NBC Insider Exclusive
Create a free profile to get unlimited access to exclusive show news, updates, and more!
Sign Up For Free to View
Every Act That's Auditioned for AGT Season 18 So Far
See all of the amazing and memorable auditions from America's Got Talent 18 right here.
Summer 2023 has officially ushered in the beloved Auditions round of America's Got Talent!
For the next nine weeks, along with the AGT 18 Judges — Howie Mandel, Heidi Klum, Simon Cowell, and Sofia Vergara — every Tuesday at 8/7c we'll be treated to a number of entertaining performances from countless Acts. They're all competing for the ultimate grand prize: $1,000,000 and their own show in Las Vegas.
RELATED: All 55 Acts Advanced to the AGT 18 Live Shows
To keep track of the latest and greatest, check back here every week as more and more Acts take the stage in hopes of earning the coveted title of AGT champion.
Duo Acero 
Episode 8 
Judge's Vote: Yes 
Act: Pole dancing 
Giselle Acero and her husband, Edison, make up the acrobatic pole dancing act, and admit their long relationship has played a part in how well they perform. They live in Colombia and have been together for nine years. 
"Amazing, thank you for being here, I'm so proud!" Vergara said. "It was sexy, it was scary, I mean, it had it all. And it's so beautiful to see you guys together as a family doing this."
Summer Rios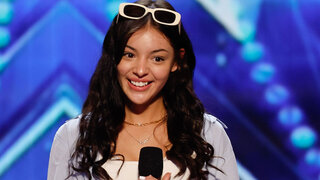 Episode 8 
Judge's Vote: Yes 
Act: Singing 
19-year-old Pizza Hut manager Summer Rios hails from Brunswick, Ohio, with dreams of paying her bills and leaving her pizza cutter behind to become a singer. For her AGT audition, Rios sang Zach Bryan's 2022 hit "Something in the Orange" (a familiar hit for Yellowstone fans).
"I feel like we just got a peek at what you can do," Mandel said. "And you needed to open this door a crack, and you've opened it more than a crack to just take off."
Leonard Lee
Episode 8 
Judge's Vote: No 
Act: Dog slam dunks 
Pulse Percussion 
Episode 8 
Judge's Vote: Yes 
Act: Drumline 
Rob Potylo  
Episode 8 
Judge's Vote: No 
Act: Guitar and singing 
Dev the Devil 
Episode 8 
Judge's Vote: No 
Act: Singing 
Gabriel Henrique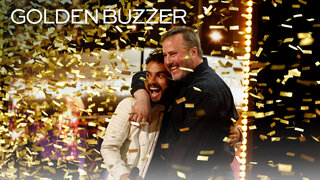 Episode 8 
Judge's Vote: Sofia's Golden Buzzer 
Act: Singing 
The Brazilian singer ignited the crowd with Whitney Houston's "Run to you", hitting breathtaking high notes and runs that left Sofia Vergara stunned. 
"I mean I don't have words, that was so perfect. Spectacular," she said. "Your voice is beautiful. Your energy, who you are, it was, like, perfect."
"I mean if Whitney Houston and Mariah Carey had a baby it would be Gabriel," Heidi Klum saved.
Noodle and Bun
Episode 8 
Judge's Vote: Yes 
Act: Band 
Zion Clark 
Episode 8 
Judge's Vote: Yes 
Act: Wrestling 
Zion Clark — who lives with caudal regression syndrome — is an all-American wrestler, MMA fighter, author, motivational speaker, Guinness World Record holder as the fastest man on two hands, and the subject of an award-winning documentary.
"I am so happy you came on the show. You have no idea. You have such incredible personality. You define the word inspiration. I listened to everything you said ... amazing," Cowell said.
True Villains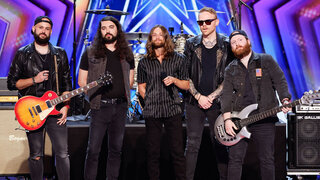 Episode 8 
Judge's Vote: Yes 
Act: Rock band 
Twinjas 
Episode 8 
Judge's Vote: Yes 
Act: MMA, jiu jitsu 
HB Monte 
Episode 8 
Judge's Vote: Yes 
Act: DJ 
Bomba Trio 
Episode 8 
Judge's Vote: Yes 
Act: Comedy ping-pong act 
Kylie Frey