NBC Insider Exclusive
Create a free profile to get unlimited access to exclusive show news, updates, and more!
Sign Up For Free to View
Why the Judges Loved Avantgardey's "Weird" and "Genius" AGT Audition
The panel was very impressed by the quirky dance group, who came all the way from Japan.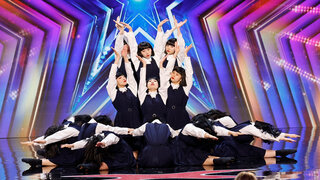 Season 18 of America's Got Talent has been blessed with some highly impressive Contestants so far. Now, in the second round of Auditions, there was one amazing act this week that fans will never forget.
Hailing from Osaka, Japan, the all girl dance group called Avantegardey came all the way to the America's Got Talent stage to perform a jaw dropping routine. And after their applaudable performance, it's safe to say that their travels paid off. 
"We have an original dance piece filled with Japanese soul," one of the group members stated when asked what makes Avantgardey stand out from other dance troupes America's Got Talent has seen before. 
After taking the stage, the group started out their routine to an upbeat instrumental song while all wearing matching black and white dresses. During the number, the group performed intricate choreography, moving their feet and bobbing their heads together to the rhythm in perfect harmony. 
When the song was over, Avantagrdey struck a confident pose and received a much deserved standing ovation from Howie Mandel, Sofia Vergara, and Heidi Klum. And when it was time to receive feedback from the Judges, things could not have gone better.
"That was incredible!" Host Terry Crews exclaimed, clearly mind-blown. 
"I mean you are so beyond in sync, and you really think outside to box," Klum gushed. "I really feel like I saw your Japanese soul."
"This was beyond anything I expected," Vergara added. "It was something weird that we've never seen. I love you girls."
"That was genius," Simon Cowell jumped in. "I'm really, really, really happy you've come all the way from Japan to here, so thank you." 
"I love everything that you do. I've never seen anything like this before," Mandel said in awe. 
After the heaps of praise, there was a clear decision. Avantegardey unanimously received four "Yes" votes before happily shuffling off the stage.