NBC Insider Exclusive
Create a free profile to get unlimited access to exclusive show news, updates, and more!
Sign Up For Free to View
Every Amazing Golden Buzzer Audition on AGT 18
And this summer comes with a AGT twist.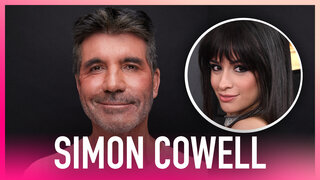 With America's Got Talent 2023 underway, Season 18 has officially wrapped up its auditions. And you know what that means: Golden Buzzers abound.
AGT fans know that there's nothing quite like a Golden Buzzer moment, and we anticipate who the lucky Act will be to receive the coveted honor. Maybe one of them will even win the show and $1 million grand prize?
This year, there's a new twist meaning we'll seen even more of these special moments than ever.
How does the Golden Buzzer work on AGT 2023?
The Judges — Simon Cowell, Heidi Klum, Howie Mandel, Sofia Vergara, plus Host Terry Crews — each have one chance to use their Golden Buzzer on the Act of their choice. This automatically advances the contestants to Live Shows, cementing their opportunity to compete for a spot in the Finale unlike the rest of the Acts who must go through one final round of deliberation before Lives.
This season also marks the return of the Group Golden Buzzer, meaning all of the Judges and Crews can collectively choose an additional recipient. In addition, AGT 18 will have the first-ever Extra Golden Buzzer, which is an Act picked to receive the coveted honor with the help of the crowd. This means that a total of seven Golden Buzzers will be awarded this summer.
Read on to find out who are the lucky Acts. (There was no Golden Buzzer given during the fifth round of auditions, which aired Tuesday, June 27):
Chibi Unity, Episode 9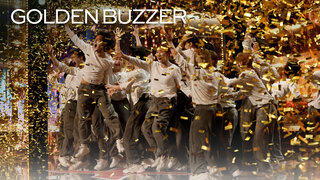 Group Golden Buzzer
Act: Dance crew
The Japanese natives are an award-winning dance group known for their fast-paced choreography and isolations that fuse various dance styles. Their routine was set to "Hometown" by Cleopatrick.
"The dance category this year on Season 18 is off the charts, but you took it to another level," said Mandel. "The emotion that comes out of your dancing is inspirational. I love the speed and the dexterity and the moves that you had. I'd love to see a show, an hour of you, in Las Vegas."
Gabriel Henrique, Episode 8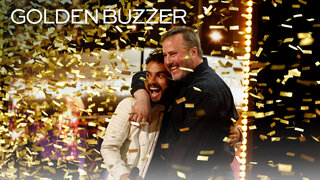 Golden Buzzer given by: Sofia Vergara
Act: Singer
The Brazilian singer ignited the crowd with his rendition of Whitney Houston's "Run to you", hitting a series of unbelievable high notes and flawless runs that left Sofia Vergara stunned. 
"I mean I don't have words, that was so perfect. Spectacular," she said. "Your voice is beautiful. Your energy, who you are, it was, like, perfect."
"I mean if Whitney Houston and Mariah Carey had a baby it would be Gabriel," Heidi Klum raved."
Lavendar Darcangelo, Episode 6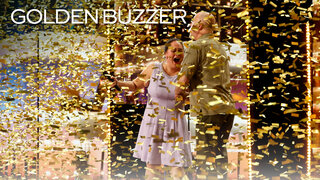 Golden Buzzer given by: Heidi Klum
Act: Singer
Darcangelo, who's blind and autistic, sang her heart out to Fame's Oscar-nominated ballad "Out Here On My Own". She charmed the Judges, particularly Heidi Klum who awarded the performer her Golden Buzzer of the season.
"I feel like I just fell in love," Klum said. "And you know this AGT journey is an amazing journey. And I would love to be your cheerleader and hold your hand all the way to the finish line. What do you say?"
Murmuration, Episode 4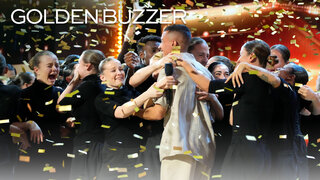 Golden Buzzer given by: Howie Mandel
Act: Dance
The French dance troupe, led by choreographer Sadek Waff, executed seemingly impossible illusions inspired by the synchronization of birds, and it mystified Mandel.
"I was mesmerized," he said before awarding them his Golden Buzzer. "I find what you do hypnotic. I think it's very original and I find it almost more magnificent when you get a large group of people and the movements are smaller, but perfect. It blew me away." 
Chioma and The Atlanta Drum Academy, Episode 3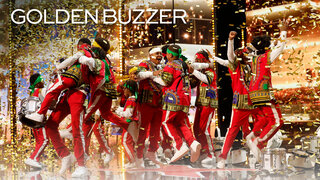 Golden Buzzer given by: Terry Crews
Act: Drums 
Eight-year-old Chioma first emerged onto the AGT stage solo, drum in hand. From this, the Judges deduced he'd be doing some kind of percussion performance — but little did they know what was in store. Chioma's confidence that he could win the competition proved warranted when he was soon joined by a dozen other kids, also holding drums. Together, they form The Atlanta Drum Academy, and their musical performance left the Judges stunned. So stunned, in fact, that Crews awarded the group his Golden Buzzer. 
"Chioma, you told me backstage that you dreamed about being on AGT and getting a Golden Buzzer," Crews said. "Chioma and The Atlanta Drum Academy, I am honored to make that dream come true!"
Putri Ariani, Episode 2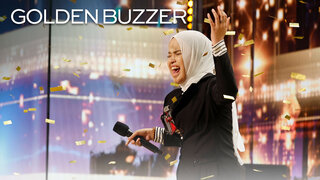 Golden Buzzer given by: Simon Cowell
Act: Singing and piano
Cowell took the stage to ask the 17-year-old Putri Ariani to sing one more time after her initial audition when she sang an original song. Her second song was Elton John's "Sorry Seems to Be the Hardest Word," and Howie Mandel called the Indonesian teen an "angel".
Cowell added, "You are, I think, one of the best singers we've ever had on our show."
The Mzansi Youth Choir, Episode 1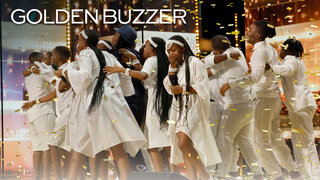 Golden Buzzer given by: The first-ever Extra Golden Buzzer in AGT history
Act: Choir
The South African choir was "inspired and touched" by late AGT 16 contestant, Jane "Nightbirde" Marczewski and sang their own version of her Golden Buzzer audition song "It's OK".
"We just want to continue her legacy, and that's why we chose this song," said Zoe, a member of the choir.
Their Act moved Cowell to tears, as he struggled to give the group feedback after being overcome with emotion. "This brought back so many memories for me," he said. "I know how much this would have — would have meant to her. Right until the end, she was so passionate about sharing her music, and this has gone all over the world, and you come back here with the most amazing tribute."
This article was originally published on May 31, 2023. It was updated on August 9, 2023.