NBC Insider Exclusive
Create a free profile to get unlimited access to exclusive show news, updates, and more!
Sign Up For Free to View
6 America's Got Talent Winners Who Earned the Coveted Golden Buzzer
Since Season 9, the Golden Buzzer has become one of the show's most joyous moments.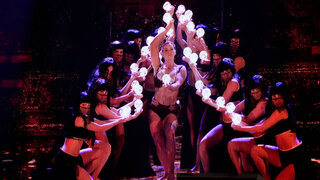 Since the concept of the America's Got Talent Golden Buzzer was introduced in Season 9, it instantly upped the stakes of the competition. And while its rules have changed slightly over the years, one thing remains the same: When a Judge decides to use their single Golden Buzzer of the season, that chosen Act automatically advances to the next round of the competition—no questions asked.
It's this fact that has turned the honor into one of the most coveted and joyous moments of AGT. Many recipients go on to advance to the final round, but only a select group have actually won the entire show and that $1 million grand prize. So in 16 seasons, who are those Acts? We've listed every single America's Got Talent Golden Buzzer winner, below.
The Mayyas, Season 17
Sofia Vergara awarded her Golden Buzzer to the Lebanese dance crew, telling them, "There are no words to explain to you how we were feeling over here. It was the most beautiful creative dancing I've ever seen. I would be so honored to empower you even more in this journey because you deserve it, and I want to be a part of this." The group went on to win the season. 
Paul Zerdin, Season 10
Guest Judge Marlon Wayans awarded Zerdin with the Golden Buzzer during Judge cuts. This made the ventriloquist the first-ever AGT Act to win after receiving the honor.
Grace VanderWaal, Season 11
Howie Mandel used his season's Golden Buzzer on Grace VanderWaal following her impressive audition. Then 12 years old, she performed an original song (accompanied by her ukulele). The moment went viral and is the second most-watched video on the AGT YouTube account.
Darci Lynne, Season 12
Lynne's audition melted then-Judge Mel B.'s heart, and the 12-year-old was automatically advanced to the Quarterfinals. She became the first (and youngest) female ventriloquist to win the show and would go on to take second place on AGT: The Champions.
Kodi Lee, Season 13
During his emotional audition, Kodi Lee—who is blind and autistic—blew the fans and Judges away with his powerful piano and vocal performance. The Golden Buzzer instantly advanced him to the live shows.
Brandon Leake, Season 14
Leake made AGT history when Howie Mandel pressed his Golden Buzzer. He is the show's first poet to earn the coveted honor and the series' only poet to ever take home the grand prize.
America's Got Talent Season 17 premieres Tuesday, May 31 at 8 p.m. ET on NBC.