NBC Insider Exclusive
Create a free profile to get unlimited access to exclusive show news, updates, and more!
Sign Up For Free to View
AGT Winner Brandon Leake Writes His Best Poems in the Most Surprising Place
It's the only consistent part of his process.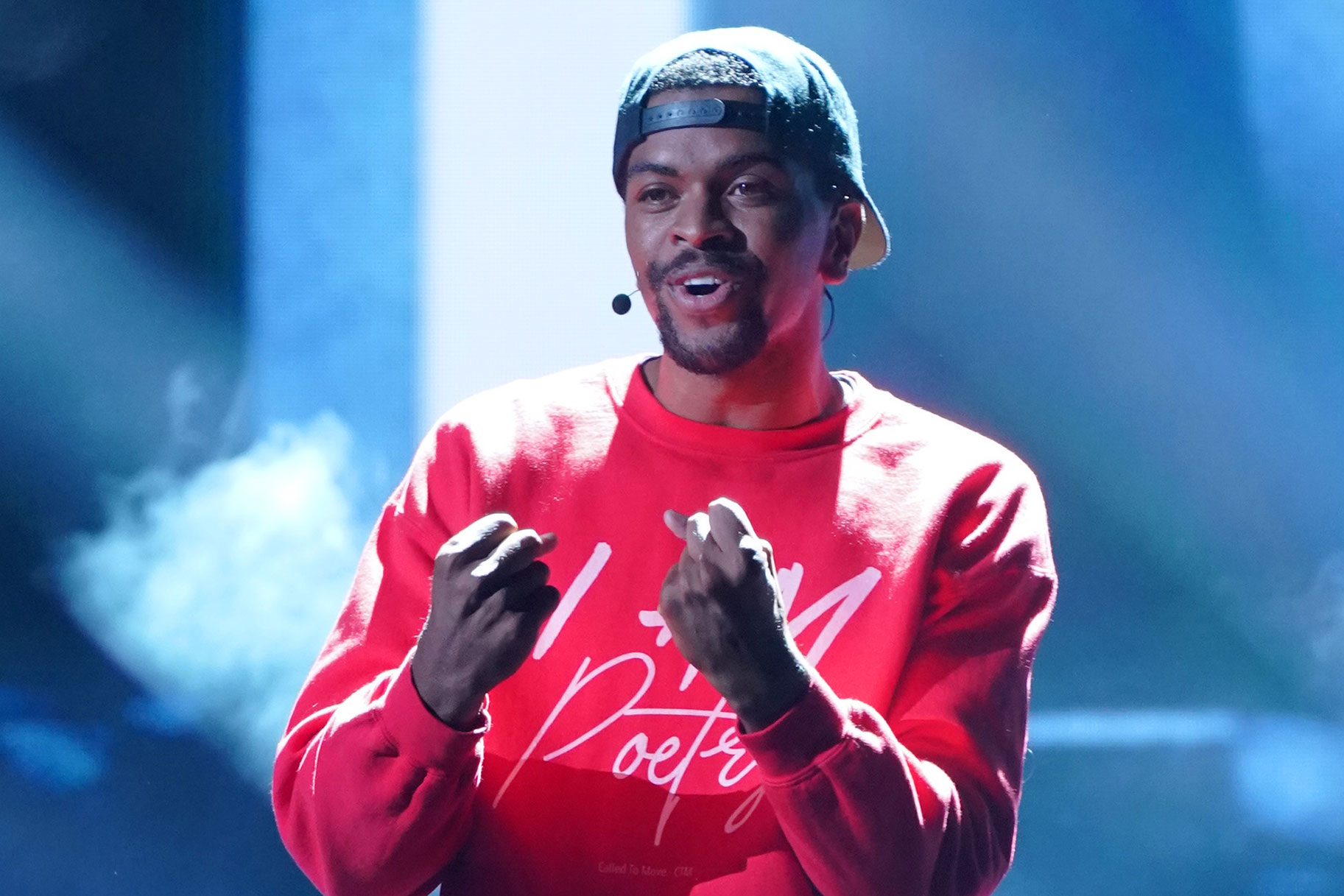 Brandon Leake is AGT royalty. The Season 15 winner is the competition's first (and only) spoken-word poetry champion. Leake's audition, featuring a deeply personal poem about his late sister, earned him a Golden Buzzer from Judge Howie Mandel, and he was an unstoppable force from there. 
This was a long time coming. Leake actually didn't make it to the AGT stage when he first auditioned back in 2017. But instead of giving up, he went back to the drawing board, honed his craft, and tried again three years later stronger than ever. Now, Leake is a poetry maven who tours the country. His new book of poems, Unraveling, came out in March 2022, showcasing his singular artistry yet again. 
Below, NBC Insider chats with Leake about his experience on AGT, where he writes his best poems, and more. Read on.
NBC Insider: How did you discover spoken-word poetry? 
Brandon Leake, AGT Season 15 winner: The journey started one of two ways. You could either say it started in middle school with girls who were cute, and that's how I first started writing poetry. Or you could say it started in college after the passing of one of my best friends—me getting the opportunity to have an outlet to share that type of pain. It's either love or pain, one of the two.
What made you decide to audition for America's Got Talent?
There was really nowhere else to go. Singers can go to The Voice, as well as America's Got Talent. Dancers have World of Dance and all these other places. Poets just have our local coffee shops. There's really no other place to find a mainstream home. But America's Got Talent was a place that said, "Hey, we'll welcome you if you're good." And fortunately for me, I was good enough to make the show the second time around.
Were you the first poet that producers had seen?
There was another poet who was trying out with me. I didn't know her, but she was a beautiful young Black girl, probably around 15 or 16. She did this really sweet poem about her relationship with Jesus. I gave her a hug afterwards and said, "Hey, I didn't make it my first year, so keep trying. Never give up on this dream." I could tell my producer, it wasn't the first time he had heard spoken-word. But it was his first time, I believe, being moved by it the way I do it. It was a testament to the time I had spent really owning and working on my craft.  The reason I became so much better was actually 'cause I failed making the show the first time. After not making it in 2017, I said, "Hey, I really want to try this out and get better at it." So I toured, I did a lot of work. 
What did getting the Golden Buzzer during your audition feel like? 
I actually didn't think about that at all. What I more so thought about was, I felt vindicated from all the people who said spoken-word could never be a mainstream art form. For myself, it was like, this is my time. It's my opportunity. Now I get the chance to be on the forefront and show the world what spoken-word can do. That's what felt really good: knowing I'd done so much work to get so much better, and that I was finally there. I could finally say spoken-word has a place in this artistry world.  
Your season was filmed in 2020, in the thick of the global pandemic, so you didn't have a rapturous audience every week. What was that experience like? 
In my early stages of doing spoken-word, there might've been five, 10 people in the crowd, but there's a level of professionalism you have to have. You give the same effort of performance and excellence for 10 people as you do for 10,000.
Your poems are so raw. How were you able to reach a place where you can be so personal in your work? 
I would say the writing was always personal, but performing was not always personal. Coming from a kid who was always concerned about looking cool, being cool, and doing cool stuff, it was really hard for me to relinquish that type of "cool jacket" off of myself—to just be OK with being like, "Let me, for lack of a better term, look like a dumbass on stage." You have to give yourself permission to cry—to do theater, in a sense. To let it all hang loose on stage and leave nothing behind. I handicapped myself for years because I was too concerned with how people looked at me, how people perceived me.  
What is your writing process like?
Never the same and never replicated. The only consistent thing about my writing is I write best in the shower.
Wait, how does that work?
God blessed me with really long arms, so I just put my phone outside the water and type. And then I just keep my shoulders from getting wet.  
Why the shower?
It's the time that I don't have anybody pulling on me. My kids don't bother me when I'm in the shower, my wife doesn't need anything from me when I'm in the shower. Everybody else is pretty much irrelevant. It's just me and my thoughts. And I'm like, "Sweet, let's do this."
What surprised you most about your AGT experience?
How communal the talent pool became. A good number of us really cheered each other on, even when we were competitive…If you do great, that doesn't mean I can't also be great. It doesn't take away from me. And even in this very direct competition, we were all still rooting for each other.  
Do you have any advice for the Acts competing on AGT Season 17?
Just be you, both on and off stage. You don't have to be this hardened individual who steps in there and does this crazy competitive work. You also don't have to be this overly enthusiastic person who's chasing after everybody's attention. Just be you. This show is about talent as much as it is about story. And if you want your story told properly, you have to be yourself. Don't go out there chasing anybody else. Don't go out there trying to be somebody else.
For more Brandon Leake AGT content, check out this roundup of his best moments from the show. AGT Season 17 premieres Tuesday, May 31 at 8 p.m. ET on NBC.