NBC Insider Exclusive
Create a free profile to get unlimited access to exclusive show news, updates, and more!
Sign Up For Free to View
Brandon Leake's Adorable 3-Year-Old Crashed His AGT: All-Stars Audition
The Season 15 alum made history with his win in 2020 as the first-ever spoken word poet to compete.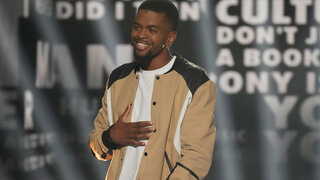 Brandon Leake may have lost out on America's Got Talent: All-Stars' last spot in the Final to fellow Golden Buzzer winner Kodi Lee, but the spoken word poet still made another lasting impression.
Nearly three years after his history-making AGT Season 15 win at the height of the COVID-19 pandemic, Leake returned to compete after feeling like there was unfinished business.
"I still, to ths, day don't feel like I've proven the point," he said. "People were like, 'Oh, he only won because there wasn't an audience. This doesn't translate to a large stage.' I looked at it as, OK, Brandon you've got more work to do."
He continued, "My biggest dream is to help elevate spoken word to the point where people see it just as normally as every other art form."
For the Stockton, California native's latest poem, he reflected on the age old idiom, "Don't judge a book by its cover," by telling the moving story of getting to know a homeless man on the street against his instincts to ignore him. His words moved the Judges and brought them to their feet.
But before they could offer their thoughts, Leake's adorable daughter, Aaliyah, (who turns 3 years old at the end of February) interrupted Simon Cowell's critique to call for her father. "Hi Daddy! Daddy!" she said from the audience. She eventually ended up on stage in Leake's arms while the Judges spoke.
"She's taking your spotlight," Cowell joked before saying, "I never, in my mind, would have thought that someone with an Act like yours could have won AGT. But you won it because of obviously what you say, but also it's the way you deliver everything. You are brilliant."
Heidi Klum said, "It's always very emotional when you speak because you talk about different things that we all deal with in life. You definitely evoke these kind of emotions in me, and I'm sure in so many other people that hear you speak, and you're special."
Howie Mandel, who gave Leake his Golden Buzzer during Season 15, also had words of encouragement.
"I think that you're doing exactly what it is that you want to do, and that is moving people," Mandel said. "And your words are so poetic, so in the moment. We're not only enjoying your performance, but the message is so clear. And thank you for moving us, and I wish you the best."
Leake ended up in the Top 3 alongside musical prodigy Lee and stand-up Josh Blue. As we know, it was Lee who clinched the ultimate Final spot. However, Leake continues to look forward. 
"I have a lot that I could say and want to say, but above anything and everything else… thank you God for this gift for this blessing of art you've granted me," he said in an Instagram caption. "Thank you all for constantly loving on me and my art. I hope it was a blessing to you all, and man do I have one hell of a story to share lol."
Watch AGT: All-Stars Mondays at 8/7c on NBC and next day on Peacock.