NBC Insider Exclusive
Create a free profile to get unlimited access to exclusive show news, updates, and more!
Sign Up For Free to View
Who Won America's Got Talent — and Where Are They Now?
Catch up with all the past AGT winners and see what they're doing today after wowing the judging panel.
We've seen many unforgettable Acts take the stage on America's Got Talent since the show first premiered in 2006. But through all the Red and Golden Buzzer performances, funny times, and viral moments, there's a select group of talent who've stood out above the rest. Yes, we're talking about our 17 amazing AGT winners.
Let's go down memory lane and revisit every single past AGT winner and see... where are they now?
AGT Winners List
Season 1 - Bianca Ryan
Talent: Singer
Instagram: @officialbiancaryan
Ryan was just 11 years old when she became the first-ever winner of America's Got Talent. Her larger-than-life vocals and renditions of classics like Dreamgirls' "And I Am Telling You I'm Not Going" and "I Am Changing" stunned Judges and viewers, leading to her victory.
RELATED: The Beautiful Reason Howie Mandel Keeps Doing AGT — Even Though He's "Jaded"
After multiple vocal surgeries and a paralyzed vocal cord stalled her career for 10 years, Ryan returned to the stage on AGT: Champions in 2020. And in a recent Instagram video, she revealed to her followers that new music is coming sooner rather than later.  
Season 2 - Terry Fator
Talent: Ventriloquist, singing impressionist
Instagram: @terryfator
With his collection of puppets, knack for comedy, and spot-on impersonations of everyone from Etta James to Kermit the Frog, Fator took home the $1 million grand prize in 2007. He's since been a guest Act on six different seasons of AGT and has had residencies at the Las Vegas Hilton and The Mirage. He currently headlines a new show, Who's the Dummy Now, at the New York, New York Hotel and Casino in Vegas.
Fator made a reappearance on the AGT stage when he returned to compete in 2023's AGT: All-Stars and advanced to the Finale.
Season 3 - Neal E. Boyd
Talent: Opera singer
After clinching the winning title for his powerful vocal chops—he auditioned with Puccini's "Nessun Dorma"—the then 32-year-old opera singer took home the $1 million grand prize and headlining spot in a show at MGM's Grand Garden Arena. He'd go on to release an album in 2009, My American Dream, and ran for the Missouri House of Representatives twice. Sadly, Boyd died in 2018 at the age of 42.
"We are very saddened to hear that one of our AGT family members, Neal E. Boyd, has passed away," AGT said in a statement. "Our hearts are with Neal's loved ones during this difficult time."
Season 4 - Kevin Skinner
Talent: Singer, guitarist
It was unassuming chicken catcher Kevin Skinner who won the hearts of America in 2009. From his audition singing Garth Brooks' "If Tomorrow Never Comes," Skinner proved he had the voice of the most seasoned country stars. Skinner released his album, Long Ride, in 2010, but has largely stayed out of the public eye since. 
Season 5 - Michael Grimm
Talent: Singer, guitarist
Instagram: @michaelgrimmmusic
Howie Mandel became a Judge on AGT in Season 5, alongside Osbourne and Piers Morgan. All three of them were mesmerized by Grimm's first audition: a soulful rendition of Cindy Walker's "You Don't Know Me." 
The blues singer's soulful vocals catapulted him to the top spot in the competition. He then headlined the first-ever America's Got Talent Tour. Since his win, Grimm has released multiple albums and toured all across the country. The 43-year-old also competed on AGT: The Champions 2 in 2020. 
Season 6 - Landau Eugene Murphy, Jr.
Talent: Singer
Instagram: @landauemurphyjr
Jazz singer Landau Eugene Murphy Jr. was the fourth musician in a row to win AGT. His knack for effortless renditions of Sinatra led to a $1 million win and a headlining show at Caesars Palace. In the years since, he's released four albums, including his 2011 debut That's Life, which reached number one on the Billboard jazz charts. Nowadays, he uses his platform to give back to his native West Virginia. He also tours all around the world.
Season 7 - Olate Dogs
Talent: Dog tricks
Instagram: @theolatedogs
After several seasons of singing Acts taking home the AGT crown, Olate Dogs broke the streak. America couldn't resist father-son duo Richard and Nicholas Olate and their pack of agile fury friends. Judges Mandel, Stern, and Sharon Osbourne were grinning ear to ear over their pooches' mind-boggling acrobatic skills.
The group has since participated in various tours around the country, even partnering with the Humane Society, but they've kept a low profile since 2018.
Season 8 - Kenichi Ebina
Talent: Dancer
Instagram: @kenichi_ebina_ebiken
Judge Mel B thought Ebina's head fell off his body during his original audition—and when you watch it, you'll see why. From his first performance on the AGT stage, fans were mesmerized by Kenichi Ebina. The dancer-martial artist's ability to combine precise, robotic choreography with gravity-defying acts of strength — like lifting his horizontal body up with just his feet — wowed the Judges. As Stern told Ebina, "I could watch you all day." We could, too. 
His robotic Matrix-style dance audition went viral, with more than 124 million views on YouTube (the most of any Act in the show's history).
He returned to our screens on AGT: Champions in 2019. Now, the "dance-ish performing artist" (as he's always called himself) tours all around the world, from Japan to Dubai. He even lends his skills to productions as a choreographer and artistic director.
Season 9 - Mat Franco
Talent: Magician
Instagram: @matfranco
Magician Mat Franco didn't just do a card trick with his first AGT audition. He did a card show, weaving together a narrative about Judges Klum, Mandel, Howard Stern, and Mel B., and matching it to cards he drew from a genuinely shuffled deck. To call it impressive is an understatement. 
Franco was the very first magician to win the show, stumping the Judges and fans with his charisma and unexplainable illusions. He's had a residency at Vegas' The LINQ Hotel since 2015 and has had multiple guest appearances on AGT, including a performance with the show's Season 16 winner Dustin Tavella.
Season 10 - Paul Zerdin
Talent: Ventriloquist
Instagram: @paulzerdin
During the show's milestone 10th season, Zerdin became the first-ever Golden Buzzer Act to win the entire competition. His comedic puppet show, The Paul Zerdin Family Show, is currently on tour across the U.K. He also returned to compete in AGT: The Champions in 2019.
Season 11 - Grace VanderWaal
Talent: Singer
Instagram: @gracevanderwaal
Grace VanderWaal's Golden Buzzer audition is the second most-viewed in AGT history. At just 12 years old, the musician became the youngest performer since Season 1's Bianca Ryan to win the show. Cowell predicted VanderWaal would be the next Taylor Swift after her phenomenal audition, which featured her playing a ukulele and singing an original song with the skill of a 40-year-old vocalist. 
RELATED: A Breakdown of How America's Got Talent Works
In the years since her victory VanderWaal, 19, released her debut album, Just the Beginning, signed with IMG models, and starred in the Disney+ original movie Stargirl. She currently has more than 4 million followers on Instagram (the most of any AGT winner) and released new singles, "Don't Assume What You Don't Know" and "Repeat," in 2021.
Season 12 - Darci Lynne
Talent: Singing ventriloquist
Instagram: @itsdarcilynne
Darci Lynne Farmer was 12 years old when she took the stage with her quirky band of puppets, showing off talent in ventriloquism, comedy, and singing that seemed beyond her years. (Farmer's mother bought her a rabbit puppet to help combat her shyness, whick kickstarted her career). As a Golden Buzzer Act, she soon became the first female ventriloquist to win the show.
Lynne would go on to earn second place on AGT: The Champions two years later, proving she's only continuing to hone her skills. Lynne is currently touring all around the U.S. and will star in her first film, A Cowgirls Song, in theaters April 22.
Season 13 - Shin Lim
Talent: Card magician
Instagram: @shinlimmagic
Shin Lim is the first Act in history to win AGT twice. First during Season 13, with an encore victory soon after on Champions. You may have also spotted him on Ellen and The Tonight Show With Jimmy Fallon. Lim currently shows off his mind-blowing illusions and card tricks at Las Vegas' Mirage Hotel. 
Season 14 - Kodi Lee
Talent: Singer, pianist
Instagram: @kodileerocks
In 2019, Kodi Lee became the fourth Golden Buzzer Act to win. Both blind and autistic, the musician touched millions with his piano expertise and astounding vocal range. He currently performs in AGT's Las Vegas live show at the Luxor, shares amazing covers for his fans on Instagram, and pops up for the occasional surprise performance at various venues.
Lee returned to the AGT stage for AGT: All-Stars in Winter 2023 and advanced to the Top 10.
Season 15 - Brandon Leake
Talent: Spoken word poet
Instagram: @brandon_leake_ctm
Continuing the Golden Buzzer streak, Leake took home the win in 2020. His powerful and raw spoken-word poems brought a refreshing perspective to the AGT stage as he connected to fans through emotion and honesty. He's since released a poetry collection, Unraveling, and currently performs in AGT's live Vegas residency show.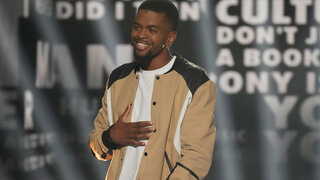 Leake also made a brief return to the AGT universe when he auditioned for All-Stars in Winter 2023. His toddler daughter, Aaliyah, made an adorable cameo during the performance.
Season 16 - Dustin Tavella
Talent: Magician
Instagram: @dustintavella
From his first audition, Tavella brought his unique take on magic to the stage, using the love for his family and emotional personal story to put together a touching (inexplicable) performance. He currently performs in the series' Luxor residency and also returned and auditioned for AGT: All-Stars.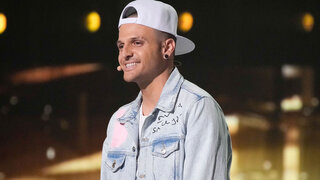 Season 17 - The Mayyas
Talent: Dancing 
Instagram: @mayyasofficial
The Lebanese dance crew was Sofia Vergara's Golden Buzzer and won the last season of AGT. They'll also be headlining the show's Luxor residency. But before that gig they managed to score a spot performing with Beyoncé at her exclusive and much-talked about concert in Dubai, helping to open the luxurious Atlantis The Royal Resort.
Season 18- Adrian Stoica and Hurricane
Talent: Dog tricks
Instagram: @adrianstoica.dogcoach
The trainer and his incredible Border Collier are the second-ever dog tricks Act to win the show. (Olate Dogs took home the crown in 2012 during Season 7.) 
Originally published Sep 15, 2022.