NBC Insider Exclusive
Create a free profile to get unlimited access to exclusive show news, updates, and more!
Sign Up For Free to View
AGT Winners The Mayyas Joined Beyoncé For an Incredible Performance in Dubai
Queen Bey headlined a performance for the opening of a new resort — and brought out the Season 17 AGT victors.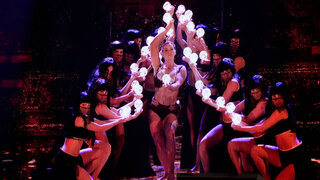 Season 17 AGT winners The Mayyas danced with Beyoncé!
The collaborative performance took place at the January 21, 2023 grand opening event of the luxurious Atlantis The Royal Resort in Dubai. Beyoncé was tapped to host a mini-concert celebrating the resort's launch — and surprise! — she featured The Mayyas in her set. 
In a snapshot posted to the The Mayyas official Instagram page, Queen Bey is seen in a lavish red ballgown while The Mayyas surround her onstage. Many of the dancers have their arms stretched out behind her, creating one of their signature illusions, while others from the group framed Beyoncé from below. 
"It was an absolute honor to share the stage with the one and only Queen Beyoncé. This moment is dedicated to all the dreamers and believers of the world. Thank you @beyonce and the @parkwood team for allowing us to be a part of your magical world," the caption read. 
Meanwhile, the Creative Director of Beyoncé's Parkwood Entertainment, Andrew Makasdi, weighed in on his Instagram, as well. "Thank you for everyone that was part of this magical performance. Thank you to all the ladies of @mayyasofficial thank you @nadimcherfan @leaghorayeb you make me the proudest Lebanese," he gushed.
The Mayyas are an ultra-skilled 36-piece all-women dance group from Lebanon. They blew America away with their Audition on America's Got Talent, which earned the Golden Buzzer from Judge Sofia Vergara. They then went on to come in first place in Season 17, a title that was well earned. They aim to empower women through dance, specifically highlighting it as a powerful art in their native country, Lebanon.
"In Lebanon, the support was there since day one," the crew's choreographer, Nadim Cherfan, told NBC Insider. "The problem is that the Lebanese people, they are not the issue. The issue is the government. They don't support these kind of things. It's not important to them, I think. It's changing a bit, I think, because of the Mayyas and because of what happened on that stage. I really do hope that this kind of art keeps on going and going in the Middle East and in Lebanon. Because there's nothing more beautiful than this."
"I see a lot [of entertainment]," Judge Howie Mandel said in an exclusive interview with NBC Insider after one of The Mayyas' performances.
"And not just because I do this job. Even when I'm not here, I live on TikTok and YouTube and Snapchat. My TV's on 24/7, and I'm watching things that aren't even in English, and I don't know what I'm watching, but I'm fascinated. I go to clubs; when I'm in Vegas, I see every show. I just love watching people perform. So when I see an Act like The Mayyas, it just blows me away. I feel like I was shaken to my core seeing an Act like that."
This article was originally published on January 23, 2023. It was updated May 30, 2023.