NBC Insider Exclusive
Create a free profile to get unlimited access to exclusive show news, updates, and more!
Sign Up For Free to View
The Mayyas Joined Beyoncé For an Incredible Performance in Dubai
Beyoncé headlined a performance for the opening of a new resort—and brought out the Season 17 AGT winners.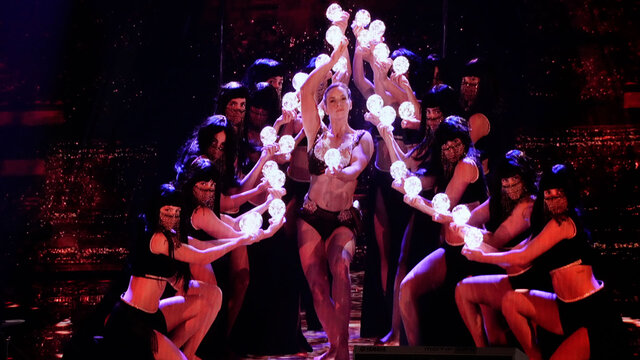 Season 17 AGT winners The Mayyas just danced with Beyoncé! The collaborative performance took place at the grand opening event of the luxurious Atlantis The Royal hotel in Dubai. Beyoncé was tapped to headline a performance celebrating the resort's launch—and she featured The Mayyas in her set. 
In a snapshot posted to the The Mayyas official Instagram page, Queen Bee is seen in a lavish red ballgown while The Mayyas surround her onstage. Many of the dancers have their arms stretched out behind her, creating a wonderful illusion, while others from the group framed Beyoncé from below. 
"It was an absolute honor to share the stage with the one and only Queen Beyoncé. This moment is dedicated to all the dreamers and believers of the world. Thank you @beyonce and the @parkwood team for allowing us to be a part of your magical world," the caption reads. 
Meanwhile, the Creative Director of Beyoncé's Parkwood Entertainment, Andrew Makasdi, weighed in on his Instagram, as well. "Thank you for everyone that was part of this magical performance. Thank you to all the ladies of @mayyasofficial thank you @nadimcherfan @leaghorayeb you make me the proudest Lebanese," he gushed.
The Mayyas are an ultra-skilled 36-piece all-women dance group from Lebanon. They blew America away with their Audition on America's Got Talent, which earned the Golden Buzzer from Judge Sofia Vergara. They then went on to come in first place in Season 17, a title that was well earned.
"I see a lot [of entertainment]," Judge Howie Mandel said in an exclusive interview with NBC Insider after one of The Mayyas' performances. "And not just because I do this job. Even when I'm not here, I live on TikTok and YouTube and Snapchat. My TV's on 24/7, and I'm watching things that aren't even in English, and I don't know what I'm watching, but I'm fascinated. I go to clubs; when I'm in Vegas, I see every show. I just love watching people perform. So when I see an Act like The Mayyas, it just blows me away. I feel like I was shaken to my core seeing an Act like that."
NBC Insider is your all-access pass to some of your favorite NBC shows. Go behind-the-scenes, stay on top of breaking news, hang with the stars, and much more.