NBC Insider Exclusive
Create a free profile to get unlimited access to exclusive show news, updates, and more!
Sign Up For Free to View
The Heartbreaking Story Behind Country Act Mitch Rossell's Audition Song "Son"
"I can't wait to play that song for my son," America's Got Talent Host Terry Crews told Mitch Rossell. "You hit every heart in this room. We are all moved."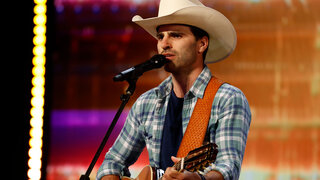 A 35-year-old man from eastern Tennessee perfectly captured the love between a father and son during an audition for America's Got Talent. But it took loss, and then new life, for Mitch Rossell to pen the emotional lyrics to his original song, "Son."
Who is Mitch Rossell?
The inspiration behind Rossell's country music career is his father, whom he lost in a drunk driving crash at the age of 10. He shared on AGT he and his dad would listen to country music driving around in the car, singing together.
"We were so poor, but he loved me so much — he bought me a little guitar when I was a kid," Rossell said on the show. "He always wanted me to play growing up. And I was too rambunctious, was always into sports, and just didn't take the time to learn and didn't want to learn."
RELATED: This Is Why Simon Cowell May Be Quieter Than Usual During AGT 18 Auditions
That turned out to be one of Rossell's biggest regrets. But years later, when he wanted to find a way to connect with his father, he turned to the guitar.
"I decided today I'm going to learn how to play guitar," he said on AGT. "It was the only thing he ever really asked me to do. I felt like I was kind of making him proud."
What is his AGT song "Son" about, and how can I listen to it?
Rossell called his audition song "the most personal thing I've ever written" and a "true story about my life" while talking to the Judges.
As the Judges and audience listened to him sing, it became clear through the lyrics were not only about his relationship with his father, but about Rossell's relationship with his own son.
"I went for years and never wrote a song about it, and had a son of my own, and I think that finally allowed me to really write about it and bring it full circle," Rossell told the Judges.
RELATED: The Beautiful Reason Howie Mandel Keeps Doing AGT — Even Though He's "Jaded"`
Judge Heidi Klum called the song "beautiful" and said, "Everyone in this room was feeling everything that you were singing."
Sofia Vergara called it "spectacular."
"You could hear a pin drop through the entire performance, and it was sincere," Simon Cowell said. "I really, really think people are going to connect with you, the song — this was a great audition. Brilliant."
Howie Mandel predicted "Son" will soon be the number one downloaded country song and in December 2022, Rossell made his Grand Ole Opry debut, performing the single.
You can find it on Apple Music, Spotify, Pandora, Tidal and more, and watch the music video on YouTube.
Does Mitch Rossell have other country music songs?
His original music, with songs like "All I Need To See" and "Ran Into You" featuring Trisha Yearwood, has more than 91 million streams. "Ran Into You" has more than 39 million streams on Spotify alone, according to Rossell's website.
Rossell opened for the legendary country music star Garth Brooks on his 2022 stadium tour. Rossell is also a songwriter, penning singles including Brooks' "Ask Me How I Know" — which became Rossell's first number one single, according to his website.
Rossell also co-wrote Brooks' "That's What Cowboys Do," "All Day Long," and "Dive Bar."
Does he have any concerts coming up?
You can get tickets to see Rossell on tour on his website, including at the Freedom Country Festival in Wisconsin on Friday, June 9. Mitch Rossell merchandise is also available for sale on his website.