NBC Insider Exclusive
Create a free profile to get unlimited access to exclusive show news, updates, and more!
Sign Up For Free to View
Why 10-Year-Old Lambros Garcia Started Crying After His "Spectacular" Audition
The New York boy revealed more on why the America's Got Talent audition means so much to him.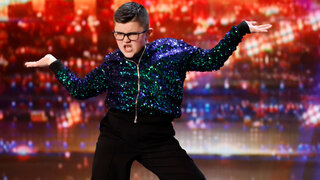 A 10-year-old boy from New York danced his way into the hearts of the Judges and the audience during an "amazing" performance on America's Got Talent. When he got off the stage, Lambros Garcia told Host Terry Crews he felt "powerful."
Garcia shared with the Judges how he turned from a karate student into a dance student at a young age.
"My mom used to put me in karate classes, and I heard the music through the wall because there was a dance studio right next door," he said. "I used to dance to the beat, and my sensei would get annoyed. So, then my mom saw a passion in me that I had."
He also said if he won the grand prize, he "would like to have a dog."
What happened during Lambros Garcia's audition on AGT?
After an electric performance in a sparkly green jacket that included splits, kicks, cartwheels, and even a few breakdancing moves, Garcia cried at the end of his dance for a heartbreaking reason.
"I get a little bit bullied at school," he revealed. "And this all really meant a lot to me."
RELATED: Terry Crews' Funniest Moments on AGT Will Have You Cracking Up
But Judge Howie Mandel reassured him he just sent a big message to his bullies.
"You danced with such joy, such precision," Mandel also told him. "You gotta be strong, you gotta be an athlete, you gotta be amazing. And performing the way you just did was the ultimate [taunting noise]."
And Judge Heidi Klum pointed out to him the entire room was on their feet because of his moves, and "they're not standing up here for nothing."
"A lot of people don't really know what it is to be a male dancer, and I love it so much," Garcia said. "I'm never going to let anyone stop me."
Judge Sofia Vergara agreed, shouting, "Don't let anyone stop you!"
"They bully you because they envy you," she told him. "They can't do what you can do. They're afraid of you. So don't pay attention to them — that was spectacular."
Judge Simon Cowell praised Garcia's "natural stage presence."
"Now you're going to go back to school with your head held high, saying, 'I did this, I was brave enough to do this, and I was amazing,'" Cowell said. "Because you were amazing. And if they start again, those bullies … you tell them we're coming down to sort them out."
After getting a "yes" vote from Mandel, Klum and Vergara, Cowell added his own, saying, "You don't have three yesses, you have about four and a half thousand yesses."
Watch new episodes of Season 18 of America's Got Talent on Tuesdays at 8/7c and the next day on Peacock.