NBC Insider Exclusive
Create a free profile to get unlimited access to exclusive show news, updates, and more!
Sign Up For Free to View
Terry Crews' Funniest Moments on AGT Will Have You Cracking Up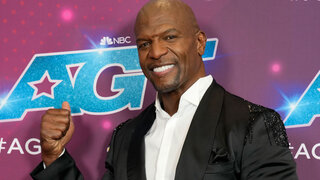 Since 2019, America's Got Talent Host Terry Crews has been bringing his infectious energy to every Audition and competition round of the show. Not only does he bring out the best in the Judges and audience, he's given us so many golden comedic moments himself. Here are seven of the funniest Terry Crews moments on AGT.
1. He Joined Lewberger Onstage
After the comedy band prompted Crews to join them onstage shirtless during their Audition, he agreed without hesitation, playing his flute along the way. 
2. He Taught Us the Art of Pec-Popping
Crews hilariously taught us in 2019 how to flex our muscles like pros. 
3. He Showed Off His Dance Moves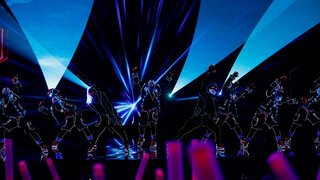 After dance troupe Light Balance's epic performance to "Can't Stop the Feeling" by Justin Timberlake, one Contestant took off their helmet to reveal they had been Terry Crews the entire time. He stood onstage as the audience cheered, soaking in the glory and doing a spin.
4. He Loves to Use His Flute to Mess With People
In the above video, we see that during lockdown, Crews entertained himself with his beloved flute, much to everyone's dismay. "My wife is like, not again, please," he says, later taking out the instrument as Simon Cowell groaned. Pushing the bit even further, Crews brought a statue of his head on camera. "We can play both sides!" he joked as the other Judges giggled. 
5. T-Shirts Didn't Stand a Chance Against Him
During his attempt to break a world record in T-Shirt-ripping against David Rush, Crews was determined. Although he didn't win, he still had a good sense of humor about the situation. 
6. He Showed Us How to Be Smooth on Valentine's Day
Always a charmer, Crews took us behind the scenes to show us the lines he uses with the ladies. Favorites include, "Do you have a map? Because I'm getting lost in your eyes" and, "You must be a broom, 'cause you just swept me off my feet." 
7. He Isn't Afraid to Laugh at Himself
In a behind-the-scenes game where the Judges had to guess previous AGT Acts just by hearing them, they all failed to guess the sound of Simon Cowell blow-drying his hair. "If I had hair, I would know what that would be like," Crews commented playfully. 
To see more funny moments with Host Terry Crews, Watch AGT on Peacock and NBC.