NBC Insider Exclusive
Create a free profile to get unlimited access to exclusive show news, updates, and more!
Sign Up For Free to View
12-Year-Old Alfie Andrew Sang Lady Gaga and Hit a Note That'll Give You Chills
12-year-old Alfie Andrew hit all the right high notes with his cover of Lady Gaga's "Hold My Hand" as he took the stage in an outfit that had Judge Simon Cowell impressed.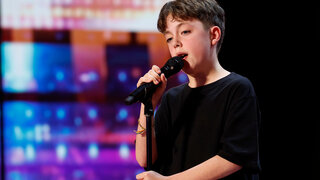 Alfie Andrew looks like your typical 12-year-old kid with scruffy hair and the standard tween uniform of jeans and a T-shirt — until he opens his mouth.
The singer blew the America's Got Talent Judges away with his version of Lady Gaga's "Hold My Hand," hitting a high note that stunned the audience and had Judge Sofia Vergara declaring she'd buy his album today if she could.
"I want to buy your record already, right now," Vergara raved after the performance. "I think you're going to be a rock star!"
Who Is Alfie Andrew?
Andrew made the long trek to the AGT stage from his home in the United Kingdom with his "auntie," after his parents couldn't make the trip because of work commitments.
RELATED: The Beautiful Reason Howie Mandel Keeps Doing AGT — Even Though He's "Jaded"
"My name is Alfie Andrew. I'm 12 years old and I'm from Manchester, England. I am a singer," he said backstage before his turn before the Judges. "I started singing when I was zero years old." 
As proof of his early start, viewers got to see an adorable video of a baby Andrew belting out a musical hit into a toy microphone while wearing a white onesie. 
"My audition on America's Got Talent, it means a lot, 'cause it's always been my dream to become a singer so I can record my own songs and have a sell-out tour," he shared.
To make his debut in America, Andrew carefully selected an outfit that immediately won Judge Simon Cowell over, a classic black T-shirt and jeans, in a nod to Cowell's own regular uniform. 
"Can I say something? They way you dress, you are so cool," Cowell told him moments after he stepped out on stage."Honestly, it just works. You look super, super cool." 
"Thank you," an amused Andrew responded. 
Andrew then shared that although he'd gotten an early start on his burgeoning music career, musical talent was not something that ran in his family.
"My dad works for, like, cars and then my mum does nails and stuff," he told the Judges. 
"And your parents came here with you?" Judge Heidi Klum asked. 
"No, I'm with my aunt," Andrew said. 
What Song Did Alfie Andrew Sing on AGT?
As his aunt nervously watched from the wings, Andrew broke out into his cover of Lady Gaga's "Hold My Hand," wowing the Judges with his seamless Lady Gaga cover and epic high notes.
Although Andrew admitted he was "nervous" to step out on the large stage, it isn't the first time the Manchester native has sang for a crowd. 
He's often found busking in the streets of Manchester, according to a profile of the rising singer in the Manchester Evening News.
Andrew got the idea to perform in the streets to improve his confidence after being scouted for The Voice Kids. 
"The producers told him he should go busking to build up his confidence, which put the idea in his head to try it, and he absolutely loves it," his dad, Ste, told the paper. "He doesn't get nervous at all. If he can't get a spot on Market Street he isn't happy because he wants a big crowd."
And Andrew isn't afraid to try to tackle songs from some of the greatest vocal artists in history. As showcased on his Youtube channel and Facebook account, he's covered hits from Whitney Houston, Adele, Mariah Carey, Celine Dion, and of course, Lady Gaga herself. 
RELATED: Why the Judges Loved Avantgardey's "Weird" and "Genius" AGT Audition
"Singing is all he has ever wanted to do," his father said. "He isn't like a typical kid playing video games — he comes straight in from school and just wants to go upstairs and sing."
It seems all that singing has paid off. AGT Judges were raving about his  performance, which brought the crowd to their feet.
"Wow, Alfie, I mean, you can really sing," Klum said. "You just nailed it." 
Cowell also commended Andrew for his "very distinct" voice. 
"I think you made the right decision to come here," he said. "The people are going to remember you and they're going to root for you and you're so cool, I just can't get over that."
After Andrew quickly secured four "yes" votes from the AGT judges, Cowell even got up on stage to stand next to Andrew in their matching outfits. 
"Twins!" an excited Judge Howie Mandel exclaimed. 
Cowell then walked over to greet Andrew's aunt. 
"How amazing was that," he asked as the crowd broke out into chants of "Alfie, Alfie." "Look at that? It's America and they're all chanting your name." 
The spontaneous vote of confidence was enough to get the stunned 12-year-old emotional. 
"He's gonna be a star," Vergara said.