NBC Insider Exclusive
Create a free profile to get unlimited access to exclusive show news, updates, and more!
Sign Up For Free to View
Why Two AGT Judges Hugged Fisherman Roland Abante During His "Life-Changing" Act
An America's Got Talent judge joked one of the hugs may have boosted Philippines singer Roland Abante's performance.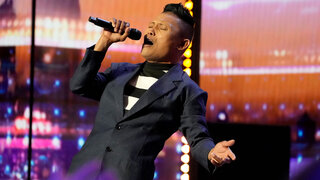 A singer who traveled all the way from the Philippines to audition for America's Got Talent managed to get a hug from not one, but two Judges, before he left the stage.
Here's what to know about Roland Abante's and his AGT audition.
Abante was joined on stage by a translator, who helped as the Judges questioned the singer before his performance. He's not a professional singer — instead belting out songs around his neighborhood and at karaoke nights.
"My work is in the morning. I'm a fisherman," his translator told the AGT audience and Judges about his life in the Philippines. "And in the afternoon, I do drive a motorbike and I deliver passengers and goods."
RELATED: Why the Judges Loved Avantgardey's "Weird" and "Genius" AGT Audition
But he's not just an average fisherman: Abante was getting recognized for his singing before hitting the AGT stage. He has 44 thousand followers on his Facebook page, and accepts bookings. His Facebook photos show him performing at the Asean Music Festival, and he's also had various gigs at bars and parties over the years.
In 2017, he released an EP called Bunot that you can stream, including on Apple Music.
RELATED: The Beautiful Reason Howie Mandel Keeps Doing AGT — Even Though He's "Jaded"
What Song Did Roland Abante Sing on AGT?
Abante chose a '60s classic to sing on stage: Percy Sledge's "When A Man Loves A Woman."
The Judges and audience were both left stunned by his voice, and all four Judges gave him a standing ovation at the end of the performance.
"I have a feeling you're going to have to stop fishing because this is where you needed to be," Sofia Vergara told him.
Heidi Klum indicated a mic drop motion when he was done.
"I don't think you could have done it better," Klum said. "You left it all on that stage: You were amazing. You should be very proud of yourself."
Simon Cowell admitted Abante being nervous before the audition in turn made him nervous.
"I genuinely thought for one moment you weren't going to be able to do this," Cowell said. "And then that happened. And it actually made me love this audition even more. And I really like you. That was a great one."
Why Did Roland Abante Get Hugs From Two AGT Judges?
Klum asked Abante a very important question before his audition: Why America's Got Talent?
A visibly emotional Abante responded, "This is my big dream to be here."
Sympathetic to his nerves and emotion, Klum then asked Abante if he needed a hug before he started — and ran up on stage to give him one.
"Can I just say, boy, Heidi, that hug really worked," Howie Mandel joked after Abante's audition.
When Mandel tried to give his thoughts on the performance, Abante interrupted him to thank Cowell for his commentary, and Abante's translator added that Cowell is Abante's favorite judge. Vergara suggested Cowell go give Abante a hug as well, and the two embraced.
"I gotta say, I think Simon is absolutely right," Mandel said. "It's the emotion, and we could feel your heart, and I think that everybody just heard a life-changing moment."
Abante received four yeses from the Judges before he walked off the stage.
Watch new episodes of America's Got Talent Tuesdays at 8/7c on NBC and the next day on Peacock.