NBC Insider Exclusive
Create a free profile to get unlimited access to exclusive show news, updates, and more!
Sign Up For Free to View
Inside the Creation of Heidi's Peacock Costume That Took Nearly 2,000 Hours to Make
The AGT Judge's iconic Halloween costumes are almost as revered as her modeling career.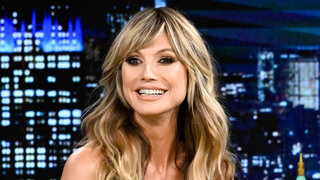 If Mariah Carey is the Queen of Christmas, then Heidi Klum rules Halloween.
The America's Got Talent and AGT: Fantasy League Judge, TV host, and model has hosted an annual Halloween bash every year since the turn of the millennium. And if you've seen a round-up of celebrity costumes any time in the past 20 years, chances are at least some of those photos were taken at Heidi-ween. But she doesn't just throw on a pair of animal ears and call herself a hostess!
Klum is consistently the most dressed-up person at her parties, employing a team of makeup artists, costume designers, and prosthetics professionals to help her create her amazing looks. Clearly, it's something she's passionate about.
"I always try to find things that people naturally wouldn't do," Klum told People. "Most people do nurses or police officers, but I was always looking for something that I hadn't seen."
Every Heidi Klum Halloween costume
2023: Peacock
The AGT: Fantasy League Judge arrived to her Halloween party's red carpet as a peacock! She even had Cirque du Soleil backup dancers on hand for a brief routine, dressed as peacock feathers. Her husband, Tom Kaulitz, was by her side as a giant bird's egg.
Michel Laprise, the creative director for Cirque De Soleil, said that Klum reached out to his team because she wanted to do something "organic" and "creative." The costume itself took a whopping 1,963 hours to craft, while the dance and acrobatic routine required 20 hours of rehearsal. 
Laprise called Klum "flexible" and "enthusiastic" during the whole process. "She was really a pleasure to work with because she was really focused on her intention to make people happy and surprise people. She doesn't take herself too seriously. She's not afraid to do prosthetics, and I really liked her personality. She's a great woman," he said. 
He continued: "She was super excited and focused, cause she's done a lot of runways. And you could see in her body language that she was ready for the show." 
He also talked about how the elaborate dance sequence came to be, and Klum's part in it. "We wanted to see the peacock coming to life in different parts, and coming together. Then [we wanted to] dissolve that and recreate it in front of their eyes. And she was in agreement right away. It's really a committed effort." 
Before the big reveal at her famous October 31 NYC Halloween party, Klum got ready on Amazon's Live Stream. The creative team behind her look was led by makeup artist and hairstylist, Bill Corso, who first helped bring her ideas to life for the holiday in 2011. SNL's head makeup artist, Louie Zakarian, also stepped in to assist.
"You were the first professional who did something crazy to me," Klum said during the Live. "I feel like I might actually top this worm this year."
"We got a phone call last July," Curso said about when Klum first revealed her idea. "She usually comes up with an amazing concept, and we start figuring out how to pull it off."
Klum offered glimpses at 2023's costume throughout the day with a few videos and photos. 
RELATED: Heidi Klum Shared the Cutest Baby Photos for Her Youngest Daughter's 14th Birthday
2022: The Worm
Early on October 31 of that year she posted a mysterious video to Instagram of herself in dark makeup, colored contacts, and what appeared to be prosthetics all over her face. "Happy Halloween, everyone, coming right along!" she said with a cheeky grin. 
So, what did Klum's costume end up being this Halloween? Drumroll please…a giant worm!
That's right: Klum's elaborate getup was that of a massive, hyper-realistic-looking earthworm that'll send chills down your spine. Vogue reports that it took two years to create. Her husband, Tom Kaulitz, accompanied her as a fisherman.
Another video Klum shared showed the process of her getting into the costume itself. "This is going to be the craziest one yet. I mean, this makes me so happy, you don't even know! Look at this thing! Oh my God, yes!" she said before people showed her the design and helped her climb in piece by piece. "I love it! I might shed a little tear now! That is amazing!" 
Klum then practiced wiggling around and falling over gracefully before she removed the costume in an "un-worming" moment and struck a pose, like the pro she is. 
2021: Zombie Mom
In a sequel to her 2020 video, dead Heidi rises in a sequel she dubbed Heidi Does Halloween II: Klum's Day, proving once again that not even a years-long pandemic can stop her from Halloween-ing it up!
"I love the transformation process," Klum told USA Today. "Costumes, wigs, contact lenses, prosthetics and the makeup all play an important part when creating a look. … We all have different passions in life, and transforming into different things and characters is definitely mine."
2020: Camouflage
Due to the pandemic, Klum canceled her annual party and instead made a short film about everyday horrors. In it, she hides from her kids by camouflaging herself as her house, while her children become zombies wrapped in the toilet paper that we all hoarded when quarantine started.
"Halloween is different this year, but that shouldn't stop us from getting creative at home 👻 Be safe, be spooky, and spend time with family. 🎃🕸🦇🧛🏻‍♀️🧟‍♀️ #HeidiHalloween2020," she wrote in an Instagram caption.
2019: Frankenstein'd Alien
This gory bodysuit turned the woman once called "The Body," into…the bodies? At first glance, she looks a bit like a zombie, but zoom in and you'll see she's a cyborg alien, or perhaps a few different aliens stitched together by a mad scientist named Dr. Heidi Klum.
Klum let fans watch her prepare for her party by sitting in a storefront all day while her team did her makeup. The stunt was to celebrate 20 years of her annual party, which doesn't quite match up with the other reports we've found about when this tradition started, but maybe she's just using Heidi Math!
2018: Fiona from Shrek
The fairytale parody reminds us that it's what's on the inside that counts – and Klum put that theory to the test by making herself basically unrecognizable. Thankfully, her then-boyfriend Kaulitz was happy to step in as her Shrek, and looked even more like the Dreamworks character than she did!
2017: Michael Jackson in "Thriller"
At first we thought this was Michael J. Fox in Teen Wolf, but it's actually a spin on a different Michael J: Michael Jackson! Klum and her pals dressed as the cast of the "Thriller" video after the full moon has turned them all into creepy creatures of the night.
"Michael Jackson was always such an icon, and the 'Thriller' video is such an iconic video, and I was like, 'I have to redo that,'" the AGT Judge told People.
2016: Heidi Plus Heidi Plus Heidi
This year, Klum flipped the script, wearing a bodysuit and thigh-high boots reminiscent of her Victoria's Secret days. Other women were enlisted to wear prosthetics to make them look… like Heidi Klum. Matching outfits and wigs complete the illusion of an army of Klum Klones.
2015: Jessica Rabbit
You'd think the gorgeous Heidi Klum dressing as cartoon sex symbol Jessica Rabbit from Who Framed Roger Rabbit wouldn't be terrifying. You'd be wrong. Klum enlisted the help of makeup artists to mimic Jessica's cartoonish proportions, with the end result being that she looks neither human nor animated. But that's what Heidi likes!
On Instagram, Klum revealed that she got the idea for the costume after inhabiting the character for a fashion shoot, and shared a look at the intense work that went into creating the final product.
2014: Butterfly
Just as the butterfly transforms from a caterpillar, so too does Heidi Klum every October emerge as a new and breathtaking creature. In this case, a giant butterfly. Watch her incredible transformation.
2013: Old Woman
One of the all-time best Klum Kostumes is Heidi as herself — but elderly. Having recently turned 40, Klum decided that year to embrace the idea of aging and go into it headfirst, with the result being both super-realistic and somehow adorable. She called the look "little old me" on X (formerly known as Twitter) which is just perfect.
2012: Cleopatra
Sadly, Hurricane Sandy forced Klum to postpone her annual soiree, but since she already had the magnificent costume, she showed fans what she would have worn. The headdress looks a bit heavy, but the gown would totally work at the Met Gala…or America's Got Talent finale.
Klum eventually held a makeup costume party in December, calling it her Haunted Holiday Party, as a fundraiser for the American Red Cros, to which she wore a slightly altered and very glitter-fied version of the Cleopatra costume.
2011: Skinless Body, Ape
Klum threw an NYC party and a Vegas party in 2011, and obviously she didn't repeat her costume. In New York, she and then-husband Seal went as a pair of apes, complete with mottled skin and surprisingly visible mammalian glands.
In Vegas, Klum was inspired by the Bodies exhibit and wore a suit mimicking a human without skin. A pair of blood-spattered "doctors" wheeled her across the red carpet on a gurney, because after a costume, the thing Klum loves most is an entrance. Sorry guys, pretty sure this patient is a goner.
2010: Glitter Bot
Purple and red transformer? Hot cyborg? Stylish alien? We never quite figured out what this costume was meant to evoke, except for being undeniably Heidi.
2009: Sexy Crow
A full face of bird makeup on top, fishnets on bottom. Klum transformed into a Carrion bird, but hopefully got to eat something besides roadkill.
2008: Hindu Goddess
Klum rendered a faithful depiction of Kali, the Hindu Goddess of Death, though perhaps she might have chosen a less culturally specific costume today after the choice did earn some criticism. Still, you can't say she didn't put maximum effort into the outfit, which includes severed body parts.
"It was actually my assistant's idea," she told reporters at the time. "My husband and I were in India last year, so she said, 'Why don't you do an Indian goddess? Like a scary Indian goddess?' And I said 'OK!'"
2007: Cat
She honestly looks better than the Cats in the movie musical, though that's not saying much. Kitty Klum came complete with a tail, whispers and a collar. Watch out for the klaws.
2006: Snake and Apple
Ah, the forbidden fruit. Klum chose to show the temptation of Eve by portraying both the apple and the snake, which conveniently obscured the fact that she was, at the time, eight months pregnant with her third child Johan.
2005: Vampire
Far from the understated, dressed-in-normal-clothes bloodsuckers of The Vampire Diaries or Twilight, Klum's version of a vamp included dramatic makeup, enormous bat-like wings, a sky-high wig, and massive fangs.
2004: Red Witch
Pretty sure this is less a costume and more a jumble of all the things Klum wanted to wear. Her bodysuit-gown-boot-headdress combo is colorful and dramatic as always, and as her Project Runway co-star Tim Gunn would put it, she makes it work.
2003: Gold Alien
Another look that invites multiple interpretations: she could be some kind of evil Goddess, an alien from a gold-rich planet or perhaps a fabulous robot. Maybe a supervillain! There seems to be a (fake) snake in her hair and something blacking out her teeth. Whatever the costume represents, it's undeniably Heidi Klum.
2002: Betty Boop
One iconic woman pays homage to another as Klum embodies the cartoon pin-up.
2001: (Spooky) Lady Godiva
Traditionally, Lady Godiva has been depicted as a nude woman on a horse, whose hair covers her naked body. Klum one-upped and out-glammed those images by arriving at her party on an actual horse and wearing, not a nude suit, but a sparkly white and glitter suit, plus the requisite long locks.
The blood coming from her mouth is just a Halloween-y touch. This was actually the first time Klum hosted her own Halloween bash, and she set the bar high with her entrance.
2000: (Naughty) Heidi
What better way to start her long run of costumes than by dressing as the other most famous Heidi? Yes, she is dolled up to represent Heidi, the heroine of the classic children's book about a little girl growing up in the mountains. Obviously, Heidi Klum has given it a downtown after-dark spin.
Originally published Oct 17, 2023.