NBC Insider Exclusive
Create a free profile to get unlimited access to exclusive show news, updates, and more!
Sign Up For Free to View
Looking Back at AGT Host Terry Crews' Fascinating Career
The multi-hyphenate star has led a fascinating life, from football fields to the silver screen.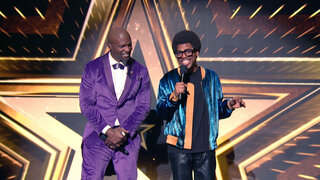 ​America's Got Talent has been an NBC classic since its start in 2006, but Terry Crews joining the AGT team in 2019 was a game-changer. Pec-popping his way to the stage during Season 14, Crews was instantly an AGT favorite due to his endless ability to support the Acts and hilariously banter with Judges Simon Cowell, Sofia Vergara, Heidi Klum, and Howie Mandel. 
Crews is AGT royalty, but his career outside the show is vast as well. He's a talented artist and (like Lizzo) flautist, a former NFL player, an author, and a storied actor. 
Let's look back at some of the highlights in Crews' career before AGT.
Terry Crews and Rebecca King-Crews' Children
Crews and King-Crews share five children: Naomi, Azriél, Tera, Wynfrey, and Isaiah.
Naomi Burton-Crews, born in March 1987 according to Parade, was King-Crews daughter from a prior relationship who Crews adopted after the couple's 1989 marriage, according to People. She had her daughter, Miley Crews, in 2010 while the family was filming their reality show, The Family Crews.
Azriél Patricia, an actor who currently uses only her first two names professionally, was born to the couple in November 1990, according to a birthday Instagram post from her father and another from her mother.
The family welcomed daughter Tera in 1999, daughter Wynfrey in February 2003 (according to her dad's Instagram), and son Isaiah in July 2005, according to a birthday post from his mother in July 2023.
Like his sister Azriél and his parents, Isaiah is an actor and television presenter with several credits to his name.
What NFL teams did Terry Crews play for?
Drafted in the 11th round by the L.A. Rams in 1991, he played only six games, then took a year off. He returned to the NFL in 1993, signing briefly with the Green Bay Packers before heading to San Diego to play for the Chargers. He appeared in 10 games that season.

He took another year off to pursue his art, then headed to Düsseldorf, Germany in February 1995 to play for the World League of American Football's Rhein Fire, playing well enough to score a 1-year contract with the Washington, D.C. team now known as the Commanders in June 1995. After that contract ended, he had a brief stint with the Philadelphia Eagles at the end of 1996 before retiring for good.

In the course of his football career, he took up painting and drawing photorealistic portraits of his teammates on commission, ultimately striking a brief licensing deal with the league while playing for the D.C. team. 
Terry Crews' Movies and TV Shows
After Crews retired from the NFL in 1997, he moved back to Los Angeles and tried to break into Hollywood the way many aspiring creatives do: with small acting gigs. Those included his uncredited role in the Denzel Washington movie Training Day, his role as an assassin in the Arnold Schwarzenegger cloning film The 6th Day, and his role as ex-con Damon in the third installment of Ice Cube's Friday trilogy, Friday After Next.
Terry Crews' Breakout Roles: White Chicks, The Longest Yard, and Idiocracy
After his hilarious role in the 2004 film White Chicks as pro basketball player Latrell Spencer, Crews caught the attention of comedy icon Adam Sandler, who was casting for the prison football film The Longest Yard. Crews ultimately portrayed Cheeseburger Eddie in that movie, stealing every scene he was in.
He followed that with his role as President Dwayne Elizondo Mountain Dew Herbert Camacho in the 2006 Mike Judge film Idiocracy, alongside Luke Wilson, Maya Rudolph, and Dax Shepard.
Terry Crews in Everybody Hates Chris
Shortly before Idiocracy hit theaters, Chris Rock's semi-autobiographical comedy series about his own teen years, Everybody Hates Chris, premiered. Crews was cast as Julius, the father of the titular Chris, who moves his wife and three kids from a Brooklyn housing project to the then-Black neighborhood of Bedford-Stuyvesant (Bed-Stuy) in 1982. 
The show aired for four seasons — 2005-2009 — to critical acclaim.
Terry Crews' Action Movie Roles: The Expendables, Deadpool 2
Though many of Crews' early movie roles were action films, he gravitated towards comedy roles for many years until after his star turn on Everybody Hates Chris. Thereafter, he joined the crew of The Expendables for the first three movies of the franchise (released in 2010, 2012, and 2014, respectively), playing weapons specialist Hale Caesar. 
He also joined the cast of Deadpool 2 in 2018 as the superhero Bedlam.
Terry Crews' Comedy Movie Roles: Bridesmaids, Scary Movie V, Sorry to Bother You
Crews did not, however, concentrate exclusively on action movie roles. Among other gigs, he appeared as a memorable boot camp instructor in the 2011 comedy Bridesmaids and as the protagonist's boss, Martin, in Scary Movie V (2013). He also played Sergio, the uncle of protagonist Cash Green, in Boots Riley's 2018 Black surrealist comedy Sorry to Bother You.
Terry Crews in Brooklyn Nine-Nine
One of Crews' most memorable projects is playing Sergeant-turned-Captain Terry Jeffords in the NBC sitcom Brooklyn Nine-Nine from 2013-2021. Jeffords, who once had a weight problem, is a dedicated dad and family man — much like Crews! — who turned to exercise to lose weight. Crews' muscular physique was often played for laughs. 
Terry Crews' Other TV Comedies: Are We There Yet, Arrested Development
Crews was also cast as stepdad Nick Kingston-Persons in the 2010 television adaptation of the 2005 Ice Cube film Are We There Yet. The sitcom aired for two seasons.
He also had a 5-episode arc as right-wing politician Herbert Love in Season 4 of Arrested Development in 2013.
Terry Crews' Reality Show: The Family Crews
Crews and the entire family appeared on a reality show, titled The Family Crews, for two seasons in 2010 and 2011. The show chronicled, among other things, the family's faith, their daughter Naomi Burton-Crews' pregnancy and the birth of Crews' granddaughter, Miley, Crews' efforts to get cast on Are We There Yet, King-Crews' burgeoning career, and the general foibles of raising a large family.
Terry Crews' Animated Work
Crews has provided his voice to various animated projects since voicing three different characters in Seasons 1 and 2 of the seminal Black cartoon The Boondocks. He also voiced Earl Devereaux in the movie Cloudy with a Chance of Meatballs 2 (2013), Blade in two episodes of the Ultimate Spider-man television series (2013) — which he reprised the following year in Hulk and the Agents of S.M.A.S.H. — and candy factory owner Captain Melanoff in 2020's The Willoughbys.
Terry Crews joined AGT
Crews' AGT career began in 2019 — though wasn't the first time he hosted a competition show. From 2014 to 2015, he hosted Who Wants to Be a Millionaire, and he also hosted the Netflix series Ultimate Beastmaster. 
His popularity hosting AGT led Crews to become the Host for America's Got Talent: Extreme and AGT: All-Stars. 
Terry Crews joined Hot Wheels™: Ultimate Challenge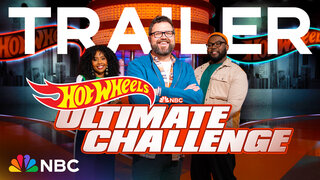 He joined NBC's Hot Wheels™: Ultimate Challenge as a guest judge for its inaugural episode. Watch his appearance in the episode above.
This story was originally published on April 26, 2023. It was updated July 5, 2023.