NBC Insider Exclusive
Create a free profile to get unlimited access to exclusive show news, updates, and more!
Sign Up For Free to View
Why Simon Cowell Had 11-Year-Old Phenom D'Corey Johnson Sing Twice
Johnson got the crowd on their feet with his cover of Journey's "Open Arms," but it wasn't until Simon Cowell asked him to sing a portion of a song again that his true talent was revealed.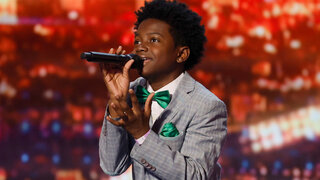 Eleven-year-old D'Corey Johnson has some big dreams—and if his audition on America's Got Talent is any indication, he's well on his way to achieving them.
Johnson, dressed to the nines in a gray suit coat and bright green bow tie, delivered a crowd-pleasing version of Journey's "Open Arms," but it wasn't until Judge Simon Cowell asked him to sing the ballad again without the backing track that his true natural talent emerged, securing a "yes" vote from all four Judges. 
"When he took the track away, less is more. You're a better singer than even what you performed today. You are so much better," Judge Howie Mandel gushed of the on-demand acapella version. "I love what you did."
RELATED: Simon Cowell Says Niall Horan Becoming a Coach on The Voice Is a "Weird, Full Circle-y Thing"
The praise from the Judges, along with the standing ovation from the crowd, was enough to bring the aspiring singer to tears. 
"To be here, I'm just so happy," he said. 
Before the Louisville, Kentucky native launched into the song, he shared his big Broadway dreams with the Judges.
"I want to be on Broadway and be in movies and I want to be in Hamilton and Wicked," he said. His road to America's theater mecca wouldn't be complete, however, without a stop at AGT along the way to test out his vocal ability and maybe even earn the admiration of the notoriously difficult-to-please Judge Simon Cowell. 
"I watch AGT like almost everyday," Johnson told the Judges. "Simon, you are my favorite because you keep it real, like my mama."
"Somebody likes me. Thank you so much," Cowell hilariously responded. 
As Johnson was summoning his courage to begin, Cowell could be heard willing the 11-year-old along. 
"Be good, be good, be good," he muttered to himself. 
Johnson's rendition of "Open Arms" got the crowd to their feet and had Johnson hitting some definite high-notes, but Cowell felt something was missing. 
He later he believed the tween's "timing was off." 
"Do you mind if I ask you to sing up to the chorus without the backing track?" Cowell asked. Johnson agreed, taking just a brief moment to collect himself, before launching into an emotional a capella version of the power ballad that wowed all four Judges.
RELATED: Singing Kids, Spoken Word Poets — Every One of Howie Mandel's Golden Buzzers on AGT
"Bravo," Judge Sofía Vergara said. "I thought that that was amazing, D'Corey. I think that you definitely have a place on Broadway." 
Judge Heidi Klum was also hopeful his "wish will come true" in the years ahead. "I'm very happy also that Simon took the music away because the music was just in the way," she said. "I have a good feeling about you." 
As for Cowell, he commended Johnson for his unique voice. "I think you know the kind of singer you want to be, where you want to end up, which is really important," he said. "I think you have such a distinctive, great voice." 
He predicted Johnson's talent was just going to get "better and better" over time. 
"It's so difficult to say what will happen in the future. What I can say? I promise you, things are just going to be amazing, really," Cowell said. "I'd love to be the first person to say yes."
The rest of the Judges quickly followed suit leaving Johnson stunned. 
"Thank you so much," he said as the crowd gave him a standing ovation. 
Once he returned backstage, Host Terry Crews took a moment to check in with Johnson and asked him what he was thinking after his successful audition. "I'm overwhelmed because I always wanted to be on this show and I'm glad that I got to be," an emotional Johnson replied before getting a heart-felt hug from his mom. 
With the competition just getting underway, there's no telling just how far Johnson will go as he strives for his dreams.