NBC Insider Exclusive
Create a free profile to get unlimited access to exclusive show news, updates, and more!
Sign Up For Free to View
All About Sofia Vergara and Joe Manganiello's Whirlwind Romance
The America's Got Talent Judge has the cutest love story.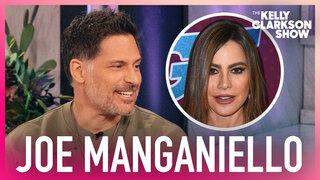 America's Got Talent Judge Sofia Vergara has been a massively successful actress since even before her Modern Family days. But as of 2014, the gorgeous star has been romantically linked with another veteran of the entertainment industry as well. Read all about Vergara's husband, Joe Manganiello, and their adorable relationship.
How did Sofia Vergara and her husband, Joe Manganiello, meet?
Manganiello (True Blood, How I Met Your Mother, Magic Mike) and Vergara first met in 2014 at the White House Correspondents' dinner. The two briefly chatted, then Manganiello, 46, reached out to her Modern Family co-star, Jesse Tyler Ferguson, for Vergara's number a few weeks later, and the rest is history. 
According to an interview with The Jess Cagle Show, Manganiello said that he flew all the way to New Orleans just to take the 50-year-old on their first date. Vergara was busy filming the movie Hot Pursuit and had a very limited time window of availability, so he jumped on the opportunity.
When did Sofia Vergara and Joe Manganiello get married?
The two moved in together in November of 2014, and Manganiello popped the question a month later. The proposal was a gorgeous event in Hawaii that he had planned out meticulously. 
"We knew right away — like, very quickly," he said to Haute Living about dating for six months before he proposed. "We had this big bay window [that I opened up], and the sun was going down pink over the mountains and over the bay, and I had this ring. I had looked at every ring in the world, and this is the ring that I wanted. I had a whole speech prepared in Spanish. I proposed to her on one knee in Spanish with the sun going down. It was awesome."
The two then officially tied the knot around a year later in a lavish ceremony in Florida with around 350 guests. According to People, their romantic song of choice for their first dance was "The Way You Look Tonight" by Frank Sinatra. The happy couple then had their honeymoon at the private islands of Turks and Cacios and Parrot Cay.
Since their marriage the couple have been spotted on various red carpets together and have co-starred in a film titled Bottom of the 9th. The movie tells the story of a baseball player named Sonny Stano who gets released from prison and then falls in love with Angela Ramirez, played by Vergara. 
As for their endeavors in the past few years, Manganiello said quarantining in 2020 actually helped bring them closer as a couple. "The best thing [about social distancing] is eating dinner together every night and the fact that I don't have to travel and that I'm here all the time and I get to see her," he told People. 
Vergara also frequently takes to her official Instagram page to celebrate major milestones in their relationship, such as birthdays, holidays, and anniversaries. This Valentine's Day, Vergara shared the most romantic selfie with her and Manganiello. In the snapshot, she rocked a strapless black dress and wore her hair straight while she posed next to her dashing husband. 
"Happy Vday everyone!❤️❤️❤️ luv u @joemanganiello," she wrote in the caption.
A few months later, Vergara and Manganiello also celebrated Easter together. The photo Vergara posted on Instagram showed the two posing outside on a bright, sunny day. Vergara sported a stunning hot pink top while Manganiello sat next to her cozily, cradling their beloved dog, Bubbles, in his arms. 
Manganiello has also proven to be quite the romantic. On The Kelly Clarkson Show, he explained how he got his wife a thoughtful birthday gift — a glass-blown flower. He explained to Clarkson that the reason for choosing a classic gift constructed from glass was so it will last forever, much like his love for his wife. 
"I knew pretty quickly that I could trust her, and she knew pretty quickly that she could trust me," Manganiello told People. "And we're both the kind of people who are capable of putting the other person ahead of ourselves. I was capable of putting her wishes ahead of mine, whatever they were, and she was capable of doing the same. Once you have that, you don't let go of it," he gushed.