NBC Insider Exclusive
Create a free profile to get unlimited access to exclusive show news, updates, and more!
Sign Up For Free to View
Joe Manganiello Got Sofía Vergara the Prettiest Birthday Gift That Will 'Last Forever'
A beautiful, hand-made item!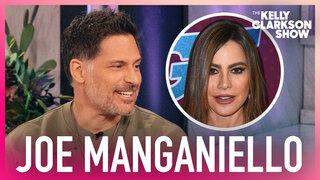 Joe Manganiello, husband of AGT Judge Sofía Vergara, recently opened up to Kelly Clarkson on her talk show about the gorgeous, long-lasting gift he got for Vergara's birthday. 
Manganiello took inspiration from a classic present, flowers, but gave them his own spin. The Magic Mike actor said one of the pitfalls of flowers is they end up dying. However, he worked his way around the issue by getting Vergara a glass-blown flower. "I wanted to get her flowers that would last forever," he said. 
Making things even more personable, he decided to help make the flower himself, getting a lesson from renowned glass sculptor Martin Blank. 
"There's a dance, there's a movement, there's a choreography," Manganiello said of the intricate art of glass-sculpting. "It was basically like, 'Here are the steps: one, two, three, four!' You got it? And it's like, 'OK, don't let anyone die.'" 
"That's so nice though," Clarkson said about the creative gift. "That's so beautiful and thoughtful."
"Yeah, and I wanted to be a part of it so that I could always be a part of that sculpture," Manganiello said. "She'll always know that I am a part of it." 
To this, Clarkson added, "It's nice, too, because you can both buy whatever you want to buy, you know what I'm saying? But to make something for someone, it's beautiful." 
Related: See All the Stunning Photos From Sofia Vergara's Miami Vacation
Consider the bar for couple birthday gift-giving officially raised! 
For more fun interview moments like this, check your local listings for The Kelly Clarkson Show. And also: Watch AGT on Peacock and NBC.