NBC Insider Exclusive
Create a free profile to get unlimited access to exclusive show news, updates, and more!
Sign Up For Free to View
The Scariest Villains on Law & Order: Organized Crime
These bad guys keep the OCCB on their toes. 
Detective Elliot Stabler (Christopher Meloni) and the OCCB have tackled some seriously sinister criminal organizations since Law & Order: Organized Crime debut. From insidious gang leaders to corrupt political officials, the OCCB has seen it all — and Stabler and Sgt. Ayanna Bell (Danielle Moné Truitt) are here to guarantee justice is served. 
Here are some of Organized Crime's most chilling villains from all seasons: 
Richard Wheatley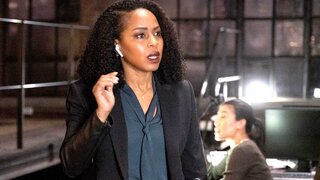 Season 1-2
Wheatley (Dylan McDermott) is arguably one of the evilest villains in Organized Crime history and certainly one of Stabler's biggest arch-nemeses throughout his long-running career. Wheatley is responsible for the horrific murder of Stabler's wife, Kathy (Isabel Gillies), which triggers Stabler to return to NYC and join the OCCB. 
Wheatley is bad to the bone; he managed to manipulate his entire family into assisting in his illegal escapades. He was an exceptionally clever kingpin, at one point masking as an informant for the authorities to delay the order half of Law & Order. Wheatley was never imprisoned for his actions; he seemingly died after his ex-wife drove their getaway car into the Hudson River, but Stabler remains suspicious. 
Angela Wheatley 
Season 1-2
Speaking of: Wheatley's ex-wife, Angela (Tamara Taylor), also makes the cut for Organized Crime's worst villains. While Angela was coerced by Richard into committing many of the harmful things she did, she had her own, mystifying motivations for the actions — which ups her villain status. Angela was manipulated into killing Kathy, after all, so you could argue that the death is by her hand. 
Angela had a brief cat-and-mouse fling with Stabler while he investigated Richard, but he quickly saw through her victim facade. Angela cared about her family more than anything, and once Richard corrupted it, she was dead-set on vengeance. And while Angela got the revenge she wanted, she paid the ultimate price: her life. 
Jon Kosta 
Season 2
The OCCB has gone after many crime bosses throughout their time, but Jon Kosta (Michael Raymond-James) was one of the worst. Kosta was the founder and leader of the Kosta Organization, a group that specialized in the Albanian drug and human trafficking trade.
Kosta was a tenacious and intimidating dictator. His explosive anger and lack of patience ended up being his undoing, with his arrest taking place in OC Season 2, Episode 8 ("Ashes to Ashes"). 
Albi Briscu
Season 2
Briscu is Kosta's right-hand man and underboss of the Kosta Organization. He was just as smart as he was dangerous, making him a formidable adversary for the OCCB. Albi was intelligent but not quick enough for Stabler, who went undercover to infiltrate the KO. Albi was successfully fooled by Stabler's undercover persona, which led to his eventual confession and arrest. 
Frank Donnelly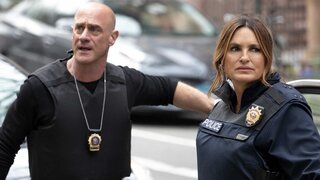 Season 2
One of the most horrendous criminal organizations the OCCB has faced is the Brotherhood, a crime syndicate of corrupt NYPD cops run by Frank Donnelly (Denis Leary). Donnelly and Stabler were childhood friends for years, which made it all the more shocking once Stabler's investigation revealed Donnelly was a wolf in sheep's clothing. Donnelly enforced a strict code of silence, but his organization fell apart once Stabler went undercover to prove corruption. The Brotherhood was disbanded, and Donnelly died by suicide out of fear of the public shame his arrest would create. 
Preston Webb
Season 2
Another group the OCCB has dismantled is the Marcy Organization, a.k.a. the Marcy Killers. The Marcy Killers specialized in the drug trade and were run by the conniving Preston Webb (Mykelti Williamson). Webb was arrogant and free-spirited, often underestimating his opponents out of confidence in his criminal empire. At one point, Webb teamed up with the Kosta Organization, leading to a massive mess on the OCCB's hands. Webb's arrogance ends up being his undoing; his dead body was shockingly found at the end of Organized Crime Season 2. 
Congressman Leon Kilbride 
Season 2
Some of the worst villains in Organized Crime are the ones who prefer to keep their hands as clean as possible. Case in point: Congressman Leon Kilbride (Ron Cephas Jones), a corrupt politician who has a loaded  history of working with criminal networks (yet he always comes out unscathed). Kilbride was an affiliate of Wheatley's, and later a mentor to Webb and a massive influence on the Marcy Organization.
Kilbride is a two-faced felon who managed to keep his reputation squeaky clean for years before the OCCB's closer inspection. Kilbride's skeletons were finally torn from the closet after Stabler and the squad arrested the Marcy Killers, finally revealing to the public his true intentions all along. 
Kyle Wilkie
Season 3
One of the most calculated and dangerous villains the OCCB has ever faced is Wilkie (Winter Andrews), who operated under the moniker Hyakunin Giri (in reference to a historic ritual of killing 100 people with one sword). If that wasn't enough to establish Wilkie's atrocious nature, his revenge-for-hire network is enough to spark goosebumps for the most seasoned of cops.
The OCCB and SVU had to combine forces to topple the horrific dark web organization, and Wilkie didn't go down without a fight, leading to the tragic death of OC's Detective Jamie Whelan (Brent Antonello). After a perilous pursuit, Wilkie eventually confessed to his crimes and terminated the twisted website. Wilkie is in prison, but the consequences of his horrendous actions will continue to impact the OCCB going into Season 4 of Organized Crime and beyond.