NBC Insider Exclusive
Create a free profile to get unlimited access to exclusive show news, updates, and more!
Sign Up For Free to View
Sam Waterston's Real Daughter Was in the Law & Order Finale
The McCoy family will be duking it out in the courtroom.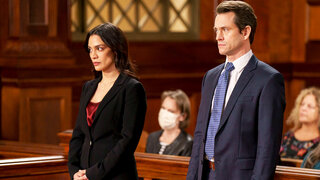 Sam Waterston has a lot to celebrate. Not only does the Law & Order finale mark 400 action-packed episodes of playing the legendary NYPD District Attorney Jack McCoy, but Waterston starred alongside someone very close to his heart: his daughter, Elisabeth Waterston. 
The casting couldn't be more perfect, as Elizabeth played D.A. McCoy's on-screen daughter, Rebecca. Litigation must run in the McCoy family because Rebecca is a defense attorney just like her D.A. dad, but in Season 22's "Open Wounds," the two attorneys end up on opposite ends of the courtroom. 
McCoy goes toe-to-toe with his own daughter, and who better to volley with than Waterston's real-life one? The official plot synopsis for "Open Wounds," airing Thursday, May 18 at 8/7c on NBC, teased: "When a senator is gunned down at his daughter's wedding, McCoy pushes for a severe sentence and squares up against a formidable defense attorney — his own daughter. Price aims to stay neutral but can't help but empathize with the defendant over a shared trauma."
Filming 400 episodes is no simple feat; Waterston has spearheaded the Law & Order fandom for many decades, including his recent return with the 2022 revival. "I'm completely amazed, astounded, and very lucky," Waterston told TVInsider about the milestone. But Waterston's landmark achievement was made all the more memorable with Elisabeth on set.
"That topped everything," the Law & Order legend reveals while commending his daughter's acting chops. "She's a beautiful actress, quick to react, full of intelligence and ready emotion. I have three actor children, and there isn't anything more fun than acting with them."
He may have a friendly relationship with Elisabeth, but what when the cameras start rolling? Are Jack and Rebecca just as close? Based on the storyline, it seems the McCoy household is complicated.
"There's nothing simple about their relationship and there's a lot [between them] that hasn't been resolved," he explains while chatting about Rebecca McCoy. "The situation now ain't easy. The wounds at the beginning are open at the end."
Sam Waterston opened up to NBC Chicago about playing the iconic character for so many seasons.
"Obviously I haven't really been trying hard to escape [Jack McCoy]. Because here I am after a 10, 12-year break, right back where I was before," Waterston explained. "I consider myself extraordinarily lucky to have such a long run doing something of real quality that really talks to this country in plain language about what's going on right now today. It's just been a wonderful blessing."
This story was originally published on May 12, 2022. It was updated May 19, 2023.