NBC Insider Exclusive
Create a free profile to get unlimited access to exclusive show news, updates, and more!
Sign Up For Free to View
Watch How SNL Created The 'I'm Just Pete' Sketch In Just 12 Hours
This behind-the-scenes SNL video featuring Pete Davidson explains how brilliant minds at Saturday Night Live took a mere half-day to recreate a Staten Island-style Barbie Land.
When Pete Davidson hit it out of the park as the first host of Saturday Night Live Season 49, he let himself be the butt of the joke in the musical segment "I'm Just Pete," a parody of "I'm Just Ken" from July 2023 smash hit Barbie movie.
RELATED: 22 Pete Davidson Moments on SNL That Are Truly Iconic — and Hilarious
Davidson is no stranger to pretaped sketch music videos: "Walking In Staten" and "Three Sad Virgins" with Please Don't Destroy are just two of the bops he's helped create over the years at SNL. But his dancing and self-deprecation bring "I'm Just Pete" to a whole other level, as he sings about his Peacock show Bupkis (renewed for a second season, despite Davidson's claim no one watched it) and his tabloid-friendly love life.
Check out how the cast and crew pulled it all together in time for the show in this peek behind the scenes below.
Behind the scenes of "I'm Just Pete" with Pete Davidson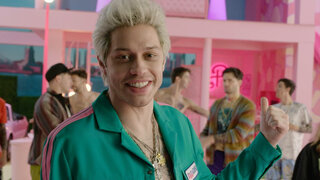 Season 49 cast members Mikey Day and Bowen Yang join Davidson and "I'm Just Pete" film unit director Mike Diva to explain what goes into making a music video like this on such a tight timetable. 
"It's funny that I'm so excited to do this but I do everything I hate in it," Davidson said, meaning "dancing, singing, and wearing wigs."
Compare "I'm Just Ken" To SNL's Version
Even if you haven't seen Barbie, you can definitely appreciate "I'm Just Ken," which was flawlessly reinvented for the Davidson version.
But look closely: Pete's not in Barbie Land, he's in a pink plastic version of Staten Island. 
RELATED: Pete Davidson's Mom Urged Him to Take "the Garbageman Test" in Case SNL Didn't Work Out
The Lyrics to "I'm Just Pete"
No one cares about the work I do
I made a show with Joe Pesci, too
And no one streamed it but my mom
When I'm high, I do things like call up Colin Jost
And say, "Homie, we should buy a boat"
They tell me I have "butthole eyes"
Yet I never sleep alone at night

'Cause I'm just Pete
Anyone else, I'd be a three
But I guess I'm hot for dudes in comedy
'Cause it's an ugly industry
I'm just Pete
Looking like a meth head on the street
People online still call me "Skete"
Because of a guy whose name I can't say legally
I'm 6'4" and 100 pounds but I got power
Do you think it's hot that I rip cigs when I'm in the shower
And out of the blue, like three times a year, when you least expect it
I go to rehab
Can you feel that energy? (Energy, energy, energy, energy)
That famous BD energy? (Energy, energy, energy, energy)
Can you feel that energy? (Energy, energy, energy, energy)
That Pete, bipolar energy? (Energy, energy, energy, energy)

I'm just Pete
My dating life is not discrete
I generate tons of publicity
For everything except my comedy
I'm just Pete and I like jugs
I'm mentally ill and I'm on drugs
But, hey, I'm still in Super Bowl commercials
My name's Pete (And so is mine)
I deleted all my accounts online
'Cause the doctor said the internet wasn't good for me
Baby, I'm Pete
RELATED: Watch Pete Davidson's Cold Open and SNL Sketches from the Season 49 Premiere