NBC Insider Exclusive
Create a free profile to get unlimited access to exclusive show news, updates, and more!
Sign Up For Free to View
Is Brett Leaving Chicago Fire? The Latest Episode Got Fans Worried
After a work incident almost caused Brett to quit, viewers are no doubt sweating about what's to come.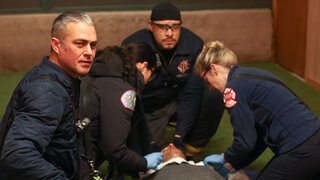 Brett (Kara Killmer) is an absolutely beloved character on Chicago Fire. The longtime EMT is one of the most genuine people in Firehouse 51, which is saying something because everyone there is pretty great. It's hard to picture day-to-day life there without her, but fans started worrying they might have to after an incident in Season 11, Episode 20. Here's what happened: 
It was a casual morning at 51 when Brett and Violet (Hanako Greensmith) received an emergency alert. That means they had to drive to the victim's scene quickly — with no time to do their usual top-down check for supplies. Unfortunately, that ended up being a huge mistake. A device needed to properly resuscitate a newborn baby was missing from Violet and Brett's bag, so they had to improvise. Thankfully, they were able to; the baby started breathing and was quickly driven off to Med for inspection. 
Still, the entire affair left Brett livid. It turns out the medics before Violet and Brett's shift forgot to make sure all necessary items were in that bag. The mistake almost cost a young baby her life. Because of that, Brett threatened to quit if the negligent medics weren't charged. 
Sure enough, Boden (Eamonn Walker) decided to go easy on the medics and let them off with a warning. Brett stormed out of his office after hearing this news, the possibility of her leaving 51 becoming more realistic by the minute. 
That said, Boden dug into one of the negligent medic's pasts and discovered she had several other similar prior offenses. With that ammunition, she was fired — but when Brett saw the disgruntled medic walk out, she had a change of heart. It's unclear if Brett helped this woman get her job back, but that was heavily implied. 
Is Brett leaving Chicago Fire? 
From this episode, it seems like the answer is no. Brett appeared to be speaking out of emotion for the baby almost losing her life. However, when push came to shove, everything was resolved. We ended the episode with Brett and Violet enjoying a drink at Molly's and wishing the baby they saved finds a good adoptive home (because the teen mother decided to give her up). All that to say: Brett seems at peace with everything, so One Chicago fans can rest easy. For now!