NBC Insider Exclusive
Create a free profile to get unlimited access to exclusive show news, updates, and more!
Sign Up For Free to View
Why You Recognize Chicago P.D.'s Newest Villain
The chief's son is more than he appears.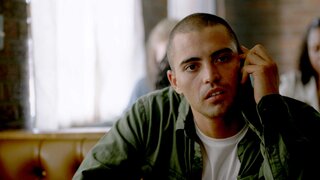 During Chicago P.D. Season 10, Episode 5 and Episode 7, the Intelligence Unit takes on a new case targeting a human trafficking ring. And with it comes a new and shocking villain disguised as someone you'd least expect: the chief of police's son, Sean O'Neal (Jefferson White). Below, everything we know about this new character, and what's to come.
Who is Sean O'Neal on Chicago P.D.?
In Episode 5 it all begins when Upton (Tracy Spiridakos) responds to shots at the scene and finds a girl named Abby beaten and chained to a bed. But before she can rescue her, she's beaten over the head and knocked out by an unknown perp.
Related: Behind Halstead's Heartbreaking Chicago P.D. Exit—And What This Means for Upton
Later on, as she and the Investigative Unit continue their search for Abby at a trap house, she finds Sean there. He claims to be searching for Abby, too, because she attends his safe place center for kids. Eventually, we learn that Sean, also a former addict, is the new chief's son. As the case progresses and the team uncovers a human trafficking ring, Sean continues to offer his help. But Upton becomes increasingly suspicious. By the end of the episode, she tells Voight she believes Sean is lying to them and is actually using his support group to traffic underage girls.
Fast forward to Episode 7 and Upton has tailed Sean for weeks in hopes of finding evidence that could lead to his arrest. She eventually spots him doing a cash exchange with a suspect named Victor, which gives her the reason she needs to finally start pursuing Sean. She and Voight clue in the rest of the Investigative Unit and they set out on an undercover case in hopes of hiding their findings from the chief. In the end, the team comes close, but still isn't able to arrest Sean. And worst of all? The Chief discovers they're investigating his son.
Who is the actor that plays Sean O'Neal?
Chief O'Neal's son is played by Jefferson White. Some will recognize him as Jimmy from Paramount Network's hit Western drama, Yellowstone (which you can watch now on Peacock). He also starred in NBC's thriller Blindspot. 
The actor told TV Line that Sean has lived a "very difficult life" struggling with addiction and has a "contentious relationship with his dad," which we'll see play out in the coming episodes.
What's next for Sean on Chicago P.D.?
Showrunner Gwen Sigan already spilled to Cinema Blend that Chief O'Neal and Sean would play a major part in the season through Episode 9. So this means we will see much more of the mysterious newcomer.
Benjamin Levy Aguilar, who plays rookie Torres, also told NBC Insider that O'Neal and the trafficking case will become Upton's sole focus. 
"She becomes obsessed with this case," he tells us. "She's the one who's leading it."
Sigan previously told us that Upton would use work to distract from Halstead's absence.
"The reality is, she's been left behind, and that's gutting," she said. "We'll see her deal with it by first seeking distraction—diving into work, putting all that feeling into the job—and when a case pops off that really gets inside her head, that distraction quickly turns to an obsession. It's an interesting path for her, fueled by a lot of emotion and denial." 
Watch Chicago P.D. on NBC Wednesdays at 10/9c and next day on Peacock.