NBC Insider Exclusive
Create a free profile to get unlimited access to exclusive show news, updates, and more!
Sign Up For Free to View
How Does Torres Really Feel About Mia? The Answer is More Complicated Than You Think
We learned even more about the rookie in Season 10, Episode 4's "Dónde Vives."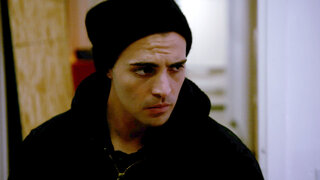 After Halstead resigned from the Intelligence Unit and left Chicago P.D., the team tried their best to adjust to his absence in Season 10, Episode 4's "Dónde Vives." And part of that meant ushering in their newest full-time team member, Dante Torres ( Benjamin Levy Aguilar ).
The entire October 12th episode revolved around Torres as he led a murder investigation in his childhood neighborhood. We learned even more about the rookie cop, including the fact that he frequently helps his neighbors (who don't trust the police) while he's off the clock. Fans got another dive into his personal life with "New Life" (Season 10, Episode 21), where we uncovered the dark secrets of Torres' past.
But in both episodes, there was a glimpse into his love life, and who can resist a little romance? Below, everything we learned about Torres and how he really feels about the girl next door.
Who is Torres' friend, Mia, on Chicago P.D.?
Fans meet Mia (Sharlene Cruz) during Season 10, Episode 4. She's a childhood friend-turned love interest for Torres, but she becomes embroiled in the Intelligence Unit's case when her brother, Kiko, is suspected of murder. Torres and the rest of the team suspect that Kiko was involved in the killing of Torres' neighbor, Provi.
Torres and Mia clearly have a connection, and he uses that to his advantage and tries to get information about her brother—who's on the run—while they're on a date. But it all goes wrong when Mia ends up beaten by a gang member and discovers that Torres was using her for his investigation. Even though she feels betrayed, she eventually gives up information about Kiko when Torres promises he'll do his best to keep him safe. 
"It's definitely one of those loves that encompasses different types of loves," Aguilar tells NBC Insider about Torres and Mia's relationship. "Like there is a romantic love, then there's a broken resentment, and then there's the familial. Like she's in a way also like his family. The only family he knows, some of the few family he knows."
He continues, "And it's a complicated love, and those loves are the ones that are so hard. It's like there's some sort of attachment, and it can get pretty painful."
It's a complicated love, and those loves are the ones that are so hard."
Will Mia and Torres end up together?
While it's clear to fans that Mia and Torres have chemistry after just two episodes, right now a relationship between the two seems highly unlikely. Though Torres was able to arrest and get information out of Kiko without incident, Kiko still ended up sentenced to 20 years in prison for felony murder. Mia was unimpressed, to say the least, leaving Torres to feel helpless — and characteristically silent. "Dónde Vives" showed that the rookie has difficult time balancing being a good cop while also protecting his community. Or as Atwater (LaRoyce Hawkins) put it, "It ain't easy working a case in your hood. I've been there, it can shake you up."
With her return in "New Life", Mia is still clearly resentful towards Torres, despite indirectly leading him to the dead body of his former drug boss, Ariza. For the second time, she has information that could help with the Intelligence Unit's investigation so she and Torres are forced to work together.
Again, the connection between the two is obvious but there is a lot of complicated history. In the end, Mia ends up moving out of state because her safety is at risk with the local gang knowing of her role as an informant. So whatever is happening between the two of them is put on pause...for now.
"It was definitely a test to Torres and his patience and his ability to oversee the faults in people," Aguilar says. "There's a lot of mixed feelings that he feels for sure after all the things that that happened with Mia that she was involved with because he's really trying to do the opposite. He's trying to get away from that, you know? And it seems like it always falls on him with her, like it's always his fault. [He's] just really trying to do his best."
This story was originally published on October 12, 2022. It was updated May 18, 2023.