NBC Insider Exclusive
Create a free profile to get unlimited access to exclusive show news, updates, and more!
Sign Up For Free to View
Chicago P.D.'s Showrunner Reveals Chief O'Neal Has a Major Upcoming Storyline
We'll also be seeing much more of another new character.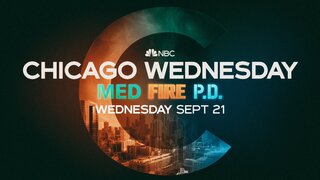 Fans just can't stop thinking about Halstead's exit from Chicago P.D. But as it turns out, two new characters are set to provide ample distraction in the coming weeks.
Series showrunner Gwen Sigan told Cinema Blend that the Intelligence Unit's new chief, Patrick O'Neal (Michael Gaston), and his son (who we have yet to meet) will be a part of an important storyline through to Season 5, Episode 9. She compared their arc to the dramatic saga Voight (Jason Beghe) went through with his informant, Anna, who died in the Season 4 finale.
"It will probably be very similar to last season where we had Anna, and her storyline really became serialized, and I would say probably six episodes of it," Sigan said. "We'll do a very similar thing this season. We've got some great standalones and great cases that we solve...[O'Neal] will be coming back quite a bit in the first half of the season, as well as his son, who is played by Jefferson White. We're very excited to have both of them."
She also noted that we'll see Voight and O'Neal's relationship evolve over time. 
"He's coming in, and we actually see that he likes Voight," she said. "He knows Voight and he has Voight's back, which is a dynamic we haven't seen in a bit. Of course, it will morph and it will grow the relationship, but it's a fun place to start for sure."
Amy Morton (Trudy Platt) also gave NBC Insider some intel on the new chief and what's to come.
"We just shot an episode where,[Voight], he's kind of put in the hot seat quite a bit," she said. "It's really interesting to see how that plays out. [Gaston's] a joy to work with. It's just really fun to have him on board."
And while Sigan or Morton didn't reveal what, exactly, this upcoming story will entail, knowing Chicago P.D., we're in for a rollercoaster ride of emotions.
Watch Chicago P.D. on NBC Wednesdays at 10/9c and the next day on Peacock.