NBC Insider Exclusive
Create a free profile to get unlimited access to exclusive show news, updates, and more!
Sign Up For Free to View
Who Is George Thomas on Chicago Med?
How will George shake things up? Find out by watching Chicago Med Wednesdays at 8/7c on NBC.
One of the best parts about watching Chicago Med is meeting the new doctors, nurses, and patients who walk through Gaffney Medical Center's doors. 
Season 8 has been exciting, with beloved characters bidding farewell while fresh faces make their way to the medical drama. Exhibit A: Sharon Goodwin (S. Epatha Merkerson) brushing shoulders with a new board member of the hospital, George Thomas. 
George has already proven to be a valuable asset to the hospital. Here's everything we know about the Season 8 newbie. 
Who is George Thomas on Chicago Med?
We met George Thomas in Season 8, Episode 14 ("On Days Like Today... Silver Linings Become Lifelines") after Jack Dayton (Sasha Roiz) asked Sharon to get lunch with George to consider him as a candidate for the new board member position at the hospital. Sharon had already prepared to select one of her qualified candidates, but Dayton insisted she should at least meet George.
Sharon agreed and later had a surprisingly delightful lunch with George. Sharon learned that George cares about Chicago Med because he was born there and truly wants to help encourage positive change. George has no interest in being the type of board member who only shows up to fundraisers; he has ideas. Sharon and George hit it off, so much that he asked her if she wanted to get drinks later that day. But always the professional, Sharon politely declined. Despite this, Sharon chooses George as the next board member over her candidate.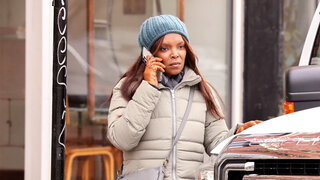 George proved he isn't all talk and no action in Episode 15 ("Those Times You Have to Cross the Line") when he helped Sharon during the ongoing custodial union strike. With many board members dragging their feet on negotiation, the hospital quickly fell into disarray. The lack of custodians led to a bedbug infestation, with Sharon tasked with getting everything back into shape. Sharon brought her concerns to George, and he listened empathetically. After understanding the situation, George agrees to try to expedite the negotiation process despite Dayton's financial frigidness. Within a day, the hospital and union reached an agreement, much to Sharon's delight.
Sp, will George continue to be a reliable friend to Sharon? Find out by watching Chicago Med Wednesdays at 8/7c on NBC and the next day on Peacock.