NBC Insider Exclusive
Create a free profile to get unlimited access to exclusive show news, updates, and more!
Sign Up For Free to View
How Kala Banham's 'Goosebumps'-Giving Knockout Led to a Double Steal
Coach Kelly Clarkson declared 24-year-old Kala Banham "one of my favorite storytellers I've ever worked with on The Voice" after her emotional performance of "Iris."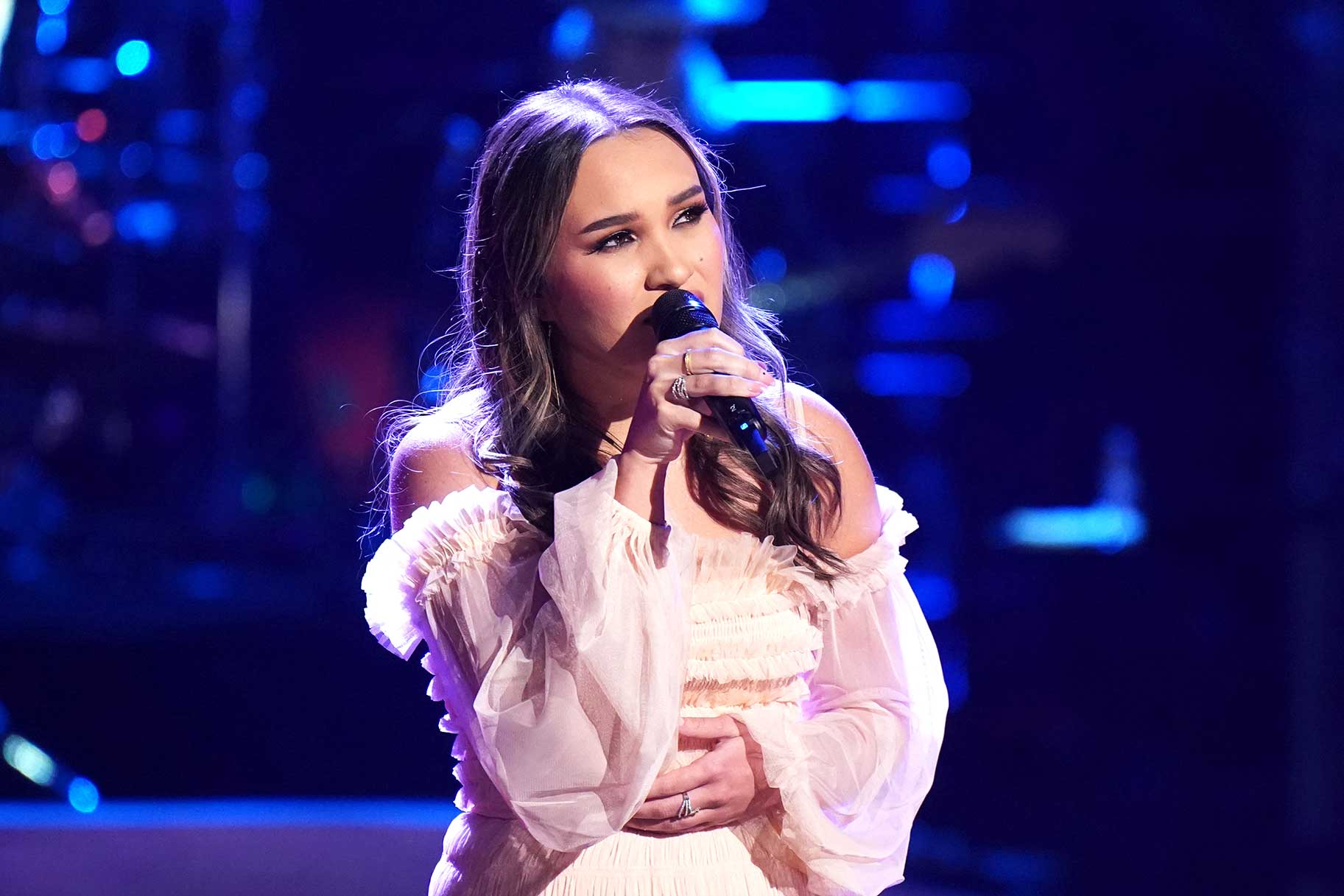 Kala Banham established herself as a masterful storyteller on The Voice Monday night with her raw and emotional rendition of "Iris," giving Coach Kelly Clarkson "goosebumps" and leading to a double steal. 
"Kala, you're like one of my favorite storytellers I've ever worked with on The Voice," Clarkson told the 24-year-old from Windermere, Florida after the final note landed. "You gave me goosebumps, you totally made me tear up." 
The song had a personal meaning for Banham. Rather than the traditional romantic interpretation of the Goo Goo Dolls hit, she chose to see it as a representation of her commitment to her musical dream.
"This song at its core is just about wanting something so much that you're willing to give up anything and everything to have it," she said. 
The 24-year-old acknowledged she left behind her public relations job in Florida to pursue her career in music. 
"It's worth it to know that I'm having this once in a lifetime opportunity to pursue what I've always wanted," she said. 
And so far, it seems to be working for her. Banham wowed the judges with an "impeccable" take on Joni Mitchell's "Both Sides Now" in the Blind Auditions, which landed her on Team Niall after newbie Coach Niall Horan strategically used his block to bar Clarkson.
Banham also received high praise for her "angelic" contribution to Bon Iver's "Skinny Love" in the Battles. Fellow Artist Gina Miles was ultimately declared the winner of the battle, but that paved the way for Clarkson to steal Banham for Team Kelly. 
Clarkson and this season's Mega Mentor, Reba McEntire, were also blown away by her talent during a rehearsal session for the Knockout Round and each had visceral reactions to her emotional interpretation of the song. 
"When Kala first came on I thought, 'Wow.' The emotion she showed. Yeah, I got chills. I could feel her heart is breaking and Kelly cried," McEntire said. "That's what you want from a performer." 
Clarkson added that Banham had "surprised" her with her level of talent.
"She can make you cry after the first three notes," she said. "That's rare." 
But Banham had some fierce competition in her Knockout Round. She was going up against 33-year-old Cait Martin, who Clarkson described as "one of the strong frontrunners on my team." 
Martin ambitiously tackled Whitney Houston's "All the Man That I Need" and while it was admittedly a tall order to fill, the powerhouse singer proved she had the singing ability to pull it off. 
"Cait just smashed that," Coach Chance the Rapper said Monday night. "It was spot-on Whitney and I'm trying so hard just not to curse, I'm just so like floored. You took that round by the throat. It's Cait all the way."
Veteran Coach Blake Shelton wasn't so sure.
RELATED: Who Are Blake Shelton's Most Frequent Songwriting Partners?
"Cait, there was a lot of sharp notes in that and I don't know if it was just  nerves or whatever, but Kala, she was just right on the money," he said. "It was a very passionate performance, a lot of emotion in there, a lot of dynamics, so I'd be going with Kala." 
For Clarkson, choosing between the women was a nearly impossible task.
"You're like two different ninjas. One of you is right in the face, you just knocked them out and then one of you just sneakily from afar was like a sniper," she said. 
Martin ultimately won out, but Banham will still stay a part of the competition. Before she left the stage, Shelton pressed his button to indicate he wanted to steal her just seconds before Chance looked directly at Shelton and pressed his own.
"It's a double steal!" host Carson Daly shouted as Clarkson cheered. 
As the two Coaches faced off, Shelton was quick to remind Banham that he believed she should have won the Knockout Round.
"One of us was very clear that you were the winner and one of us was painfully clear that you weren't," he said before adding that he "would be proud" to welcome her to Team Blake.
However, Chance wasn't willing to let Banham go without a fight and argued that he had supported the Florida native throughout the competition — unlike Shelton.
"You remember when Blake turned around for you in the Blinds?" he asked.
"No, I don't remember that," Banham replied. 
"Oh you don't? 'Cause it didn't happen. It didn't happen. I did turn around for you in the Blinds and I tried to steal you at the Battles, so I was playing the long game," he said. "We could win together. Or you could go with Blake." 
It was enough to convince Banham, who chose Team Chance.
"I got to say it's an honor either way, but I'm the kind of person who appreciates the long game, so I've got to go with Team Chance," she said.
His persistence paid off and Chance told producers he was thrilled he "finally got Kala" on his team. 
"I've been working that angle for a while," he said. "She adds a different, smoother take to my team. A lot of control, but a softer tone and now she's down with the winning team." 
To see how Banham fares in the weeks ahead, tune into The Voice Mondays at 8/7c on NBC or streaming on Peacock the following day.