NBC Insider Exclusive
Create a free profile to get unlimited access to exclusive show news, updates, and more!
Sign Up For Free to View
Chance the Rapper's Best Moments with Jimmy Fallon
When The Voice Coach and Tonight Show host get together, memorable things happen.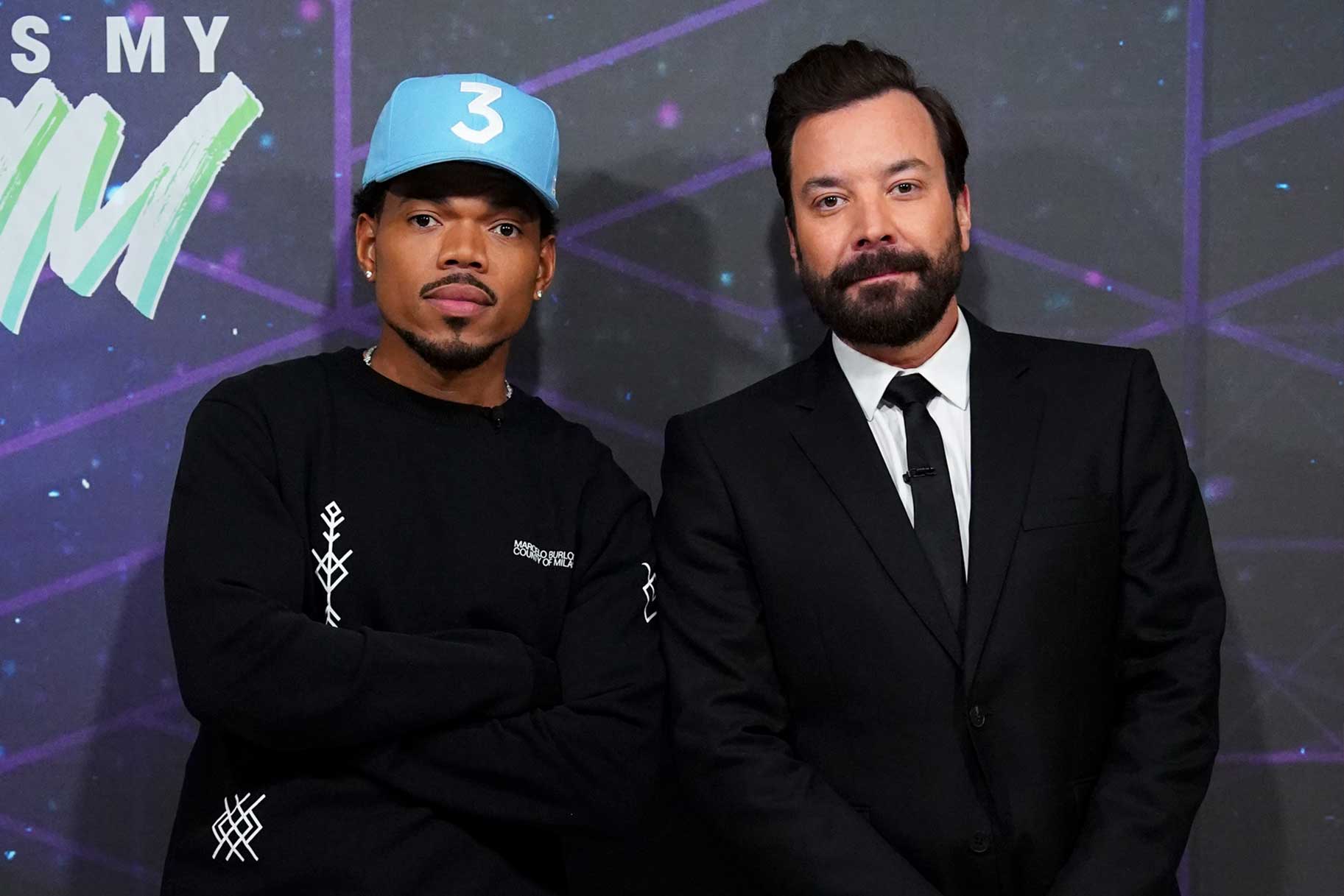 The Voice Coach Chance the Rapper, has many awards—for example, nine Grammy nominations and three wins, including Best New Artist in 2017— as proof of his musical talents. Plus, his third mix tape, Coloring Book, is the first album to chart on the Billboard 200 based solely on streaming sales, hitting number eight. He also shares a unique relationship with former President Barack Obama, as both hail from Chicago. (Who can forget Chance's classic music video on Saturday Night Live, "Come Back, Barack," featuring with Kenan Thompson and Chris Redd?)
But Chance and The Tonight Show host Jimmy Fallon have also made some great music together, both on NBC's late-night talk show and more recently on Fallon's series That's My Jam, where the rapper performed amazing feats.
Here are some of Chance's most memorable moments with Fallon.
Chance the Rapper Performed a Country Version of "Hot In Herre" on Jimmy Fallon's That's My Jam
Chance not only had an opportunity to display his singing chops but his versatility when he performed a country version "Hot In Herre" by Nelly in the Musical Genre Challenge on That's My Jam Season 1. He's clearly relishing the moment.
He got a bear hug and hand slap from his partner actor Joseph Gordon-Levitt and an astonished Fallon admitted, "never in a million years did I think that was going to work." Fans were also delighted with his sassy remix. It has racked up more than five million views of YouTube.
Chance the Rapper Performed "This is How We Do It" 
In that same episode, Chance had to follow Alessia Cara's pitch-perfect rendition of Carrie Underwood's "Before He Cheats" in the "Slay It, Don't Spray It Challenge." He and Gordon-Levitt were sprayed, and a wet Chance stepped up to the microphone with Montell Jordan's classic hit. It was flawless— afterward Cara and her partner Josh Groban were sprayed.
Chance the Rapper Performed All the Songs with "What"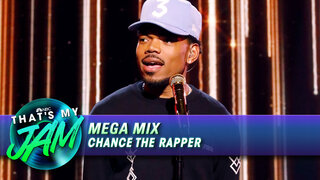 Chance had to perform a variety of songs in the Mega-Mix challenge on That's My Jam Season 2 that all included the word "what" in the title. It was his own stylized version of vocal aerobics, and he clearly had fun doing it, scoring 10s across the board. He sang a mashup of Lil Jon's "Turn Down For What," Louis Armstrong's "What a Wonderful World," Tina Turner's "What's Love Got To Do With It," Salt-N-Pepa's "Whatta A Man," and Justin Bieber's "What Do you Mean?" During "What a Wonderful World" he imitated Armstrong's gravely vocals; the jazz legend's recording of the song was a hit more than 50 years ago in 1967.
Chance the Rapper Performed Lenny Kravitz's "American Woman"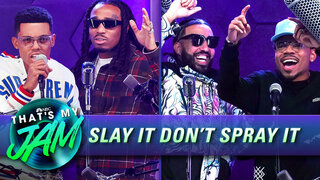 In a karaoke version of "Slay it, Don't Spray It" on That's My Jam Season 2, Chance and partner French Montana had to follow Jabari Banks of Bel-Air and Quavo, formerly of the hip-hop group Migos. Banks, in a surprising move for an actor paired with a Grammy-nominated rapper, decided to sing and absolutely slayed during his version of "Rapper's Delight" by the Sugar Hill Gang. (Chance and Montana were sprayed.) Then, Chance and Montana were given "American Woman," by Lenny Kravitz. Chance opted to sing—enthusiastically—and was still singing when he announced, "Go ahead and spray me."
Chance the Rapper and Jimmy Fallon Auto-Tune the News on The Tonight Show
In a May 14, 2021 appearance on The Tonight Show, Chance and Fallon took turns adding some spice to news, with the aid of auto-tune, transforming boring topics like registration for a music festival, the side effects for the allergy drug Claritin, an explanation for cryptocurrency, and an eBay listing.
Chance the Rapper Thrills Jimmy Fallon with the Time He Met Martin Short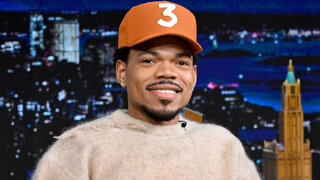 But not all of Chance and Fallon's collaborations are musical. On the above March 7, 2023 Tonight Show appearance, Chance discussed his recent run-in with Martin Short on a plane. The comedic actor kindly offered to give up his seat so the rapper could sit next to his seven-year-old daughter, Kensli. Chance shared that both he and Kensli are big fans of the Saturday Night Live alum.
You can also find Chance as one of the four Coaches on The Voice, airing Mondays at 8/7c on NBC and the next day on Peacock.
Watch That's My Jam on NBC Tuesdays at 10/9c and next day on Peacock.
Watch The Tonight Show Starring Jimmy Fallon on NBC Weeknights 11:35/10:35c and next day on Peacock.