NBC Insider Exclusive
Create a free profile to get unlimited access to exclusive show news, updates, and more!
Sign Up For Free to View
Jimmy Fallon Crashed The Voice and Did a Surprise Blind Audition—All For Blake Shelton
Jimmy Fallon shocked Coaches on The Voice during Season 23 with his Michael McDonald performance.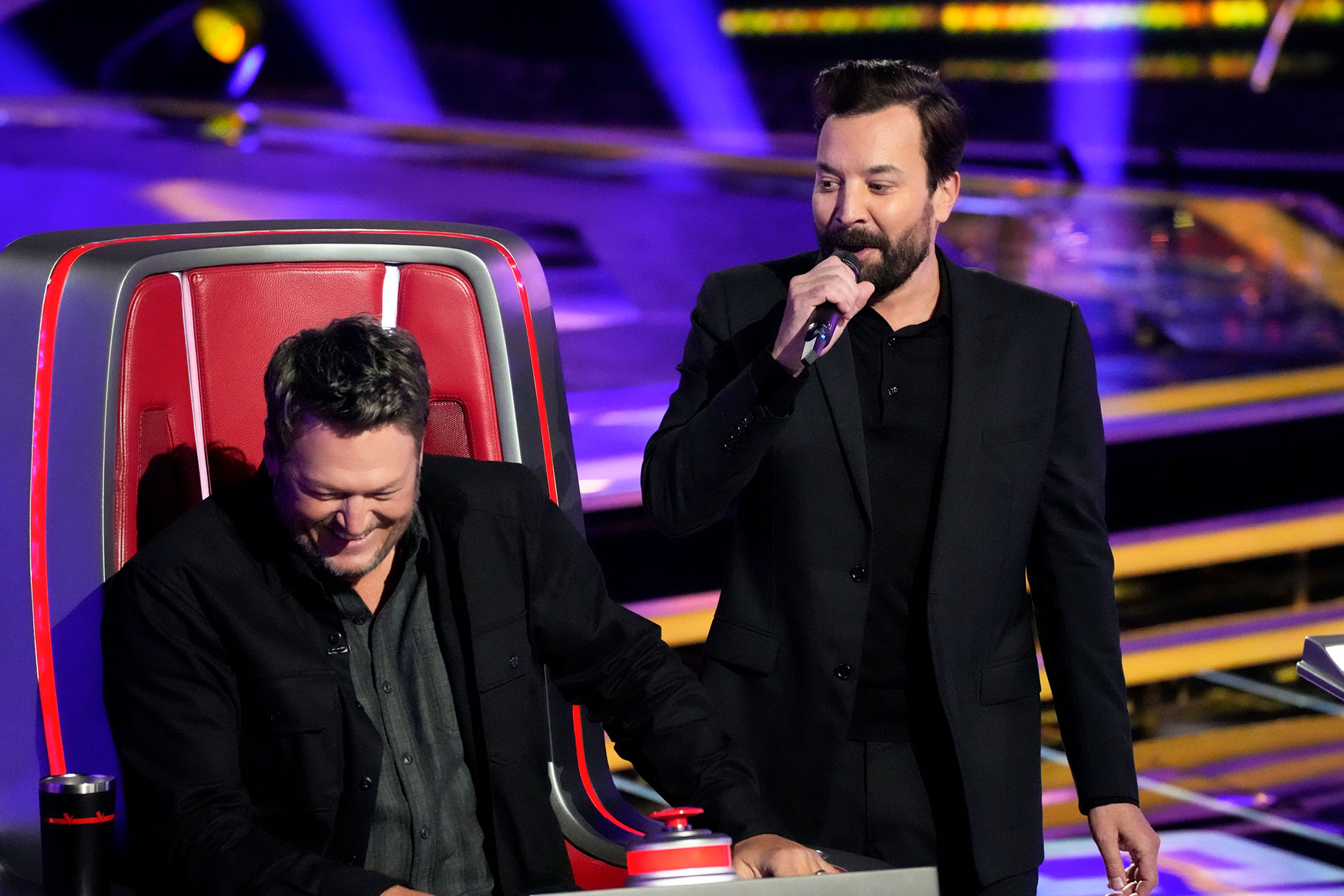 Get a load of who just dropped in on Tuesday for a fun stealth Blind Audition on The Voice. 
Yep, that guy with the beard and dark suit really was Jimmy Fallon. He crashed the NBC reality competition to pull a fast one — and to perform a Michael McDonald hit — for Season 23 Coaches Blake Shelton, Kelly Clarkson, Niall Horan, and Chance the Rapper.
Host Carson Daly was in on the twist. "We have a special surprise for our coaches," he teased. "Right now, we have an artist backstage preparing for the biggest performance of their entire life."
Fallon stepped onto a dark stage with his face hidden from the studio audience. The music started, then he turned around to the crowd's wild applause. He sang "I Keep Forgettin' (Every Time You're Near)" in a voice that echoed McDonald's distinctive throaty growl.
Coaches smiled and listened intently. Clarkson turned. Horan turned. Chance turned. Shelton didn't budge.
Fallon kept on singing, "I keep forgettin' things will never be the same again." But Shelton refused to spin his chair. He finally walked over, faced Shelton, and hit the button to turn his chair as the audience roared. 
"You broke the rules," Shelton said to the host of The Tonight Show with Jimmy Fallon. 
"I'm across the parking lot doing our show, That's My Jam," said Fallon, adding that he knew that this season is Shelton's last one as a Coach. "I texted Carson and said I gotta come over … Hey, buddy, 23 seasons, congratulations!"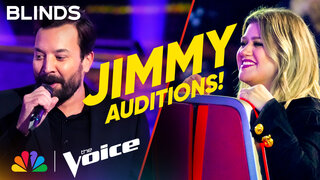 After sharing a handshake and a hug with the surprise guest, Shelton said that he'd guessed what was up.
"It didn't take me long to figure out that it was Jimmy Fallon," he said. "There was no way I was gonna hit my button. He does not deserve a chair turn on this show."
RELATED: Hear Why Blake Shelton Said 'Nobody Sounds Like' Tasha Jessen
The inveterate joker explained why: "Jimmy's impersonation is the equivalent of walking up to Michael McDonald and slapping him in the face."
Meanwhile, Clarkson declared that since she turned first, he was on her team. In return, Fallon kept up the McDonald mimicry and belted a snippet of her hit song "Since U Been Gone." 
It all added up to a blind audition The Voice Coaches and viewers won't soon be "forgettin.'"
Watch The Voice on NBC Mondays at 8/7c and Tuesdays at 9/8c and next day on Peacock.