NBC Insider Exclusive
Create a free profile to get unlimited access to exclusive show news, updates, and more!
Sign Up For Free to View
Chicago P.D.'s Tracy Spiridakos and Marina Squerciati's Off-Screen Friendship
The two actors have a real-life relationship we didn't know we needed.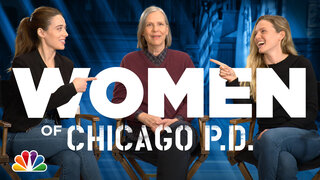 Every One Chicago fan knows that the franchise is full of complex and interesting relationships. Whether we are rooting for the roller coaster couples or the crossover friendships, there's always a duo to cheer for. And Chicago P.D. stars Tracy Spiridakos and Marina Squerciati have taken their fan-favorite dyad to off-screen heights. 
Spiridakos and Squerciati — who play Detective Hailey Upton and Officer Kim Burgess, respectively — have been friends for quite some time. Because Chicago P.D. is filmed in Chicago (of course), they have spent years living in the same city, which has fostered a beautiful friendship. Revisit some of their best friend moments with us. 
Tracy Spiridakos and Marina Squerciati's Spa Day
In March 2023, Spiridakos posted that the two were having a "staycation" together, including "hours of talking" with each other after facials, massages and champagne. 
P.D. co-star LaRoyce Hawkins (who plays Officer Kevin Atwater on the show) was just as jazzed as Chicago fans upon seeing the post, and commented his support with, "#iLoveBurgess x #StayUpton."
Marina Squerciati's Birthday Lunch for Tracy Spiridakos
In February 2023, Spiridakos posted photos from her birthday lunch on Instagram, crediting Squerciati for planning it. "Early birthday celebrations with these beauties," she wrote, since Amy Morton (who plays Desk Sgt. Trudy Platt) was also at the lunch.
Morton's character's friendship with Squerciati's Burgess always fills fans' hearts, so it was no surprise that the friend chemistry spills into the other parts of the actors' lives, too. 
Tracy Spiridakos' Birthday Trip to Cabo with Marina Squerciati
The sweet birthday lunch wasn't the only way these two celebrated Spiridakos' big day. They took their best friendship from Chicago all the way to Cabo, where Squerciati posted a cute picture to Instagram on February 19, showing the two of them jumping for joy in Cabo San Lucas together. 
"Birthday trip in Cabo for Tracy? Don't mind if I do," Squerciati captioned the photo. 
In April 2023, Spiridakos posted what looked like a throwback photo from that trip in celebration of her friend's birthday.
"Happy birthday," she wrote. "I hope you're having the best day! Miss you!!"
"I know I'm early you guys but when your birthday is on a Sunday, it's a whole birthday weekend event!" she added.
Tracy Spiridakos and Marina Squerciati's On-Set Laughs
In the video at the top of this post, Spiridakos, Squerciati and Morton all revealed what really goes down on their set. The answer? A lot of laughs and pranks. 
When asked "Who makes you laugh the most on set?" Spiridakos said, "There isn't just one person. We make fun of each other a lot, and look for opportunities to play pranks on each other. And everyone shines in different moments." 
More Moments with Tracy Spiridakos and Marina Squerciati
Their on-set friendship is more than just laughs and pranks. From Spiridakos and Squerciati's Instagram posts, it's clear that they spend a great deal of time in each other's company, even when they don't have scenes together. 
Still, Spiridakos posted a photo of her and Squerciati in a car together, all suited up for their P.D. jobs, and wrote "Ladies who drive together, kick ass together." She's posted plenty of other sweet on-set moments, including a photo of the duo in matching sweatsuits, making their bond clear. 
Squerciati's Instagram account is also full of sweet moments between the two, like this "buddy" pic from set and a photo from their "Ladies night out" with Morton.
Catch all of Tracy Spiridakos and Marina Squerciati's best on-screen moments by streaming Chicago P.D. on Peacock.