NBC Insider Exclusive
Create a free profile to get unlimited access to exclusive show news, updates, and more!
Sign Up For Free to View
Revisit Chicago P.D.'s Jesse Lee Soffer's Appearances on Law & Order: SVU
The Chicago P.D. actor took his skills to Law & Order: Special Victims Unit, too.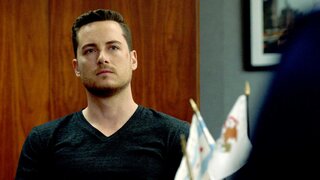 Chicago P.D. fans are hoping actor Jesse Lee Soffer will return to the Windy City as Detective Jay Halstead after the actor ended his 10-season run in October 2020. Those dreams were at least partially fulfilled after Soffer returned in March to direct an episode ("Deadlocked"). Soffer told Deadline that the directing job was perfect for him.
"This was the perfect episode for me to direct," Soffer said. "I love this episode because it was like a throwback episode to old-school P.D. with Voight going off the rails, Man on Fire kind of stuff, vigilante stuff, and living in the gray area off the books. That's the story we've been telling, especially the foil between Halstead and Voight, for so long—it's something I really know deeply. So to get to do that kind of story with Jason was really fun."
Soffer also told NBC Insider that he was open to directing another episode, and said to Variety in a 2023 interview that the door is always open to Halstead's return.
"Never say never. I feel so bad for the fans that are like, 'Is he going to come back?' 'What's he going to do?' 'What's going on with him and Hailey?'" Soffer told Variety. "I like to think—and I hope the fans think this too—that he's just in another country right now, doing what he does best and making the world a safer place."
"I still love it. I still love the fans. And I still love Halstead," he added. "Halstead's always going to be in my blood. That's never going to change."
Until then, fans of Halstead can re-watch his appearances on Chicago P.D. (currently available on Peacock), as well as his character's crossover episodes on Law & Order: Special Victims Unit. Didn't know Halstead made an appearance in the Olivia Benson universe? Read on for more details. 
Halstead's First SVU Crossover Appearance
Season 16, Episode 7 ("Chicago Crossover"), 2014
The search for a child pornography victim led Sergeant Henry "Hank" Voight (Jason Beghe) as well as Detectives Erin Lindsay (Sophia Bush) and Jay Halstead (Soffer) to New York City and the SVU. Sergeant Olivia Benson (Mariska Hargitay) then discovered a live streaming service for pedophiles and club that provides on-demand requests, while Lindsay discovered that her estranged half-brother, Teddy — whom she hasn't seen in at least a decade — had been victimized in the club as a juvenile.
While the episode is most notable for the tension between Benson and Voight as the team struggles to piece together enough information to find the abusers, their work sets up a return to Chicago by the team to bring down the pedophile ring. There, Halstead plays a pivotal role in chasing down one of the most violent lead suspects, as seen in the video below.
Halstead's Second SVU Crossover Appearance
Season 16, Episode 20 ("Daydream Believer"), 2015
Benson, Voight, Lindsay, and Halstead teamed up again later that season to pursue sadistic rapist-murderer Dr. Greg Yates.
In the crossover, which began on Chicago Fire (Season 3, Episode 21, "We Called Her Jellybean,") a rape-arson case in which the victim ultimately died matched the details of a NYC case Benson had first investigated 10 years earlier, prompting her appearance in Chicago. In part two of the crossover on Chicago P.D. (Season 2, Episode 20, "The Number of Rats"), the officers first questioned Halstead's brother, Dr. Will Halstead (Nick Gehlfuss)—prompting Halstead to step in to defend his family—but ultimately identified Dr. Greg Yates as a suspect.
Unfortunately, they had no way to hold him on any charges and, in the aftermath, Yates kidnapped the unit's administrative assistant, Nadia Decotis (Stella Maeve), and fled to New York—where the SVU part of the crossover began.
Halstead, Voight and Lindsay went to New York to track down Decotis but she was ultimately raped, tortured, and murdered before she could be rescued. Yates was arrested, but claimed that he'd driven his victim there of her own free will. He was charged with rape, sodomy, and murder anyway.
Representing himself at trial, Yates tried to claim that Halstead's defense of his brother during the initial interrogation as well as his subsequent verification of Will Halstead's alibi was special treatment that poisoned the investigation. But after spending a bit too long questioning the medical examiner with a bit too much excitement about the details of Decotis' torture, Yates was convicted in the case.
Watch Chicago P.D. on NBC Wednesdays at 10/9c and next day on Peacock.
Watch Law & Order: SVU on NBC Thursdays at 9/8c and the next day on Peacock.